Women all over the country want to know how to dress like Shiv Roy from the hit HBO series, Succession. Why? Because in a world of overly trendy fast fashion, Shiv's character exudes timeless, chic, and work-ready fashion.
This year marks the last season of the massively popular (and awarded) series. However, though the ever-conniving Roy clan might be leaving the silver screen, the influence of Shiv Roy's outfits isn't going anywhere.
At Next Level Wardrobe, we help successful professionals achieve the office wardrobe of their dreams. We look for effortless, versatile fashion choices that all body shapes and sizes can wear with confidence.
Shiv's outfit rotation fits that bill, so we thought we'd honor this generation's workwear style role model here.
Read on for a complete guide to the Waystar heir's style. We'll walk you through her subtly powerful aesthetic plus five of her best ensembles and how to recreate them.
Shiv Roy's Style Explained: Quiet Luxury
If there's one phrase that constantly pops up when discussing Shiv's style, it's "quiet luxury."
It's the idea of dressing well through clean, understatedly elegant looks instead of flashy logo-ladened outfits. This dress code is all about investing in well-made, high-end pieces in muted tones.
In short, quiet luxury is the new term for minimalist fashion, and people love it. It's simple, often more sustainable, and much more realistic for real life.
Guess what?
The Next Level Wardrobe team loves it too. Shiv's chic looks go hand in hand with our proprietary framework 'The Next Level Wardrobe Style System':
– Lean into core colors (neutrals like black, grey, white, and navy)
-Identify the essentials pieces needed for your lifestyle
-Focus on fit
These low-key "quiet" combinations feel commanding through their simplicity. As the only female Roy sibling fighting to control the Waystar business, dressing powerfully is essential to Shiv.
5 Shiv Roy Outfits and How To Recreate Them
A post shared by Sarah Snook Fan Account (@sarahsnookforever)
The last three seasons of Succession had tons of aspirational Shiv Roy outfits for viewers (and our clients!) to obsess over. Ever since her iconic hair chop in season two, she went from boho and pastels to irresistible corporate chic combinations.
Here's our take on how to dress like Shiv Roy in five easy ways.
How To Dress Like Shiv Roy: Monochrome Magnate
For dress codes: Formal, Business Casual, Casual.
The season four opener saw Shiv at a low point. She's trying to launch a new media company with her brothers while her marriage falls apart. But her one outfit for the episode was a master class in monochrome.
(Even if it did spark online controversy over the possibility of her wearing a certain bodysuit under her blazer.)
Though dressed in head-to-toe brown the outfit isn't bland. She offsets the long-line silhouette of the blazer with a close-fitting knit underneath, and she plays with textures and prints. Note her striped pants and the subtle heathering on her coat.
Pull together your monochrome outfits, invest in tailored-to-fit suiting and subtle variations in tone or patterns to add personality.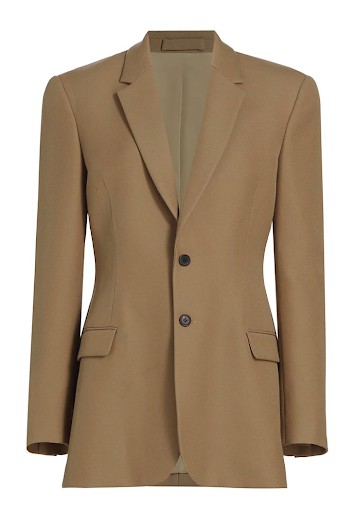 Product by Wardrobe.NYC, shop here.
Add this ensemble to your closet with this taupe blazer by Wardrobe.NYC in a modern, slightly oversized silhouette. You can wear it over a dark brown tank like Shiv, or lighten things up with a cream option.
Product by Rag & Bone, shop here.
The drawstring pants in the show would work well for west coast dress codes. However, if you work in a more traditional office setting, opt for these plaid textured trousers from Rag & Bone.
They'll add some visual interest without going over the top. Finish the outfit with low nude heels or flats.
Shiv Roy Outfits: The CEO of Separates
For dress codes: Formal, Business Casual, Casual.
If you're wondering how to dress like Shiv Roy, chances are you've got this ensemble on your Pinterest board.
One of the most famous Shiv Roy outfits has to be this look from season two's holiday party scene. It's the first time we see Shiv dawn her signature turtleneck and she pairs it with figure-defining high-waisted pants.
So why does this simple look work so well?
For one, she's found mixing suit separates. Picture the trousers with a matching blazer and a blouse. No one would call it a bad outfit, but it feels a little drab. Possibly even stuffy.
But by dropping the suit jacket and opting for a fitted turtleneck, this look feels more up-to-date.
Another reason why this is a successful outfit is that it sticks to a tried and true outfit formula.
Core colored staple pieces, in a flattering fit. That's all you need for any dress code, whether it's business casual or business formal.
Product by Elie Tahari, shop here.
A black turtle neck is a wardrobe must-have. If you don't already have one, try out this ribbed option from Elie Tahari.
It has a comfortable amount of stretch without being flimsy and it's lightweight enough to tuck into any pant.
Product by ANINE BING, shop here.
Partner your turtleneck with these high-rise plaid trousers from Anine Bing.
They're excellent for fitting curves so if you're looking for ways to dress a mid-sized frame, these are for you.
Complete the look with almond-toe mules or leather loafers.
How To Dress Like Shiv Roy: Level Up in Light Colors
For dress codes: Formal, Business Casual, Casual.
So much of Succession seems to take place in blue-hued fall and winter scenes. Often, Shiv Roy's outfits fit this moody Manhattan landscape. But learning how to dress like Shiv Roy doesn't mean you're doomed to dark colors only.
Now and then, we see her break into lighter colors and when she does, she makes it look effortless.
Take the outfit above for example. The lighter colors make her power suit feel modern and interesting. On top of that, while she might be loosening up her color palette, she's still sticking with structured, strong pieces.
This combination is perfect for summer business wear. Why? The lighter colors not only match the seasonal color palette, but they'll also keep you cool.
Product by Brunello Cucinelli, shop here.
Start this outfit with a layer-friendly top. Like this sleeveless tank top from Brunello Cucinelli in a breathable cashmere knit.
Product by St. John, shop here.
Then, keep the look simple with this matching blazer and pantsuit from St. John. The subtle plaid adds depth to the ensemble and the relaxed cut is airy enough for the hottest of days.
Product by St. John, shop here.
One thing to remember when buying suits: they rarely fit anyone straight off the rack. Most people need (at the very least) these three common alterations:
– Sleeve length
– Pant hem
– Body
Shiv Roy Outfits: Denim Done Right
For dress codes: Formal, Business Casual, Casual.
We can't get enough of Shiv's go-to suits. But her rare exploration into casual wear during the "Kill List" episode of Season 4 was a welcome change.
She switches up her look for a Norwegian retreat in nature while still looking polished and put together.
We call this flavor of Shiv Roy outfits, power casual. It mixes relaxed, modern styles with dependable wardrobe staples.
For example, her leather jacket is a fresh take on layering, but it's grounded in a wearable, neutral color. She's wearing jeans, but they don't look sloppy thanks to their dark wash and lack of distressing or fading.
Leather blazer by Lafayette 148 New York, shop here.
Curious about how to dress like Shiv Roy in this episode? Pick up this coffee-brown leather blazer by Lafayette 148 New York. The Italian leather fabrication will last for years to come and the simple style can go over just about anything.
Product by Hudson, shop here.
Then, slip on a pair of deep-blue jeans like this bootcut pair from Hudson. We like this straight-cut style because it's comfortable without being too trendy.
Complete your ensemble with one of our favorite office shoe styles for women: boots.
How To Dress Like Shiv Roy: Deal-Making Dresses
For dress codes: Formal, Business Casual, Casual.
No guide on how to dress like Shiv Roy would be complete without mentioning that season three green dress. The color choice is perfect for Sarah Snook's (and the obvious themes of money in the show).
But you don't have to look like Shiv to turn a dress into a commanding work or event look.
If you:
– Prefer feminine silhouettes
– Want something easy to put together
– Need summer-friendly workwear
… then consider adding a dress to your closet. Let's look at what's working in this Shiv Roy outfit.
1. Solid color. They're easier to mix and match and less likely to fall victim to fads.
2. A timeless silhouette. There's no denying that this dress is a party look. But it stays in Shiv's business-first wheelhouse thanks to the high neckline and body-skimming shape.
3. Fabric. The silk-satin finish instantly elevates this ensemble. Even at a casual glance, it looks luxurious, upscale, and high-quality.
We've picked out two wearable versions of this frock with the same elements.
Product by Reiss, shop here.
First, check out this mock neck teal number by Reiss. Wear this to a work benefit or dinner with black heels and simple earrings or a bracelet.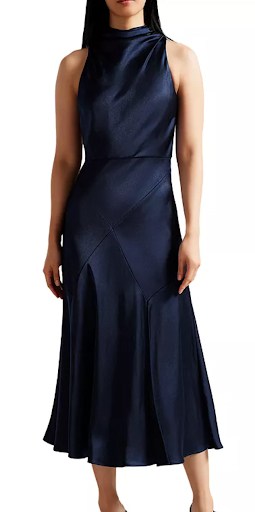 Product by Ted Baker, shop here.
Or try this navy halter as an alternative to that old workwear classic: the little black dress.
Navy reads as more approachable than black. So this is perfect for spring and summer or for corporate casual environments.
If your dress code's strict about shoulders, you can always layer this with a blazer or jacket.
Want more advice on how to dress like Shiv Roy? Apply for Next Level Wardrobe's image consulting or personal styling services to get your close-up to Succession standards. Our wardrobe specialists will lead you through transforming your style and shopping habits.