Ready for a shortcut to great CEO style? Apply to work with NLW.
When shopping for clothes, do you ever feel stuck in the middle? It's that sensation when you're constantly jumping back and forth between one size range and another. Or when you have to take three sizes of one item to the dressing room and still nothing fits. If this sounds like you, you may be wondering how to dress a mid-size body.
Lucky for you, our Next Level Wardrobe style team is on the case. Read on for more information about this new inclusive sizing trend and how to approach it in a timeless way.
What Sizes are Considered Mid-Size
A basic definition of what sizes are considered mid-size are those from a US size 10-16. They're the sizes that walk the line between "standard" and "plus" size ranges.
Where did this term come from?
According to the Today Show, it's a Tik-Tok original. Don't worry, we're not about to tell you to do your best impersonation of Gen-Z. Someone on the app just coined the term for that gap in women's fashion that didn't have a name yet.
Many creators felt like brands drew a hard line between straight sizes and plus.
After all, manufacturers base plus and standard-size clothes on two very different patterns.
If you're in the middle, you may see a big discrepancy in how clothes fit you.
With most women in America fitting at a size 12 or above, it's easy to understand this range needs attention.
Does this sound like you? Then let's get to filling your wardrobe with clothes that are finally made for you.
Mid-Size Clothing: Are there rules to follow?
View this post on Instagram
There are no rules for mid-size clothing.
At Next Level Wardrobe, we offer the same guidelines for every client. If you're plus, straight-sized, or wondering how to dress a mid-size body, these steps work. That is if you want to:
– Love everything you buy
– Create unlimited outfits without overshopping
– Feel confident buying with intention
We call this the Next Level Wardrobe style system. Here are the three steps to follow:
1. Focus on Core Colors. Most of your closet should be black, navy, white, grey, and navy. These colors go with everything, meaning your potential to mix and match just skyrocketed. The second biggest section should be tonal colors, aka tints of those original core colors. They give you a chance to add texture and visual interest to outfits without going wild. The smallest section of your closet should be accent colors or patterns. These act as that "little extra something".
2. Invest in Essential Pieces. Fast fashion is everywhere, we know. But we're big believers in quality, not quantity. Buying low-level items set you up for a cluttered closet you're constantly having to update. To get the most out of what you wear, opt for classic, high-quality pieces made from lasting materials. You'll buy less because you're being selective, thinking about what you truly need.
3. Prioritize Fit. If you're here trying to figure out mid-size fashion, it's likely because fit is beating you down. For all bodies, we believe in hiring a tailor. We know alterations sound like a splurge. However, if you're following the other two steps, you'll only need to alter key pieces. Specifically for mid-size women, we also recommend experimenting with fabrication. Maybe a 16 is loose around your waist but fits your thighs. Try a size down in a style with stretch.
How to Dress Mid-size: 3 must-haves for Your Closet
When thinking of how to dress mid-size figures following this system, we've identified three must-have pieces. They follow our steps and they'll bring out everything you love about your body. Plus, they're all perfectly professional, making them ideal for any CEO, entrepreneur, or worker aiming for a promotion. First up, dresses.
How to Dress Mid-Size: Mid-Size Dresses
Product by HOBBS LONDON, shop here
Dresses don't get enough praise for their workplace versatility.
Seriously, they're a one-and-done outfit. The right mid-size dress is the kind you can throw on in a flash and still seem polished.
If you prefer styles that bring out your curves, try an a-line style or fitted frock. More into an airy vibe? Enjoy the return of empire waist dresses or flowy midi options.
A favorite mid-size option for us is this crew neck pleated skirt dress from Hobbs London. The high neckline keeps the dress looking smart. The nipped-in waist and a-line skirt offer a fun, feminine flair.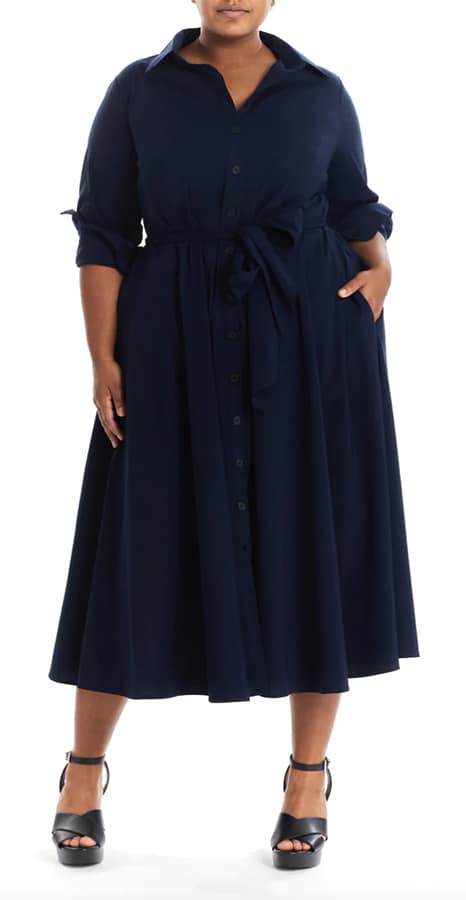 Product and photo by Pari Passu
For lovers of less structured materials, try a shirt-dress like this navy number from Pari Passu. The tie-waist allows you to achieve the perfect fit and the collared top suits any office.
How to Dress Mid-Size: Straight-Cut Jeans
Product by Mother, shop here.
The next piece we love for how to dress mid-size frames is a classic pair of straight-cut jeans. These denim heavy-hitters are the go-to style at the moment and it's not hard to see why. (Yes you can still keep your skinny jeans too)
Straight-cut jeans just skim the widest parts of your body and come to a mildly tapered hem. We especially love this for mid-sized clients.
Why? The style accentuates your figure instead of hiding it like exaggeratedly baggy jeans.
They're also more modern than skinny silhouettes and they look with different types of shoes; boots in the winter, fun sneakers in the spring.
If you're hunting for the best jeans for mid-size ladies, give these high-rise ankle jeans from Mother a whirl. They're free of any distressing or heavy fading so you can safely wear these to most occasions. Cassandra personally has owned her pair of Mother Denim for YEARS and loves them.
Product by Spanx, shop here.
Wanting to step outside of traditional denim? Take a peek at these twill stretch pants. They're from Spanx so you know they take fit seriously.
The olive colorway is the perfect year-round shade to go with core colors or a pop of color.
How to Dress Mid-Size: Sweater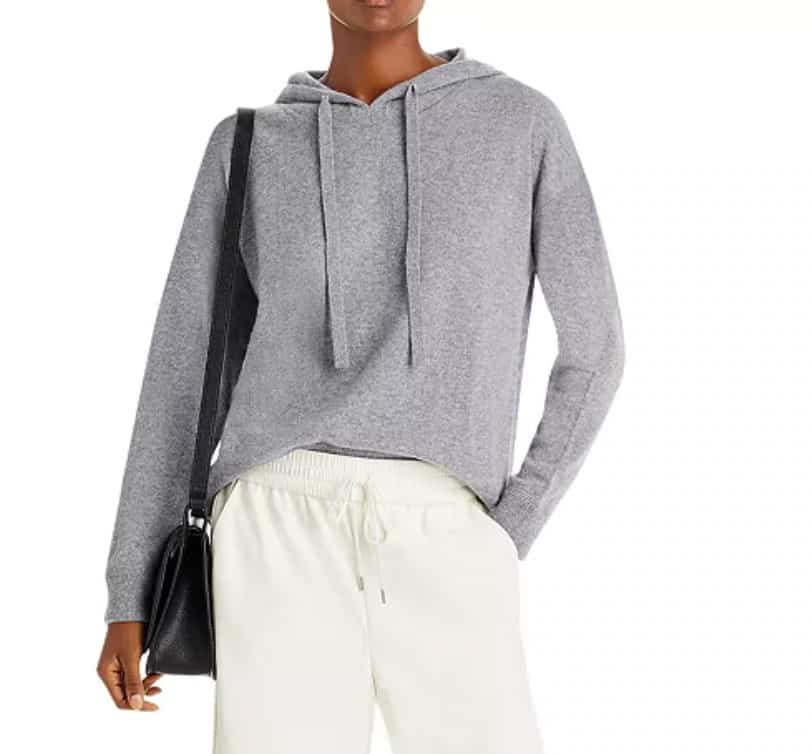 Product by C by Bloomingdales, shop here.
Our third essential for dipping your toes into the sea of mid-size fashion is a sweater. This is a winter must-have for women CEOs and other leaders.
Also, if your office blasts AC during summer, this is a year-round staple.
If you're hoping to balance your proportions, wear a sweater that ends at or 1-2 inches below your waistband. This is a great way to define your waist without having to only wear super-tight fits.
Have a lightweight sweater that's a tad too long? This is the opportunity to tuck it in. We know that oversized fashion is trendy, but a tucked top never looks sloppy.
Try this with a sweater like the grey cashmere hoodie from C by Bloomingdales above. A french tuck is perfect for a more casual twist.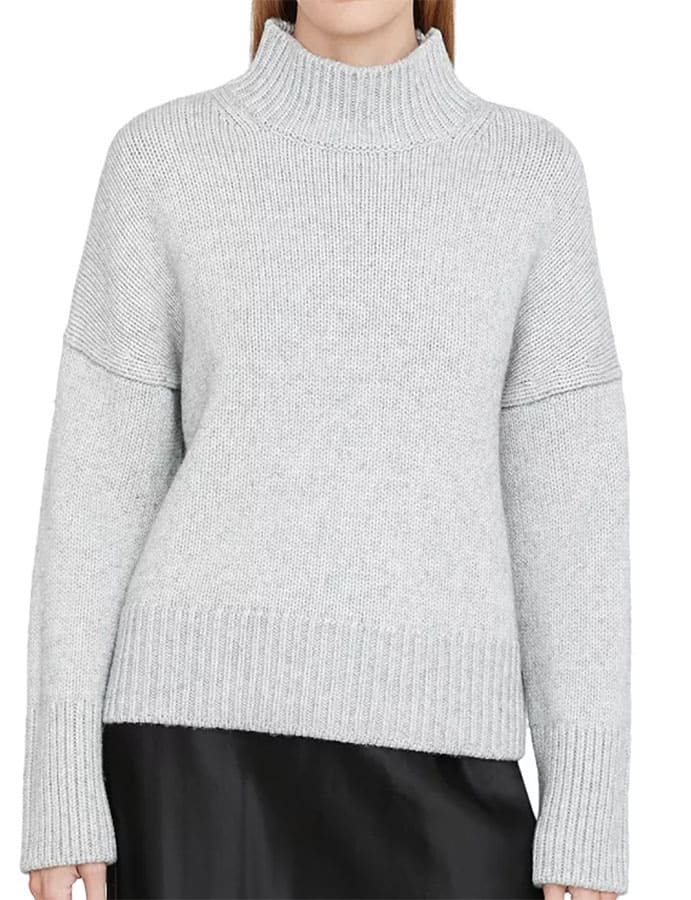 Product by Vince, shop here.
In the market for something cozier? Stay warm with this ribbed mock neck from Vince to take on frigid temps in style.
Mid-Size Fashion Power Outfits
The start of your capsule wardrobe is in place. Now it's time for our last bit of advice: mid-size fashion power outfits. Consider these your quick reference for how to dress: mid-size style inspiration.
How to Dress Mid-Size: Master the Monochromatic
If you're considering how to dress professionally as a mid-size woman, you can't go wrong with the monochromatic suit.
These ensembles instantly appear polished with minimal effort. You can rock your monochromatic look in an accent hue or stay classic with core colors like the image above.
The neutral color-palette balances out the boyfriend-length cut of the blazer and the wide-leg pant silhouette. Additionally, the tan fitted scoop neck top underneath sprinkles contrasting fits so the combo isn't overwhelming.
This is a powerful CEO style to pull off while in a meeting or speaking at a summit. It's also ideal to pack for a woman's business trip. Just bring a few changes of tops and you're set.
How to Dress Mid-Size: Dress for Success
View this post on Instagram
One of our favorite hacks to instantly transform your outfit is to layer up. As long as you get a coat, jacket, or shacket in the right fit, you're good to go.
In this ensemble, the jacket amps up the visual interest. It pops against the white dress.
Plus, if this dress was lightweight or sleeveless, popping on a layer keeps you in line with strict dress codes.
Another reason why this dress gets the okay for the workplace is the collared top and button-down front. These small but important details read as office-approved.
How to Dress Mid-Size: Stand-Out Separates
View this post on Instagram
We told you we loved straight-fit bottoms and the same goes for trousers. These black paper-bag trousers paired with the denim jacket are the picture of power casual for women.
This is perfect to wear if you're unsure of your office's rules or you want to feel professional without overdressing.
The lime-green square-toe heels are a great example of how to use an accent color. But, if you prefer a low-key look, you can always sub in black or white loafers.
Now that how to dress a mid-size body is a mystery no more, are you ready to elevate your style? Sign up for our women's styling and executive image consulting services. Our team of experts are ready to clean out your closet and transform the way you shop.
*Disclosure: Next Level Wardrobe only recommends products that we'd suggest to our clients or personally wear ourselves. All opinions expressed here are our own. This post may contain affiliate links that at no additional cost to you, Next Level Wardrobe may earn a small commission. Read the full privacy policy here."