For so many businesswomen, the last thing they want to do is stress about what to wear. You've got a full schedule filled with work and life duties. Who's got time for changing outfits once you're off the clock?
Trust us, we know your struggle.
As a team of women's personal stylists online and in-person we've heard this from our clients.
They're searching for clothing that can do it all. They want something that they can wear to a meeting and for a dinner afterward.
This is why power casual womenswear is our favorite new dress code.
This style is the new go-to for busy executives, entrepreneurs, and CEOs. Especially in a post-2020 world where the old business-formal office requirements are out of date for many workers.
Keep scrolling to find out more about power casual and how to integrate it into your wardrobe with ease.
What is Power Casual Womenswear?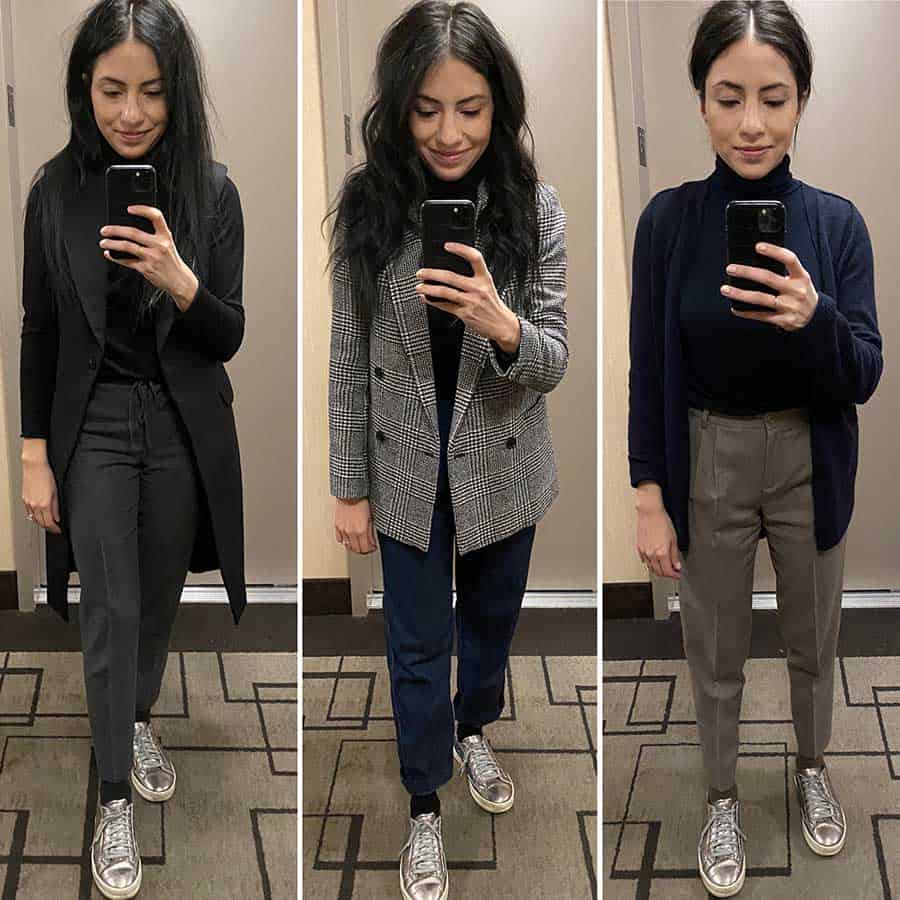 First things first: what is power casual womenswear?
Power casual womenswear is a term invented by designer Sarah La Fleur. It describes melding relaxed fashion with elevated pieces.
Sarah La Fleur owns a workwear company, M.M.LaFleur. During the last few years, she saw a major change in the way women were shopping for work. Modern buyers no longer wanted stiff, all-business wear. They were searching for versatile, comfortable, and sophisticated options all at the same time.
How do NLW's virtual stylists describe power casual?
We call it the perfect blend of true casual and formal pieces. Picture mixing your softest knit items with the structure of your best suit. But before you wear any old tee with dress pants, here's the nuance that makes this trend shine:
High quality items with impeccable fit.
There's a difference between a shirt you sleep in and a shirt you can wear to meet with investors.
That is the key to nailing a power casual outfit.
When to Wear Women's Power Casual
Photo Credit: Pexels
Now that you have an idea of what power casual women's wear is, let's talk about when to wear it.
The simple answer is all the time.
Seriously. Consider this style your new 24/7 wardrobe. Here's why it'll work.
Every year (and especially recently) fashion leans more and more towards the casual end of the spectrum. From athleisure and loungewear to workers only dressing for what a Zoom camera can see, relaxed is the new normal.
Another reason this should be your new go-to is to avoid the confusion of workplace dress codes. How often have you found yourself wondering what to wear to the office? Or what about that dreaded moment when you're the most overdressed person in the room?
This look puts an end to all of that unnecessary stress. Instead, it adds intent to what you wear.
How to Build a Power Casual Wardrobe for Women: 3 Items to Super-charge Your Style
It's time to start building your own women's power casual wardrobe. Since this is all about quality, versatility, and fit, you don't need an overstuffed closet to make it work.
In fact, if you invest in a few good basics, you can create your very own capsule wardrobe. Here are the three building blocks for the world of power casual outfits.
1. Power Casual Women's Layering Pieces to Love
Product by Officine Generale, shop here.
You know how a blazer adds that finishing touch to a business formal attire?
That's what layering does for this aesthetic and that's why it's the first addition to your power casual wardrobe. They bring an ensemble together and add a dash of polish.
So what should you reach for instead of a classic blazer? Jackets, cardigans, coats, and shackets. These items give a more informal vibe while still being purposeful.
Select options in chic, evergreen cuts without too many flourishes or overly trendy touches.
Take this button-up cardigan from Officine Generale. It's simple but effective. The navy-blue color easily pairs with anything in your wardrobe. Plus, the fit is loose but not baggy. That way you side-step looking like you grabbed your grandpa's sweater.
We've put a few clients in this cardigan for the new season and it's quickly become one of their favorite pieces.
This item is ideal for a spring or fall minimalist outfit idea. In winter you can pull out a coat, but what about summer?
Layering works best in cool or cold weather. But don't sweat it (literally). If you're wondering how to dress professionally when it's hot out the next two items still hold true.
2. Power Casual Women's Perfect Fit Pants
Product by Frankie Shop, shop here
We cannot overstate the value of a well-tailored pair of pants. In power casual womenswear, this piece is your best friend.
Take these high-waisted pleated trousers from Frankie Shop for instance. The fitted waist with the straight leg fit embodies a balance of laid-back and buttoned-up.
Pants that fit like a glove suit your height, flatter your figure, and instantly elevate everything else.
They also make you seem like you know what you're doing. Think about it. Picture yourself tripping over your pant hem or constantly adjusting your waistband. Now envision yourself not having to worry about any of that.
Clothes work best when you don't have to think about them. Remember, great style is simple!
Finding jeans, trousers, or pants that fit correctly pumps up your confidence. When you feel confident, you exude confidence and people are more likely to put their trust in you.
What could be more power casual than that?
3. Power Casual Women's Staple Sneakers
Product by REISS, shop here
The third essential for every woman's power casual wardrobe is sneakers. The days of limiting sneakers to your weekends or workouts are long gone.
These are a practical option for the office and after-hours. Plus, they're comfortable and functional. For anyone who commutes, walks on their break, or needs to pack for a business trip, sneakers are a no-brainer.
To get this look right, choose shoes in core colors. We're talking about white, black, grey, and navy. These tones go with everything and won't pull focus from the rest of what you're wearing.
Another tip to follow is to opt for luxe materials. You want your shoes to be fashionable AND last. Don't forget you'll have to properly take care of your items. We recommend this handy travel kit from Jason Mark.
The white trainers from REISS pictured above check all these boxes. They're muted, Italian leather fabrication, and have a low-profile silhouette.
Slip these on and you won't miss a step all day.
3 Women's Power Casual Outfits to Level Up Your Look
From the best-dressed women CEOs to Hollywood stars, power casual outfits are a favorite.
In addition to all the reasons we've previously mentioned, power casual womenswear appears effortless. It gives the impression that you know how to dress well without trying too hard. It seems attainable—and guess what? It is.
For a little inspiration, check out these celebrities who always get it right.
Add a Sporty Spin
She may have been Posh Spice back in the day but lately, Victoria Beckham is an expert at adding an athletic attitude to her fashion.
The clearest place where she's peppering in some sporty spice is with the sneakers. In all three ensembles, she's gone with white trainers.
She's gotten the silhouette and color right: they don't take away from her look. Since the rest of her outfit is dark, they brighten up her attire.
But there's one more place she's sprinkled in some sportiness. Check out the silhouette of her pants in the left and right panels.
Doesn't the tapered shape of the legs and the looser fit at the waist remind you of joggers?
This is a savvy example of matching a casual style with elevated fabrics.
It's in Your Jeans
Beyoncé, J.Lo, and Jessica Biel are all icons for their talents and business smarts. But at this moment, we're admiring their denim knowledge.
Jeans have a casual reputation and that makes them a must for power casual outfits. But that also makes it easy to go too casual to the point of sloppiness.
So what makes the jeans these ladies are wearing work?
Number one is fit. Each pair is the right size for each of them. You don't see excessive pulling or whiskering, or a bunch of extra fabric.
Number two is what pieces they've worn their denim with. J. Lo and Beyoncé have gone with our favorite trick: tucking in their top. This defines their waist and gives off the impression that they took a little extra time to perfect their ensemble.
Biel's dress works here too because her top ends just below the top of her jeans. A longer top would have swallowed her up, but this is just right.
Be a Layer Player
Last but not least on our list is someone who can layer with the best of them: Emilia Clarke.
Take a moment and think about her clothes without the coats and blazers. They're surprisingly straightforward. Across the board, she goes for a lighter-colored top, dark bottoms, and light shoes.
All of these combinations function just fine without the layering pieces.
But once she throws on the jacket, the looks become infinitely more interesting.
Clarke uses her layers as an opportunity for flare, like color or pattern. She's also sporting a longer fit as opposed to the classic blazers that stop around the tops of your hips.
This is an excellent example of how to make power casual outfits your own.
Have we inspired you to add power casual womenswear to your closet? Sign up for NLW's women's personal styling services and virtual executive image consulting for women. Our wardrobe experts will lead you through transforming your style, how you shop, and how you dress for success.
*Disclosure: Next Level Wardrobe only recommends products that we'd suggest to our clients or personally wear ourselves. All opinions expressed here are our own. This post may contain affiliate links that at no additional cost to you, Next Level Wardrobe may earn a small commission. Read the full privacy policy here."