How often have you found yourself in the footwear department, at a loss for the best office shoes for women? Or worse, staring at your closet, unable to find a single pair to wear to work?
Before you know it, you're running late, in a bad mood, and still don't know if you're putting your best foot forward. Literally.
Let's end the weekday morning dilemma right here, right now.
Here at Next Level Wardrobe, we know exactly which shoes to buy, in what colors, and for which dress codes.
We've done the heavy lifting for you. So put up your feet, and keep reading to learn more.
How to Find Best Office Shoes for my Dress Code
Photo Credit: Pexels

We know workplace dress codes are a pain to decipher. That's if your office even bothers to give you one. (We're looking at you, West Coast workplaces.)
Business formal, business casual, smart casual, workleisure—the list goes on and on. Sometimes it feels like the difference between each dress policy is tiny too. But that can work in your favor when it comes to finding the best office shoes for women.
Why?
Because if you shop smart, you can find one or two pairs of footwear that match any professional situation.
Here are NLW's criteria for the best office shoes for any dress code:
1. Find shoes that fit. There's no point in keeping shoes in your closet that are too big or too small.
2. Find comfortable shoes. No one should put something on their feet that gives them blisters or has them hobbling by the end of the day. Plus, if they hurt, you won't wear them.
3. Invest in quality over quantity. This is one of our team's go-to mantras for building a capsule wardrobe, and it holds true for shoes. We see so many closets that have TONS of unworn shoes. All you need is a few well-made pairs that match your needs.
Buying Lady's Office Shoes in the Right Colors
We've set you up with the foundation to follow when selecting lady's office shoes. Now let's get into the next question that always trips people up: colors.
If you want to build a professional, minimalist wardrobe, the best office shoes are those in core colors. Generally, Next Level Wardrobe defines core colors as black, white, brown, navy, and white.
This is part of our NLW Style System. By focusing your wardrobe on high-quality, well-fitted items in core colors, you maximize your wardrobe's versatility.
So what does this mean for your shoe collection?
We recommend sticking to darker shoes as a foundation if you need help putting outfits together. Black and dark brown are the easiest to match with the greatest volume of clothing. You can start there before mixing in other core and tonal colors.
Don't worry. As much as we love a neutral closet, we won't deprive you of pops of color. Once you start feeling comfortable and confident building outfits, you can expand your palette.
Just follow our Hierarchy of Color. Keep the majority of your closet in core colors, then tonal colors, and just a select few boldly colored shoes.
The 4 Ladies Office Shoes You Should Own
By now, figuring out the world of ladies' office shoes doesn't seem so hard. We're about to make it even easier. Here are the four best office shoes for women:
1. Loafers/Flats
2. Boots
3. Sneakers
4. Low Heels
Ideally, we recommend only having one or two of each (depending on your style and needs).
With that, let's explore each style a little deeper.
1. Best Office Shoes for Women: Loafers and Flats
Loafers and flats are a no-brainer when it comes to the best office shoes for women. For one thing, they're much more likely to be comfortable than high heels.
For another, they're practical and versatile. Whether you're looking for shoes to wear in winter or the right office footwear for summer, these have you covered.
They're also an obvious choice because of their classic, close-toe style. Unless explicitly stated by your workplace, it's safe to assume that open-toed shoes are a no-go.
Product by Jimmy Choo, shop here.
As far as flats go, ballet flats are always a win. If you want a sleek version of this style, go for these pointed-toe flats from Jimmy Choo.
For loafers, try a classic black pair like these penny loafers from Coach. The gold chain across the toe adds just the right amount of personality, while the color and leather stay timeless.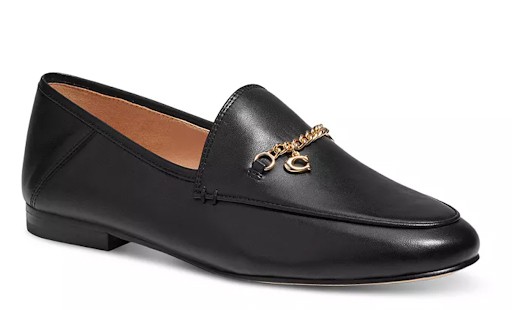 Product by Coach, shop here.
2. Best Office Shoes for Women: Minimalist Boots
For whatever reason, many blogs leave off boots from their list of the best office shoes for women.
But in our opinion, they're a staple, especially for winter and if you live in a cold climate. Not only will this footwear keep your feet warm, but it'll also go with everything.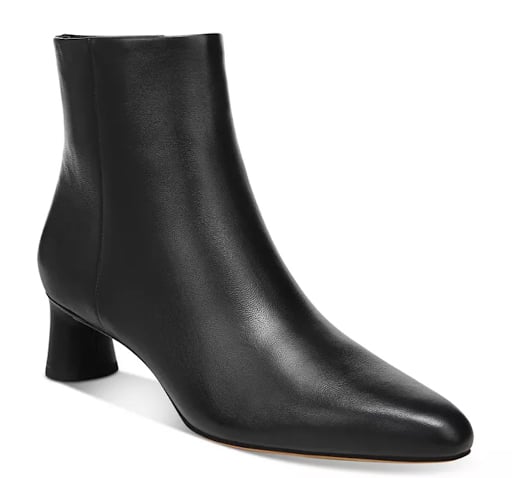 Product by Vince, shop here.
Take these ankle boots from Vince, for example. You can easily wear these with any cut of the trouser leg, from skinny to straight to wide-leg.
They won't look bulky, and the chunkier heel gives you height without sacrificing comfort. Win-win.
Product by La Canadienne, shop here.
However, let's say you want to go with a tall boot. This would go well over skinny pants at a more fashion-forward office or partnered with a dress or skirt.
We love this option from La Canadienne in a wintry suede finish. We recommend choosing black over brown boots as they're a bit easier to coordinate with your outfits.
3. Best Office Shoes for Women: Sneakers
When we talk to clients about business professional women's attire, they're often shocked to learn that sneakers are office-appropriate. Or that they even make our ranking of the best office shoes for women.
We understand why. They (and many of you) might think sneakers automatically mean gym shoes. Nope. In this case, we want you to consider anything you'd wear for a workout as a separate category.
The sneakers you wear to the office are your day sneakers. They're elevated versions of the shoe with decidedly non-sporty design details.
Product by Vince, shop here.
Take these slip-ons from Vince. Check out the black, perforated design in high-quality material.
Additionally, we love slip-ons for a casual workwear look. They're easy to get on when rushing in the morning, and the lack of laces basically turns them into loafers.
Product by Porte & Pare, shop here.
Another great example are these white laser-cut kicks from Porte & Pare. The scalloped details and perforated design feel elevated and feminine.
On top of that, white sneakers are universally stylish shoes. They don't detract from the whole outfit, they give off an effortlessly cool vibe. This would go exceptionally well in a power casual ensemble with straight-cut jeans and a blazer.
4. Best Office Shoes for Women: Heels
Last but never least, we have heels. When you first thought of the best office shoes for women, you probably pictured a pair of classic pumps.
In general (and especially in a post-2020 world), fashion isn't as strict and buttoned-up as it used to be. More professionals are expanding their wardrobes to more relaxed styles like the three other footwear styles mentioned above.
Of course, that doesn't mean the heel is out. If anything, heels are the ideal way to instantly upgrade your outfit to feel more formal or commanding.
However, we personally recommend a lower heel. It's more practical and let's be honest, they're way more comfortable for all-day wear.
Product by Manolo Blahnik, shop here.
These Manolo Blahniks are the perfect pair as they're in a core color and have that interesting bucket detail in the front.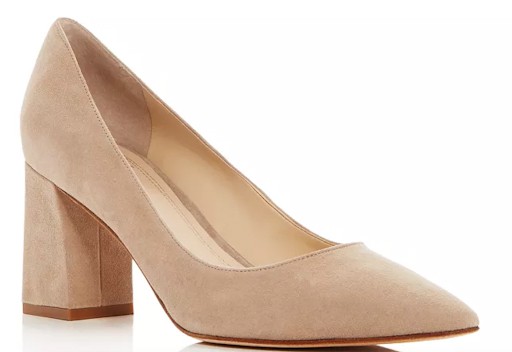 Product by Marc Fisher, shop here.
Or, for a bit more height, consider this block heel by Marc Fisher. This can go with anything from a little black dress, to pants, to skirts.
With these four shoes in your arsenal, consider yourself set for every type of professional event.
Ready to step up your wardrobe? Apply for our women's image consulting services. Our expert team will help you find the right wardrobe to match your personal brand from head to toe.