*Disclosure: Next Level Wardrobe only recommends products that we'd suggest to our clients or personally wear ourselves. All opinions expressed here are our own. This post may contain affiliate links that at no additional cost to you, Next Level Wardrobe may earn a small commission. Read the full privacy policy here.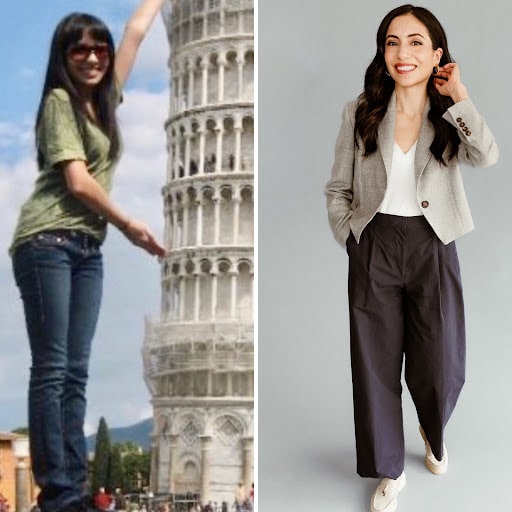 NLW Founder, Cassandra's own style transformation in her 20's to 30's
Learning how to dress in your 30s often feels like a huge shift. For many, you're officially entering a new phase of your life.
This might look like easing into a comfortable place in your career. Or it may mean you're starting a new path. It may even mean that you're settling down and reevaluating what's important to you.
Style is a big part of that. Why? Because we use clothing to show how we feel, who we are, and how we want others to see us.
If you're about to turn the big 3-0, this guide is for you.
We're covering everything you need to know to conquer this next decade in 7 actionable steps confidently.
Table of Contents
1. Create Your Style Vision Board
Before going on long shopping trips or reinventing yourself, you need to create a plan. That plan is your style vision board.
Style is incredibly visual. It makes sense to create a space where you can see just how you want to dress. You could go retro and cut out pictures from magazines and paste them on a board. But we think Pinterest is a much more practical avenue.
(Tip: If you need a starting point, check out Next Level Wardrobe's Pinterest to get your wheels turning.)
Try taking a style quiz and typing the results into Pinterest. Or look up photos of any style role models you have or celebrities whose fashion sense you admire.
From there, keep exploring and pinning photos that make you feel excited and that you can picture yourself in. You'll begin to view dressing in your 30s as an exciting adventure rather than an intimidating chore.
As you start collecting more and more images, you'll start seeing patterns in what you like. Maybe you'll notice that you love wide-leg jeans and crochet details. Or perhaps you'll notice you gravitate towards neutrals.
Whatever it is, this will train your mind to focus on what you want from your closet. That way, when you're shopping, you'll be more intentional and love everything you purchase because it fits your overall aesthetic.
2. Clean Out Your Closet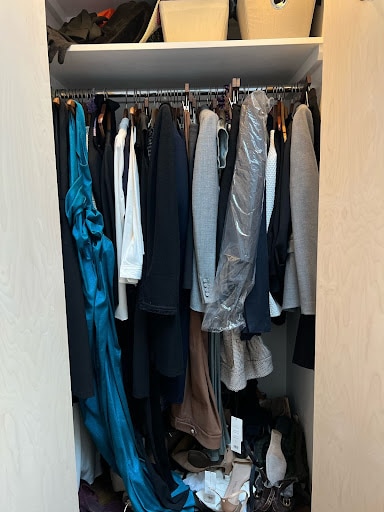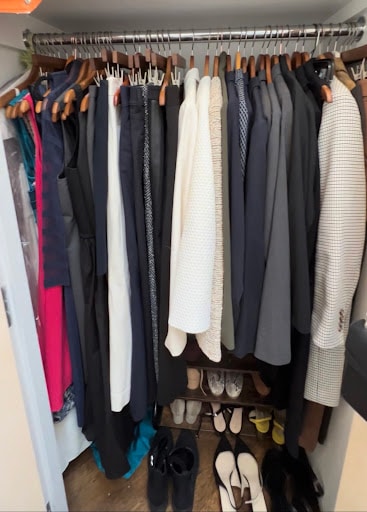 Before and after of a Next Level Wardrobe client's closet.
Did you create your "How to dress in your 30s" vision board? Perfect. That's your style roadmap for the rest of this journey.
Next, let's confront your closet.
One thing we hear the most from our clients is that their closets control them.
"I have closets full of clothes but nothing to wear!"
"My closet's so messy, I can never find anything. I just wear the same three things."
"Everything I own is boring."
"Nothing fits right in my closet. It's too big, too small, and I don't feel good putting anything on."
If you've ever said one of the above phrases to yourself, you're long overdue for a closet cleanout.
Think of your closet as a kitchen, and you're trying to make a delicious Margherita pizza. You can't make that perfect pie if your kitchen is filled with the wrong ingredients.
The same goes for creating outfits: you can't have great style if you have all the wrong pieces.
Take everything out of your closet, try everything on, and make a "to keep" and "to donate" pile. This is the hardest part because you need to be ruthless with your clothes.
This isn't the time to keep "maybe" pieces. Or things you never wear but keep around "just in case" the right occasion comes along.
Get rid of the old college tees you never wear, fast-fashion going-out clothes, and anything that doesn't fit.
Often, we see people holding on to things that used to fit when they were in their early twenties. The fact is bodies change. That's okay. Let go of those clothes, so you have more room for pieces that fit your body as it is today.
Doing this will improve your attitude and your appearance.
3. How To Dress in Your 30s for Work: Invest in Essentials
So you've gutted your closet. At this point, you've gotten rid of any dead weight, and you're down to what you actually want and need. As you put these pieces back into your closet, this is the time to start identifying gaps in your wardrobe. Why?
Because the next step in learning how to dress in your 30s for work is to invest in essentials.
For many, their early 30s is the first time they have a little extra money to spend on nicer things. That means that you need to start being more strategic about what you buy. Think of the pieces you purchase as investment pieces.
Don't focus just on the initial price. Instead, consider the cost per wear you'll get from an item.
If it's a high-quality, well-made item, it has a lower cost per wear than buying and replacing something you got from H&M every few months.
Of course, you don't have to spend big on everything. For example, if you're going through body changes, it makes sense to lower your budget. But if you're thinking about pieces you'll wear for years to come, don't be afraid to raise your price point.
The best pieces to invest in are essentials. Like a great pair of jeans, a versatile blazer, and a well-made sweater.
4. Pair Back Your Accessories
When searching for outfits for 30-year-olds, don't just stop at clothing. Accessories play a huge role, too.
Keep your accessories simple. One of our favorite sayings is, "Great style doesn't scream; it whispers." Make this your mantra as you go through your accessories and get ready each morning.
If you have jewelry, go through and retire the items that don't reflect where you are in your life today. (We're looking at you, chunky fashion jewelry and cheap, tarnished metals.)
If you're guilty of having a messy pile of 20 or more shoes, it's time to make deep cuts. Say goodbye to anything you'd be embarrassed to wear to the office. (The only exception here is workout sneakers and sandals for vacation or beach days. But even those shouldn't look shabby!)
Last but not least, don't forget that hair, glasses and fragrance are also accessories. They're those finishing touches that go into the first impressions you make every day. That means you want them to work in harmony with the rest of your look.
5. Skip the Trends
You might have noticed a trend by now in our advice for how to dress in your 30s.
And it's that we're not big on trends and fast fashion.
We believe that great style is timeless. It doesn't go out of vogue in a couple of days, months, or even years.
When you're in your twenties, it's easier to get away with wearing those fad pieces. You're still figuring things out. Plus, you probably don't have as much disposable income, but you still want new things to wear. But this isn't sustainable (in any sense of the word).
Take this new decade as your opportunity to see beyond whatever ad comes up on your Instagram. Instead, always return back to your vision board.
Think to yourself, "Does this fit my style goals? Can I wear this piece every day? What about to the office? Do I really need this item, or do I just want something new?"
If the answer is no, it's a trend, and it's a skip.
6. How to Dress in Your 30s for Work: Dress For The Job You Want
Next Level Wardrobe founder Cassandra Sethi started her company in her early thirties, right when she was becoming more successful.
However, her style didn't reflect that. At this point, she was over fast fashion, and she was ready to start making wise investments in her clothing. She was ready to experience great style.
That's the same approach we want you to have.
At this point in your life, you're likely in a more senior or leading position in your profession. We're not saying you've hit your career goals just yet, but you're closer!
That means you need to start dressing the part. You want others to take you seriously when you walk into a room—you are your business card.
Knowing what to wear in your 30s means knowing how to dress for success. You're more likely to gain respect and support from coworkers (above and below you) if you make a good impression.
Do this by wearing clothes that:
Fit well
Are in good condition
Match your dress code
This is especially important if you're the youngest person in the room or if you look young for your age. Your style can help you seem more mature.
7. Hire an Expert
Maturity is knowing when to ask for help.
So many folks in their 20s feel the need to prove themselves and do it all on their own. Don't get us wrong. That can be a positive thing.
But as you get older, you start to feel more comfortable in who you are and understand the value of working with an expert.
If you:
Hate shopping
Feel stuck in a fashion rut
Just went through a life-change
Or simply don't know where to start
…it's time to call a stylist. They'll help you see how to dress stylishly in your 30s for work and any other occasion.
The right stylist will listen to your style challenges and goals and teach you how to reach them.
Many people hesitate to work with a stylist because of the cost. But here's a simple formula to help you figure out what to spend on a stylist/if it's worth it:
Take the number of hours you would have spent scrolling, shopping, returning, ordering, and researching clothing, a whole new wardrobe. Multiply that number by the stylist's hourly rate.
Eye-opening, right?
A stylist saves you time and energy that you'd rather spend on the things and people you care about. Let them handle all the leg work so you can enjoy the result.
If you're ready to master how to dress in your 30s, apply for Next Level Wardrobe's styling services. Our style team has experience working with professionals of all ages, backgrounds, and sizes.
We'll teach you how to build outfits, take control of your closet, and change your shopping habits for good.