Ready for a shortcut to great CEO style? Apply to work with NLW.
It's no secret that new parents have a lot on their plate. Between taking care of their little one to easing back into their old responsibilities, it's a whirlwind. That's why they need a solid postpartum wardrobe to make the days easier.
With a new baby and a new body to dress, it can feel daunting to pick out clothes every morning. But it doesn't have to be that way.
The best postpartum clothing should work with your lifestyle, not make it more challenging. That's why we've put together this guide to help you figure out what to wear after delivery.
At Next Level Wardrobe, we style people of all different sizes, shapes, and lifestyles. This includes busy, hardworking professional moms. We're using our stylist's years of experience to share everything you need to know about postpartum fashion.
The Key Elements of Postpartum Clothing
We'll get to our rundown of the essential postpartum clothing pieces all new parents should have. But first, let's discuss the elements that all of your clothing should have after the baby.
When you're pregnant, you know to reach for maternity clothes. Like pieces with room for your bump and specially designed items like maternity pants with elastic belly bands.
But what about after you've given birth? Do you use those same clothes? Or are you supposed to jump right back into "regular" clothing?
The truth is, it's different for everyone. Some moms prefer to stick with laid-back lounge pieces. Others want to "feel like themselves again" and put on their favorite pair of jeans as soon as possible.
Either way, here are a few key elements that will keep your body happy and make your days easier.
Your postpartum wardrobe should feature:
– Flexible fabrics. Your body is changing every day and you need clothes that can keep up. Seek out pieces with stretch and elasticity and you'll feel more comfortable.
– Easy care instructions. If you're juggling a career and motherhood, the last thing you want to do is add to your to-do list. And let's be honest—babies are messy. Look out for your future self by avoiding hand wash or dry clean only items for now.
– Knowing where to invest. As we mentioned previously, your body is constantly changing. During that time, it's best to (if you have to buy something new) aim for lower price points. That way your not spending big on items you'll only wear for a month or two. (Or that'll get dirty and worn out too quickly) Save your spending for items you can wear no matter your size.
Stick to these three rules and you're sure to have a better fourth-trimester style experience.
5 Postpartum Fashion Must-Haves
There are 5 key postpartum fashion items every after-baby closet should have. They are:
1. Nursing-friendly tops
2. Elastic-waist bottoms
3. Easy layering pieces
4. Basic tank tops
5. Comfortable shoes
Guess what all of these pieces have in common? They follow our NLW Style System. This system focuses on building your closet (postpartum or otherwise) around these three principles:
– Prioritizing quality over quantity. We know it's tempting for new parents to buy the quickest, cheapest things in bulk. But it doesn't end up saving you time or energy if you have to constantly repurchase replacement pieces.
– Focus on fit. We all know that glorious feeling when you find a pair of pants that fits like they were tailored for you. You're more likely to love and continue to wear items that suit your body where it is now, not how it used to be.
– Invest in core colors. Postpartum wardrobe or not, core colors are essential. They include black, gray, white, and navy. These colors go with everything. If you're stretched thin between childcare and work, the last thing you need to do is stress about creating outfits each morning. Core colors save you time.
Read on to learn more about these items and our top product recommendations.
Nursing-Friendly Tops for Every Postpartum Wardrobe
If you choose to breastfeed, easy-access tops are vital.
You don't want to spend time and energy fully changing out of your top every few hours.
To make your life easier, invest in nursing-friendly tops and blouses. What makes something breastfeeding-friendly?
Pay close attention to the necklines of your tops. For instance, it's harder to pump or feed if you're wearing a turtleneck or even a crew neck.
Instead, opt for tees and shirts with scoop necks and v-necks, or henley-style fronts.
Product by Aqua, shop here.
Like this puffed-sleeve piece from Aqua. The wrap gives you easier access while the style feels put together and office-ready.
Notice that this top isn't specifically made for nursing (though we'll cover those items later). Anyone could wear it, but it just so happens to work perfectly for a postpartum wardrobe.
If your closet is already full of items like button-down shirts, you're already ahead of the game.
Product by Frank & Eileen, shop here.
Classic button-downs are ideal for breastfeeding. All you have to do is undo a few buttons and you're ready to go.
You can always utilize what's already in your closet. But if you need to invest in new sizes, try this navy option by Frank & Eileen. It's flowy, soft, and roomy without looking sloppy.
Tuck it into a pair of straight-leg jeans and add boots for a chic power casual outfit.
Postpartum Wardrobe Staple: Elastic-Waist Bottoms
You might think of sleepy sweats when you hear "elastic waist pants". But that doesn't have to be the case.
You can find stylish and sleek elastic pants that are comfortable and adaptable for your changing body. In fact, now is a great time to find a strong offering of them in stores post Covid.
We recommend looking for pants that have a drawstring on top. You'll find these in not only casual pants but power casual and formal too.
Styles like these are so comfortable to wear but have a polished feel. Plus, they're versatile enough to take you from cuddling with the baby to errands to a meeting.
Product by Velvet by Graham Spencer, shop here.
These olive joggers from Velvet by Graham Spencer are the perfect example of elevated joggers. The drawstring waist offers comfort while the clean cotton material looks like you put effort into your appearance.
(Plus the big pockets will come in handy when you're at home picking up pacifiers and toys.)
You can even wear these during your first and early second trimesters. The light cotton material makes these ideal for styling summer pregnancy clothes as well.
Partner them with a tucked-in black tee or dress them up with a blazer and flats.
Product by Theory, shop here.
Need something that's more business formal versus business casual for your postpartum wardrobe?
Try out these Theory trousers with a flexible, pull-on waistband. The smooth-finish fabric looks and feels business-appropriate. However, the stretchy material and comfy waistband will have you feeling like you wearing pajamas.
Layering Pieces to Add to Your Postpartum Wardrobe
Never underestimate the power of a good layering piece. The NLW loves cardigans, jackets, and blazers to frame your outfit and instantly dress up a look.
That makes them essential for new moms. You can keep the rest of your ensemble simple and soft. But add the right layering piece and you look like you put thought and care into your style.
Product by AG, shop here.
If you want something structured, try something like this jean jacket from AG. Denim goes with everything, so mixing and matching this with other items in your capsule wardrobe will be easy.
It also has some stretch so you can move around comfortably. Whether you're playing with your little one or giving a presentation at work, we know you need mobility.
Product by Vince, shop here.
Or consider this cream-toned cardigan from Vince. The cashmere blend makes this an all-seasons item. It's lightweight enough for spring but cozy enough for winter.
Plus, the silhouette is nursing-friendly, so no worrying about pulling on and off sweaters during autumn and winter months.
Wear this with brown trousers and sneakers for a corporate casual ensemble.
Postpartum Wardrobe Essential: Basic Tank Tops
Wondering what you should wear under those jackets and cardigans? A basic tank.
While core color tank tops work for anyone, they're especially handy in a postpartum wardrobe.
Why? Well for one, they keep things simple. You can wear them with anything from pants to skirts to blazers. They're easy to dress up or down and perfect for keeping cool.
For another, they're a prime way to subtly add nursing-functional pieces to your businesswear rotation.
Product by Ingrid & Isabel, shop here.
Check out this simple and discreet black nursing tank top from Ingrid & Isabel. Wear this under a blazer and tuck it into jeans or trousers and it looks like just another tank.
However, the drop-down straps allow you to easily feed or pump without undressing.
We also love this particular nursing tank for its compressive fit, which is perfect for supporting your postpartum stomach.
Product by Splendid, shop here.
However, if you're not nursing, you can opt for this classic scoop neck from Splendid as well. This is also ideal if you prefer a looser fit. Partner it with your drawstring joggers or jeans and complete the look with loafers.
Flowy Frocks for Your Postpartum Wardrobe
Our clients often prefer separates, but when they do pick up a dress, they love it for its simplicity.
Dresses are a one-and-done outfit piece. You appear dressed up and polished when in reality, it took you half a second to get ready.
In addition to that, dresses are particularly convenient and fashionable for a postpartum wardrobe. You don't have to worry about feeling restricted, uncomfortable, or too hot.
Furthermore, flowy dresses keep you from having to constantly update your wardrobe every time your size changes post-baby.
Product by Ralph Lauren, shop here.
One of the top styles of dresses we recommend for a postpartum wardrobe is a wrap dress. These dresses complement curves and define waistlines. On top of that, they're more breastfeeding-friendly than other styles of dresses.
If you're interested in investing in a wrap dress, try out this light blue flutter sleeve frock from Ralph Lauren.
It's not tight around the stomach but not so loose that it looks like a sack. The navy color works for professional settings without seeming too buttoned up for after-hours fun.
Postpartum Wardrobe Finishing Touches: Comfy Shoes
Any new mom will tell you: Comfortable shoes are a must.
When you're navigating work and mom life, you need something that's easy to take on and off. Slip-on sneakers will help you look stylish but be highly functional.
Product by Vince, shop here.
Look for a shoe with good support, like this taupe option from Vince. The neutral color keeps this shoe professional-looking and easy to mix and match.
You can be on the go in a flash, and the material is subtle and high quality.
It doesn't look overly trendy or sloppy. However, we know that not every office welcomes sneakers.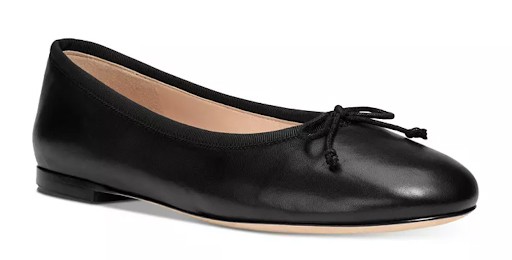 Product by Kate Spade New York, shop here.
In that case, we recommend trying a simple pair of black ballet flats like these from Kate Spade New York.
Flats go with everything and every dress code. They ride the line between formal and casual and are subtle enough to not distract from your outfit.
Finally, the lack of heels makes them especially practical for running after kids or commuting on foot to the office.
There you have it, our top postpartum wardrobe must-haves. With these styles, you can confidently take on this transitional period in your life without wasting time or money.
Interested in more help working through all of life's transitions? Check out Next Level Wardrobe's services. We offer personal styling and executive image consultations to hundred of high-achieving professionals. Our experienced team of style experts is ready to help you change the way you dress and shop for good.