When it comes summertime, what is business casual?
As soon as the weather starts warming up, the clothes start shedding — but how do you balance the line of comfortable and cool, yet office-appropriate.
Working with light fabrics, smart layering, and fresh silhouettes is a great place to start for the perfect summer work outfit.
Here are 10 summer business casual outfits for women to try out to feel polished — all summer long.
Table of Contents
A Midi Slip Dress
One great way for women to dress business casual in the summer is a slip dress. A slip dress should be a staple for summer work outfits — so long as they aren't too short or cleavage-baring.
A midi or maxi length will help with the first part and an oversized blazer can help with the second part.
To make this appropriate for an office setting, it shouldn't feel too lingerie-inspired so save the lace detailing for home.
The slip dress can be flattering in many sizes. To show off your curves, look for slip dresses that have a bit of tailoring at the waist. A long shapeless silhouette can be overwhelming on a lot of frames, but a slip dress with the right tailoring at the waist and cut on a beautiful bias will hug your curves and skim over your body.
Styling with a strappy heel can make this look feel too date night so instead, finish off with a casual pair of sneakers or flats.
White on White Outfit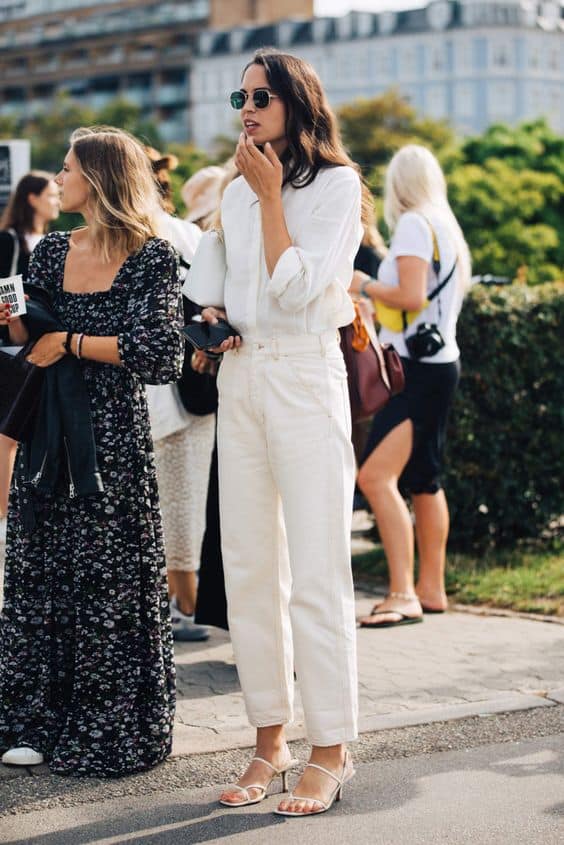 An all-white ensemble feels fresh and put together and makes for a great summer business casual outfit for women.
The best casual summer work outfits require little to no thinking for styling an outfit. Go for rigid denim with a straight or slightly flared leg — no see-through white pants here!
Pair with a lightweight poplin or linen white shirt and neutral accessories.
This look can take you straight from the office to happy hour with friends. An all-white look looks chic on any body type or shape.
A Belted Dress
A relaxed belted dress is the answer to your summer business casual worries.
A belted dress is just the right amount of being conservative but it's so flattering (belted at the waist) and stylish too.
For women who want to make more of a statement, try out a bold color or print or keep things neutral which never go out of style.
A length that hits right at the knee feels office-friendly and you can show some of your personal style off in the accessories. A pair of animal print sandals or flats feel trendy and office-ready.
A wider belt in a contrasting color looks great against a printed dress or keep things streamlined with a coordinating belt and contrasting belt buckle.
This shape is flattering on all body types because it cinches the waist and fits loose elsewhere. For a more petite frame, try a length that hits just above the knees whereas tall frames can pull off a longer hemline.
Matching Separates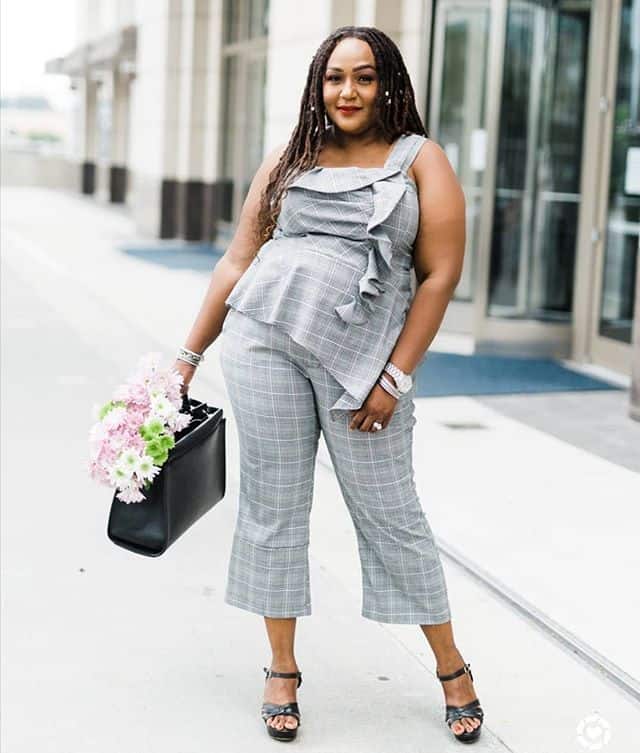 A matching plaid top and bottom don't feel so overwhelming when they are in unique and flattering silhouettes and can make for fun summer business casual attire.
A slightly flared trouser is probably already a staple in your summer work outfits, but this gets a refreshing take with an asymmetrical top.
A peplum has been popular in plus-sized clothing because it's super flattering, but this top gets a much-needed update with an asymmetrical ruffle. Interesting details like these allow you to show off personality in the workplace while remaining office-appropriate.
Finish this look off with heeled sandals, pumps, or pointed-toe flats to accentuate the cropped flare.
Midi Skirt
A midi skirt should be a staple for women's summer office outfits.
They are easy to dress up — or down — and are classic and polished. A pleated midi skirt feels proper, but you can still show off plenty of your unique style.
Because of the longer length, feel free to have fun with shoe choices on this. A pair of peep-toe pumps still feels office appropriate when you offset with a long skirt and fitted blazer.
Make sure you're flattering your figure when choosing a top to pair with your skirt. Instead of a boxy or oversized blazer, a fitted blazer that nips in at the waist will give you shape and keep the look feeling tailored.
Best of all, if you purchase your pleated skirt in a core color, you'll be able to wear it year around. A midi skirt will keep you comfortable in warm weather and still feel appropriate for summer office outfits.
Printed Top and White Denim
A pair of white jeans and a printed top feels weather appropriate, yet still office-ready. Beautiful blouses with a print are perfect for casual summer work outfits with a great pair of white denim.
A wider pair of denim feels more on-trend (for the moment) than super skinny jeans and a lightweight top in silk will keep you cool.
For a petite frame, try out a cropped flare style and taller builds can show off their long legs in this season's ground grazing flare jeans.
Take this from work to a night out by simply adding a blazer and switching out your work tote for a bolder, statement bag.
This is perfect for those summer nights that cool down and is a great look that feels youthful but put together.
A Great Trouser
The easiest go-to for summer business casual looks?
A great pair of trousers and a t-shirt.
Have fun with proportions on this one. A wider pant leg gets balanced with a fitted top.
For really casual offices, finish with a pair of sneakers for a look that's put together meets cool.
In a business casual office space, a low pair of rounded or pointed flats or loafers keep this right in line with summer business attire.
There is a pair of trousers and a t-shirt style for any body type. What's trending now, is a wider pant silhouette and this can look great on every body- as long as it's tailored to where it is now. Remember that you can wear more than you think- so if you see a style that you like, be sure to try it on!
A Versatile Wrap Dress
There is a reason the wrap dress never really goes out of style — they are easy, breezy, and polished. It also makes it a go-to for summer work outfits.
Keep the mini-dresses at home for all of your summer office outfits and work with a midi or maxi length instead.
For a more casual approach, pair low rise white sneakers. For a casual summer work outfit, complete the look with fun flats.
The wrap dress is a classic style for any size or body type. The wrap detailing helps define the waist which looks great on every body shape.
Mismatched Suiting
To make suiting instantly feel ready for summer business attire, opt for light colors, prints, and lighter fabrics.
Instead of wearing black and dark grey for your suiting color (which can feel heavy for summer work outfits) opt for light blue, tan and even white.
Investing in a trouser or blazer in linen gives you a breathable fabric that still feels business casual.
A single breasted blazer should be an investment for summer workwear and is a style that is so flattering on all body types. It can be topped on all-white outfits for a tonal effect or pair with pants in a new and fresh color.
A Blazer and Denim
A blazer over a pair of jeans will always feel polished, no matter the season.
To keep things put together for summer business attire, I'm loving a grey pair of denim. This is light enough for summer where it doesn't feel heavy but you can also wear year around.
Complete the ensemble with a modern belt and pumps for a go-to summer office outfit.
This foolproof outfit works for any body type with some adjustments.
For any curvy shapes, try high-waisted jeans to lengthen and a fitted blazer that nips at the waist.
For extra waist-cinching, try belting your blazer.
A tall frame can pull off this season's trendy oversized blazer, while more petite frames look best in a pair of mid-rise jeans and a cropped blazer.