So you've got an upcoming work trip and the time has come to start planning for your travels.
For some, hitting the road is a career must. Conferences are your love language and you always find new favorite spots every palace you go to.
For others, it's a hassle. After all, on top of prepping projects or presentations, you now have the additional baggage of travel.
Literally.
If you're staring at your closet, unsure of what to pack for a business trip, welcome. You've come to the right place.
Press pause on stuffing every possible outfit you might need into your suitcase. Instead, sit down with our one-and-done women's guide for stress-free work travel. From how to pack your bag to what should make the cut in the first place, we've thought of everything.
How to Pack for a Business Trip: Tips for Business Women
Photo Credit: Pexels
Before we get into what to pack for a business trip, let's tackle how to pack for a business trip.
At Next Level Wardrobe, we encourage our clients to approach clothing with intentionality, and to value quality over quantity. Use these as your two guide posts as you prepare for your trip.
What does this mean in practice?
It means that every item you take with you should be there for a specific purpose. Have a realistic idea of what your trip requires instead of over-stuffing your bags with "just-in-case" items. Remember, you're going on a business trip, not on a spontaneous adventure.
Approach your travels with a clear, concise plan and you'll actually be more prepared and you'll feel more put-together.
Our top tip for women wondering how to pack for a business trip is to start with the perfect luggage.
Choosing the Best Luggage for Your Business Trip
Although every trip and traveler is different, the need for a high-quality piece of luggage stays the same. First, you want a bag that's sturdy to avoid any mid-travel misshapes or shopping for a replacement too soon.
Next, you want a bag that's the right size for your travel needs.
In our experience, selecting a carry-on suitcase and either a backpack or a duffle bag is enough for most trips. (We'll break this down with our packing list and how to pack your bag later on.)
An added bonus of this luggage duo? If you're traveling by plane, you've got everything you need at your fingertips. No worrying about lost bags or racing against the clock at baggage claim.
When picking out what to pack for a business trip, we recommend checking out Tumi. They've got all things bags, backpacks, and suitcases. They've got a wide range of sizes, makes, and models from compact carry-ons to spacious weekenders for all occasions. You can also count on their complementary baggage trace system in case of loss or theft.
Last but not least, their warranty has you covered. The first year includes just about any type of damage to the suitcase (even from TSA or airline workers). Years 2 through 5 cover you for manufacturer defects or normal wear and tear.
Now that you've got your bags, let's get to packing them.
How to Pack Clothes for a Business Trip

View this post on Instagram

With your perfect luggage in hand, let's make the most of the space inside it. Recently, our NLW founder Cassandra Sethi went on a 6-week trip with just a carry-on and personal item. She was able to create 50 outfits with only 24 clothing items (including shoes).
Stuck on how to pack for a business trip in terms of clothes? Here are our tips for women on getting everything inside your bag:
1. Pack pants by folding them in half and laying them flat. We recommend placing these at the bottom of your bag so you can easily fit other items on top
2. Roll your tops over the pants. This is best for casual or knit-woven tops that won't wrinkle too easily. Button-downs or other blouses and dresses are best folded on top of the pants. You can always steam these items once you arrive at your destination.
3. Fold sweaters flat and pack them over the rolled tops, leaving space for your shoes.
4. Pack your shoes inside a shoe bag. Some retailers sell dedicated shoe travel bags for this, but an old drawstring bag will do just fine as well.
5. If you're traveling with a suit or gown, do not roll it. Either fold it neatly along with your pants or keep them in a garment bag.
When discussing what to pack for a business trip with clients or on our Instagram, we often get asked about packing cubes. Is it worth buying them or other supposed "space-savers"?
We vote no.
When you learn to lean out your wardrobe and you have the right bag, you don't need anything else.
What to Pack for a Business Trip: Set Your Suitcase up for Success
Image Credit: Pexels
Before we get into our packing list, we have to address the elephant in the room: your closet.
If you don't have the right pieces in your closet, you won't have the right pieces in your suitcase either.
Perhaps you've got a closet full of too many pieces that don't go together or don't fit your current body. Maybe you've got a wardrobe of impulse buys that you wore once and ended up regretting.
Chances are, you won't feel excited or confident about bringing these pieces on your business trip. This leads to overcompensating by overpacking just to try to string one outfit together.
To avoid these feelings in the first place, we recommend a closet clean-out. At NLW, we use a proprietary style system on all of our clients to help them feel confident, gain unlimited outfit options and love their purchases.
Once you've invested in the right pieces, colors, and fit, you're ready to take on any business trip in style.
What to Pack for a Business Trip: Our Essential Women's Business Travel Packing List
In our opinion, you don't need a completely new outfit for every single day of your trip. The most efficient way to approach what to pack for a business trip is to stick to core colors.
Core colors are black, grey, navy, and white. These neutral shades are versatile enough to endlessly mix and match with each other. For example, with 4 pants, one in each core color, and two tops, you can create 8 different outfits.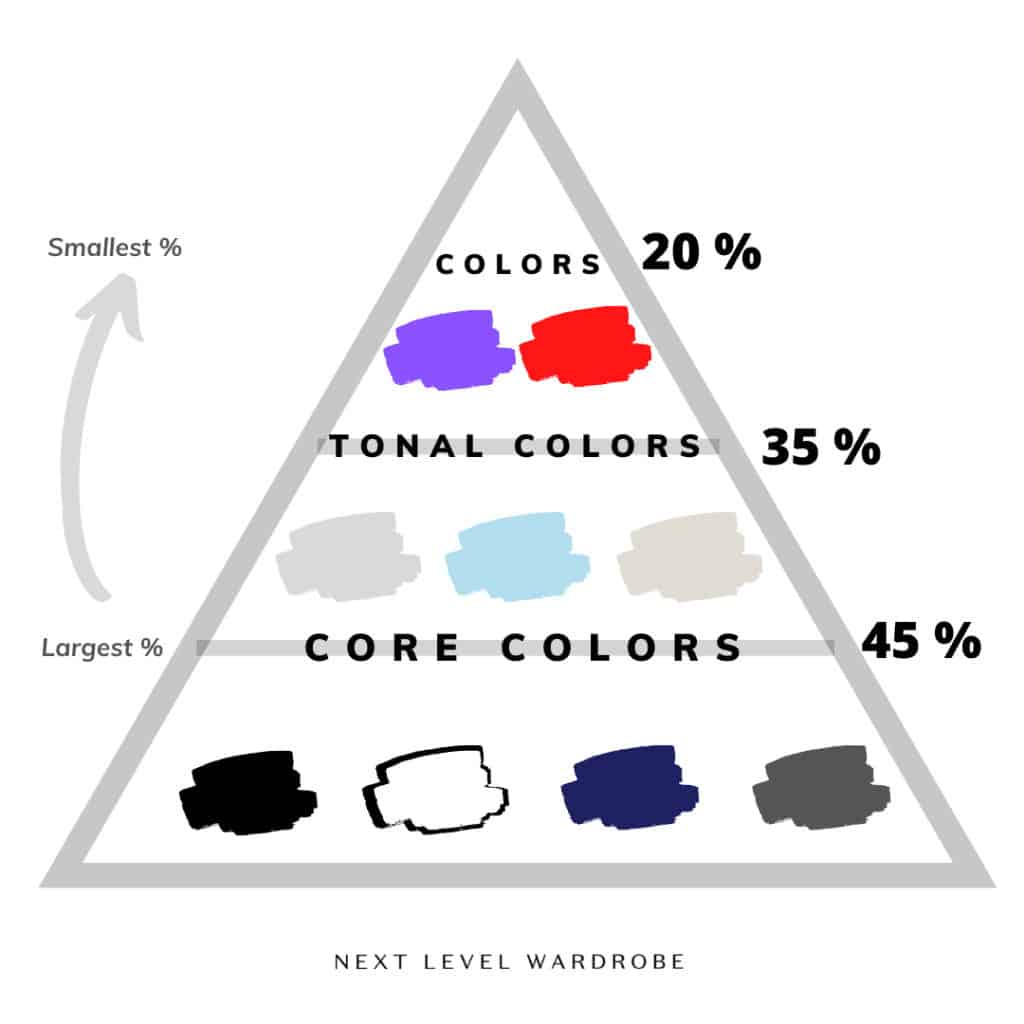 You can always add a piece or two in a tonal color (shades of core colors) or an accent color. However, those items should be the minority of what's in your suitcase.
Here are our clothing recommendations on what to pack for a business trip, item by item:
Tops
– Blouses/dress tops
– Casual/t-shirt tops
Bottoms
– Denim
– Non-Denim options like trousers, slacks, skirts
Dress (If you wear them.)
Layering Pieces (Depending on the climate.)
– Sweaters
– Blazer
– Coat/Jacket
Shoes (Depending on the length of your trip, the MAX amount you should bring is 3.)
– Dressy sneakers
– Flats
– Heels
What to Pack for a Business Trip: FAQs
Photo Credit: Pexels
If you've got lingering questions about what to pack on a business trip, keep scrolling for our travel FAQs.
I always overpack, how can I stop doing this?
This all starts with how you approach shopping and building your wardrobe at large. If you have versatile, well-fitting, essential pieces in your wardrobe, you won't feel the need to over-pack.
Declutter your closet of unnecessary items, and stick to pieces you'll wear again and again and easily mix and match.
Then, when it's time for your trip, consult your itinerary and map out exactly what you'll need for each day. Don't give into bringing pieces on the off-chance that you'll unexpectedly need them.
I mean, you're not bringing every single item from your work desk to your business trip, right? Apply the same thinking to your clothing.
How do you pack for different climates?
Two words: Light layers.
Start off with one essential piece you'll need for each climate.
Here's an example. Starting your trip in arid Phoenix, Arizona? Grab a classic tank top in a core color. Next stop: always foggy San Francisco? Block out the bay breeze with a cashmere cardigan. Heading to Toronto in the wintertime? Pack a timeless black or grey coat.
Pair these items back to business-ready trousers or pants and you're ready for anything.
Is there a set number of clothes you should bring on a business trip?
No. It all depends on the length of your trip, your itinerary, and even the industry you're in. The packing list above will give you a good baseline to start at. Customize it to fit your needs.
What about non-work clothes for when you're off the clock on your trip?
No trip is all business all the time. It's okay to bring a couple of non-workwear items IF (say it with us) you know you'll wear and need them.
For example, if you've scheduled yourself to hit a nearby nature trail on a free morning, go ahead and pack one workout look.
In fact, if you've followed all the above steps, you should have room in your suitcase for necessary off-the-clock pieces.
Looking for expert help creating the ultimate travel-ready closet? Check out Next Level Wardrobe's Virtual and In-Person image consulting services. You'll work with a team of style-savvy experts to strengthen your brand and build a closet you truly love.