After building not 1 but 2, multi-million dollar retail businesses– I knew that there had to be a way to create a long lasting style system for those who were serious about creating a professional capsule wardrobe of their dreams.
Since I started Next Level Wardrobe over 2 years ago and became a NYC Personal Stylist, I've tested this system on all of my clients.
Men and women who have different body types, professions, and live in various locations around the world and this styling system works for every single one of them.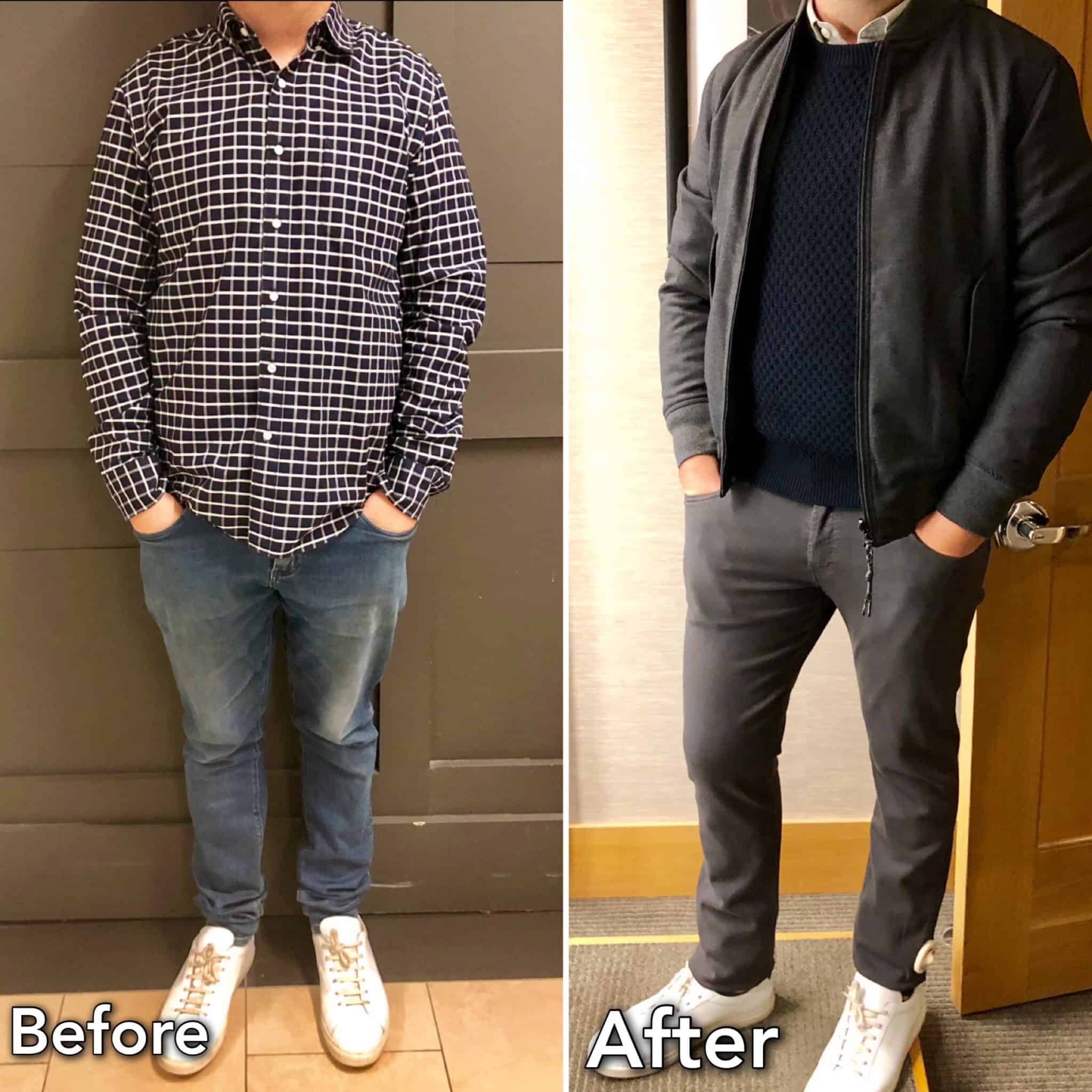 Let's face it, there's a lot of information about creating a professional capsule wardrobe on the internet. In fact, there's over 10 million results that come up when you search for that term.
Who has time to read all of that? And how do you know what is RIGHT for you- your body type, profession and goals?
My 3 step system to create a professional capsule wardrobe is for those that are wanting to
1. Love everything items they invest in
2. Create unlimited outfits without filling up their closet
3. Feel confident their investing in the right items and buying with intention
So if that's you, keep reading! It's time to dive into it:
STEP 1. FOCUSING ON CORE COLORS
People usually fall into one of two buckets when it comes to their closet.
BUCKET 1: Their closet is way too dark. This usually leads to style boredom.
Image via Reddit
BUCKET 2: Or their closet has way too many bright colors and prints- there is no cohesion. This usually leads to feelings of overwhelm.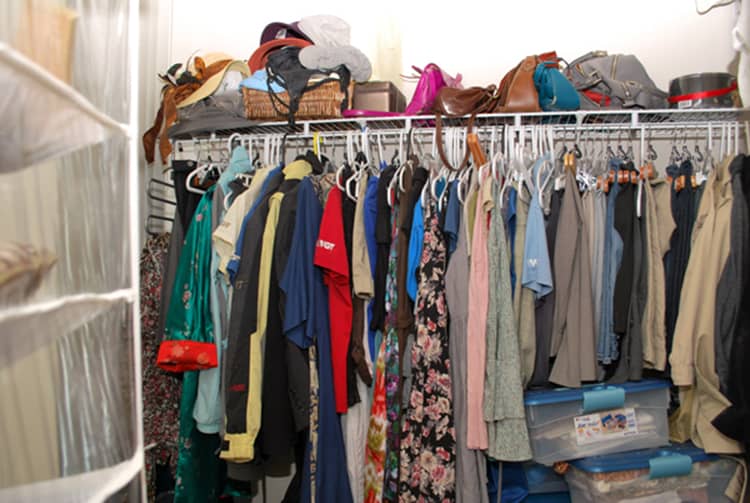 Image via Tiny House Blog
What's missing in these 2 situations?
They don't have the right balance of color in their closet.
Enter the color pyramid:
This pyramid breaks down the suggested ratio of color that you should have in your closet, year around.
CORE COLORS
These are black, white, navy, grey. These should make up the biggest portion of your wardrobe.
Why?
Because these are the 'unifying' colors, they go with just about every other color/print out there, you can wear them year around and they are appropriate for every body type.
TONAL COLORS
This middle section of the pyramid is an important part because this is where you can incorporate light to dark shades of core colors AND textures- which is an important part of making your outfits more interesting.
COLORS
The very top portion of the pyramid is dedicated to bolder colors and prints.
This is where you can have fun with seasonal colors, prints. And best of all, you can buy them with confidence knowing that they'll coordinate back to other items in your closet.
When you have the right amount of color in your closet, you'll look put together- instantly.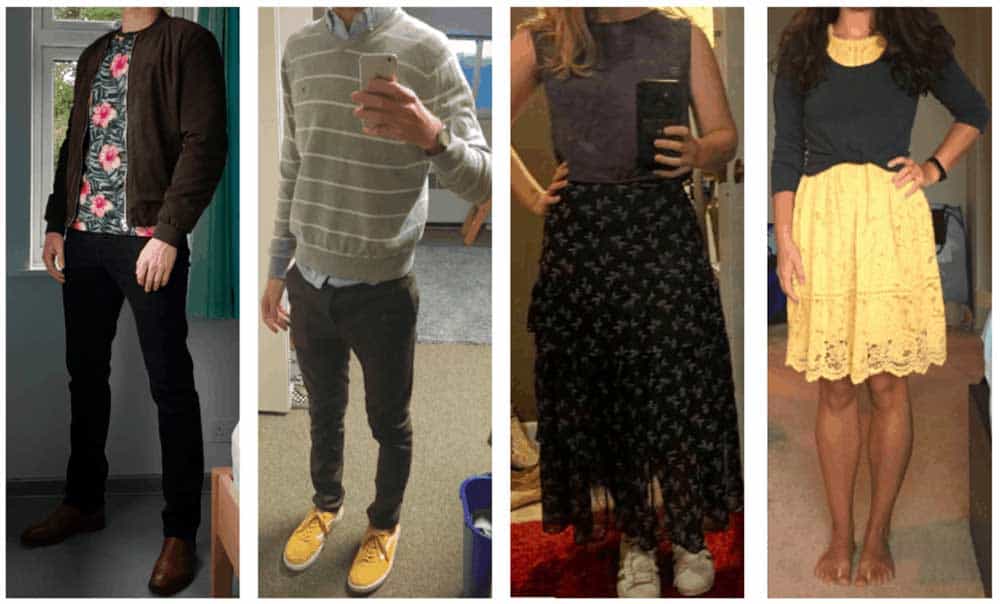 I recommend a ratio of the below for ratios to aim for: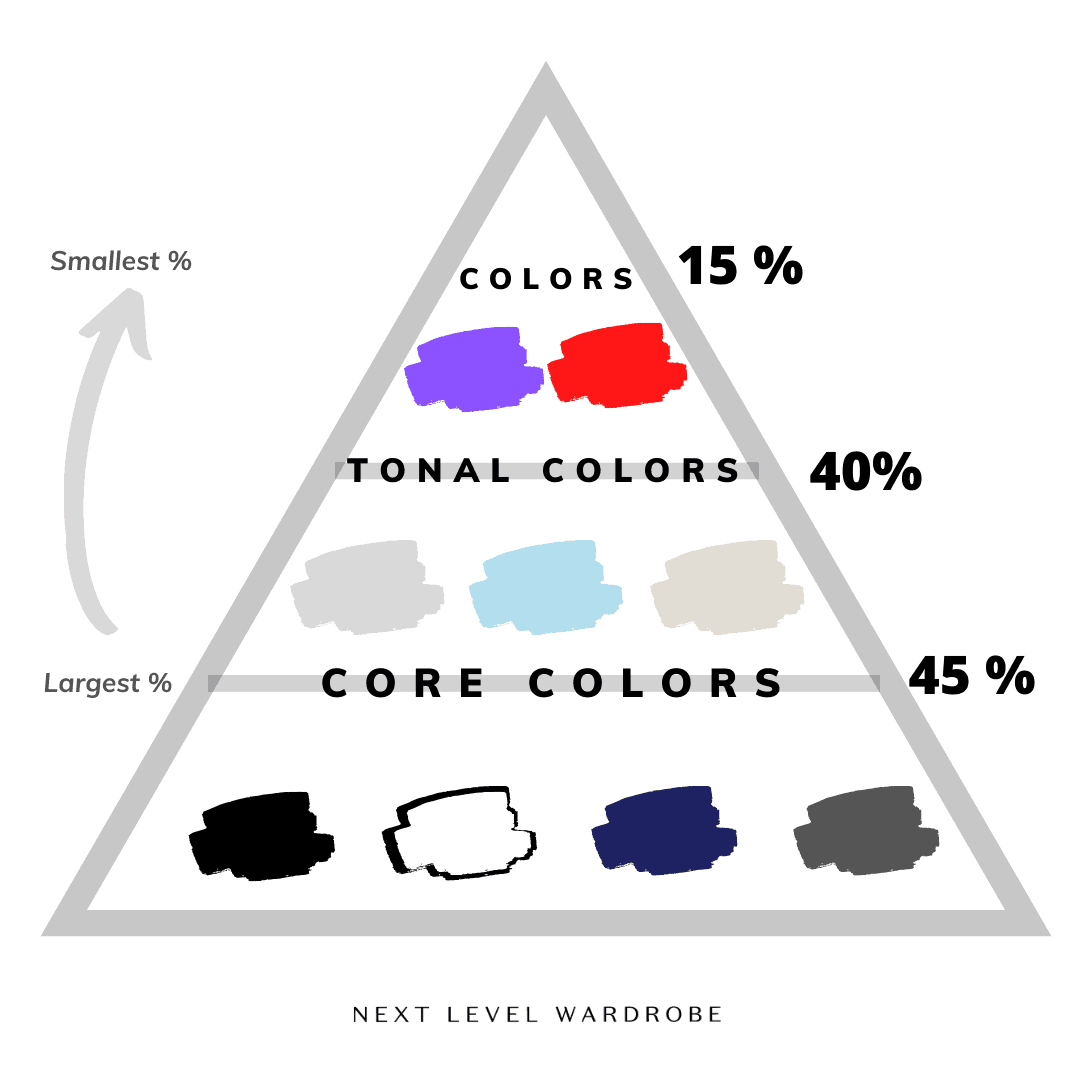 "But Cassandra, core colors are SO boring- I like color!" – no problem. I'd suggest using a this ratio as a guideline: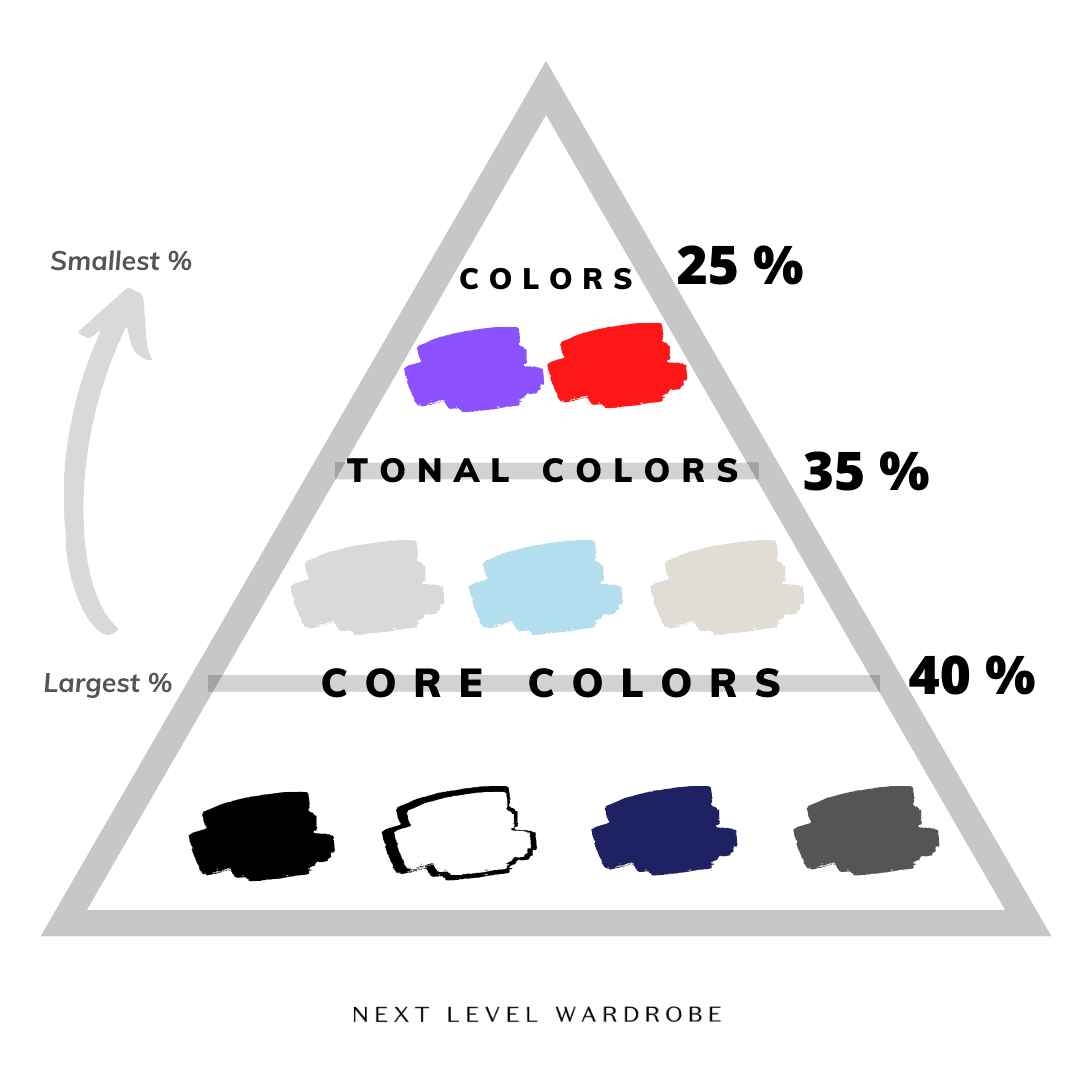 If you want more color and prints- you can amend the ratios to your liking.
Just remember that you should have the majority of your closet in the middle to bottom half of the pyramid.
STEP 2. INVESTING IN ESSENTIAL PIECES
Everyone wants to know what the essential pieces are for their body type, lifestyle and more- but they aren't sure where to start.
Here are 3 essential questions to ask yourself before you start investing in a capsule wardrobe:
1. What's your office dress code? Formal dress code doesn't need the same pieces as a casual office.
2. Where do you live? Temperature and seasonal will play a big role into the items you invest in.
3. What do you want people to think about you, based off of what you're wearing? This question takes a bit of self reflection to answer thoughtfully, but is so important.
I offer a complimentary guide to help you get started (click here to receive) and from there you'll be on your way to figuring out the right pieces for your wardrobe.
STEP 3. GETTING THE PERFECT FIT
A great fit will make you look put together, memorable and more in shape. Your style will automatically become a tool that supports your message- not distract.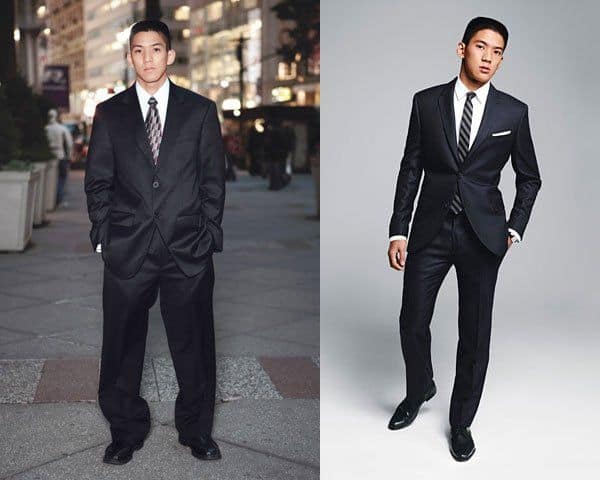 The power of FIT. Photo by Dappered.
Finding the right fit is such a struggle for so many people and they beat themselves up about not being able to find this holy grail.
Remember:
Clothing dimensions are based off of an AVERAGE body type of their customer. Even though they're selling to thousands of people (of different body types) they base their garment's fit off of one body type.
Hardly ever will someone be the same size in ALL brands that they own- this makes things harder to remain consistent. For example, I'm a size XS in some brands, small in others and even medium in a few!
95% of the time, your clothing will NEED to be tailored. This is very normal and to be expected.
So if you do happen to find the PERFECT fit off of the rack, consider it a win for you!
ALTERATIONS
Three types of common alterations that my clients need to get are pant lengths, sleeve lengths and taking in the body.
Partnering with a good tailor is so important to get the fit right. So how do you find this person?
1. I personally have used Nordstrom tailors (as well as my clients) and have been happy with the results. Nordstrom will also make sure that the alteration is done to your liking.
2. Select higher end boutiques will also offer alterations as a part of their service, at no additional charge. If you aren't sure- just ask! They are always happy to make sure you get the perfect fit.
3. Yelp or Google My Business. If both options above just don't work out for you, you can source a tailor online in your town. Give them a small project to work on first (like a hem) and see how they do, before you take your whole closet to be fixed.
When you focus on the fundamentals of building a work capsule wardrobe, you'll be able to dress for any office type- from business formal to business casual or even casual offices.
You'll also be able to create unlimited outfits without filling up your closet.
And most importantly, you'll have a professional style that you're proud of wearing.
Just check out what a few of my clients have to say: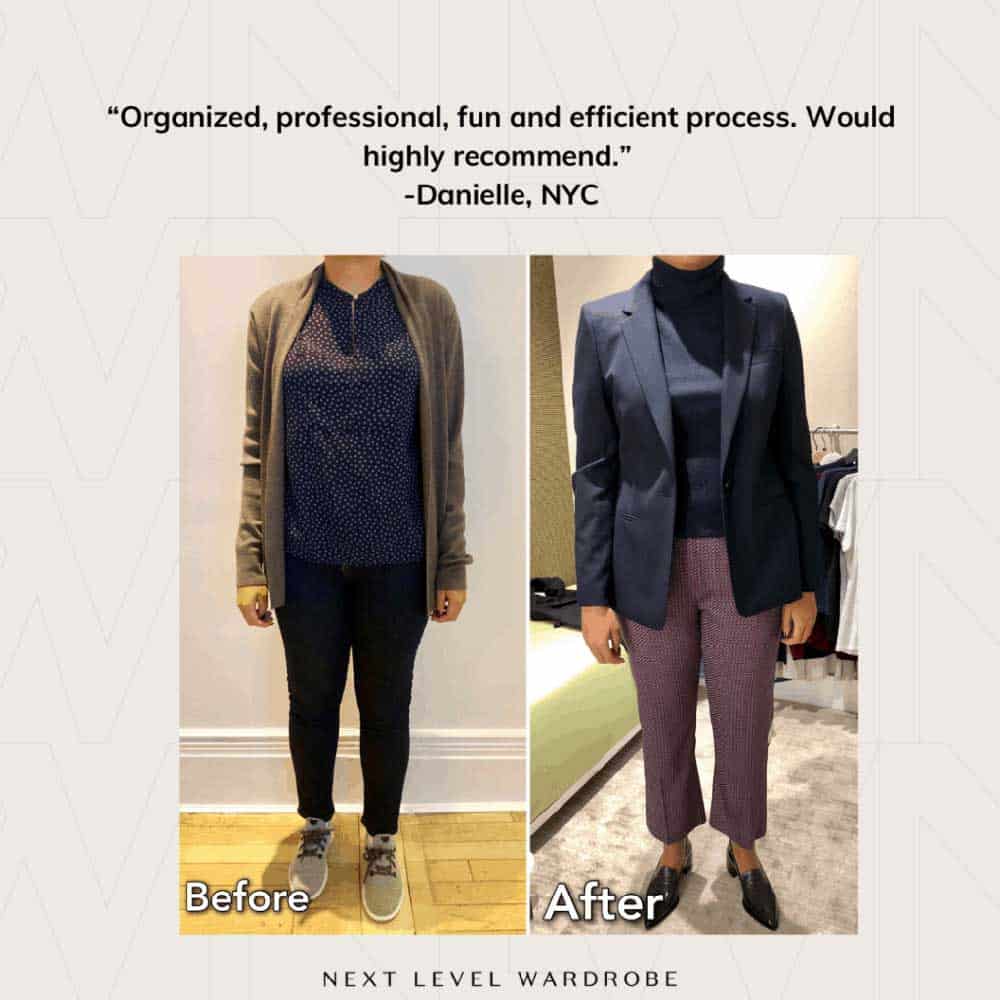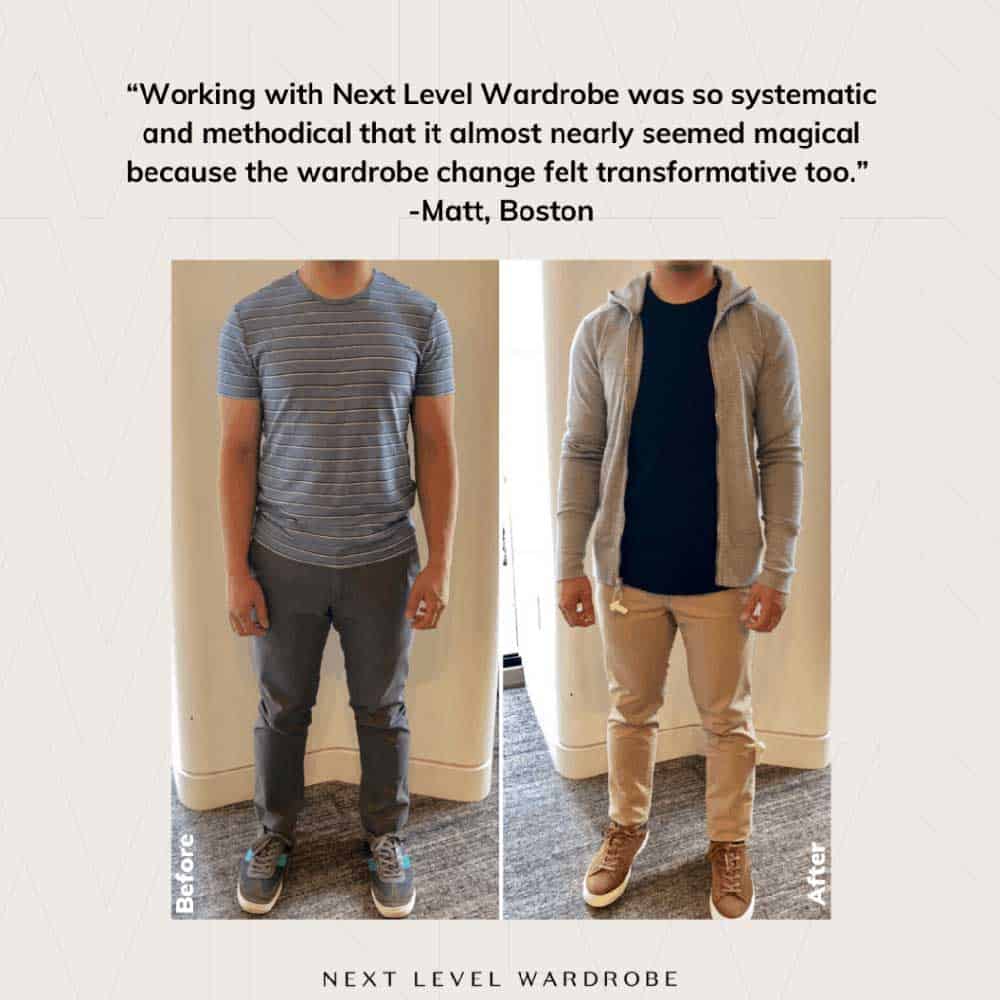 Next Level Wardrobe helps professional men and women upgrade their wardrobes with our image consulting and personal styling services. We can help you create a professional capsule wardrobe fit for your life. Contact us to learn more.
More Posts Related to CEO Style