Virtual Executive Image Consulting

For Women
It's time to be seen as the confident leader you are.
Our Virtual Executive Image Consulting

isn't about getting a few pieces …
This is an integral step to being seen as a key player, radiating confidence, and reaching your ambitious goals.
This is especially true for women leading in male-dominated spaces.
When you're one of the few women at your level, it can be challenging to honor your femininity or personal style while still being regarded as a strong leader.
At NLW, we're prepared to guide you through this challenge, creating an executive image that effortlessly balances your taste with the authority you need to project.
We work with motivated professionals of all backgrounds with clients at:

What This Service Includes ↓
Complete a questionnaire so we can get to know you better.
Meet with your virtual stylist to strategize your image and preview your style/image strategy.
2-Hour Virtual Closet Edit
Try on what's in your closet to determine fit and style.
Decide what to keep and what to donate.
Your stylist will create a shopping list to fill gaps in your closet using our proven framework, 'The NLW Style System'.
Personalized Shopping Guide and Done-for-You Ordering
Receive a comprehensive Google spreadsheet with suggested items handpicked just for you.
Select what you'd like to order by simply putting an X in your shopping guide.
NLW handles all ordering, shipping, and tracking until items arrive right to your door. 
2-Hour Virtual Fit Session
Try on all items you've ordered with your stylist.
Your stylist will advise you what to keep and return — all you have to do is model the items.
NLW will supply return labels and arrange pickups so you don't have to spend hours doing it yourself.
Your online closet uploaded to the NLW phone app
1 months of outfits created and uploaded to the app, personalized to your lifestyle.
Have a record of what brands fit you best and and at what size for easy future ordering.
Your "CEO Dream Team" and New Photos
Receive handpicked referrals to create your "CEO Dream Team" — photographers, hair and makeup experts, and anyone else to give you our researched referrals to bring your personal brand to life.
NLW will prepare you for your photoshoot; we'll source a photographer, style you, and give art direction so you can show up feeling your best.
At a glance: logistical details
What our

Virtual Executive Image Consulting

clients experience
Embodying authority so others respond with respect and attention
A defined personal brand and aesthetic that honors both femininity and leadership qualities
Confidence owning their leadership role, especially in male-dominated spaces
An easy, positive relationship with getting dressed, shopping, and packing (even having fun with it!)
A go-to trusted style coach for quick, personalized advice

"I worked with NLW to ensure I had an image of somebody trustworthy, who's a manager, and who can be seen as taking it to the next level. It's paid off, as I'm now officially in my new managerial role!"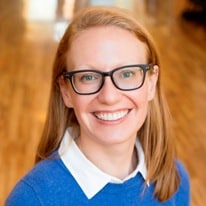 Christine Richmond
Microeconomist at the International Monetary Fund
Is Virtual Executive Image Consulting

right for you?
A leader who needs to project a strong executive image to be seen as a valued person at the table
Busy and seeking a done-for-you service to save time (we do all the styling, shopping, ordering, shipping, and returning for you)
Ready for your style to work for you and with you, no matter what professional role you're in at the moment
Just looking for a personal shopper to execute on your vision (we create your image for you based on 'The NLW Style System')
Not interested in getting feedback about what works for you and what doesn't and prefer to follow your own "style rules"
Isn't it about time to be seen as the

capable leader you are?