Whether you're new to the workforce or twenty years into your career, knowing how to look polished and professional is essential.
Why? For one thing, people notice. Your peers and superiors don't just see your work. They also pick up on the little things, like how you dress and carry yourself. You want to make sure you're making a good impression because they last.
For another, you are your personal brand. It doesn't matter if you're a business owner or entrepreneur. Your style is a part of who you are, not an add-on. You want to make sure you're putting your best foot forward and showing up for yourself every day.
Not sure where to start? We've got you covered. Keep reading for three easy outfits for men and women that'll help you look polished no matter your dress code.
Table of Contents
3 Polished Looks for Women and Why The Look Put Together
Before we get into our outfit ideas for formal, casual, and power casual dress codes, let's share why these outfits work.
All three ensembles have three things in common:
They focus on proper fit
They have a balanced color palette
They feature high-quality items
Each of these outfits follows our patented NLW Style System and features brands we actually recommend to clients. With that, let's dive a little deeper into each look.
1. Formal
A big misconception about a formal dress code vs. business casual is that formal = boring.
People picture a stuffy, outdated suit from head to toe with boring shoes and an over-starched button-down.
Take that image and throw it away.
We always tell our clients that a formal dress code usually just means more structure. Less casual pieces, more tailored.
You can still wear color and have fashion-aware touches.
For example, start with a blouse. Blouses read as more dressed-up than a t-shirt because of their material and shape. But you can still show off your personality.
Product by Boss, shop here.
This blouse from Boss mixes in an energizing pop of red, and the subtle ruching at the neckline adds personality.
Take your blouse, and – this is key – tuck it into your pants. Tucking in your shirt is the quickest way to upgrade an outfit. An untucked shirt often looks sloppy or careless. But if you tuck it in, it seems like you took the time to style your outfit.
Plus, it's a great way to define your waist subtly.
Trousers are an excellent choice for a formal dress code, but to update your look, go for a high-waisted wide-leg style.
Product by Reiss, shop here.
Wide legs give you more freedom and comfort and look good in all shapes and sizes. Try this black option from Reiss for an elongated look.
To complete your ensemble, it's time for shoes. Although you can wear flats for a formal dress code and look just as polished, today we're going for a kitten heel.
Some of our clients find heels to be a confidence booster since they give you a little extra height.
Product by Saint Laurent, shop here.
We like these from Saint Laurent because they're quality made, stylish without being trendy, and low enough to still be practical for walking.
With this ensemble, you'll be anything but stuffy.
2. Casual
If too many people assume formal means boring, even more people mistake casual for sloppy.
A casual work dress code doesn't mean you've got the go-ahead to wear pajamas to work. Leave pajamas for bed and workout clothes for hitting the gym.
Why? Because what you wear affects your confidence, productivity, and mood.
Here's how to look polished and professional for a casual dress code:
First, start with a well-fitting shirt or blouse. We like this piece from Misook because it's the perfect blend of casual and professional. The buttoned cuffs on the sleeves read as business-ready.
But the folded detail at the neckline adds a fashion-forward touch.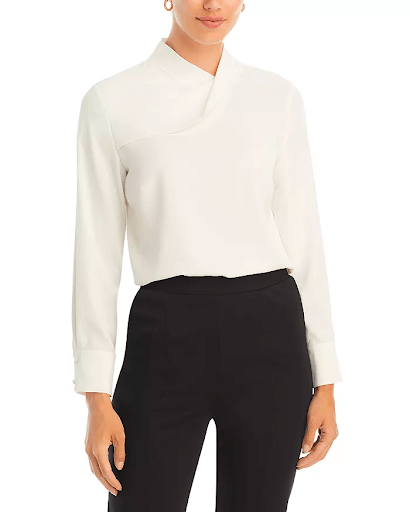 Product by Misook, shop here.
Again, tuck your blouse into your pants. This time, we're recommending a pair of jeans.
There was a time when wearing jeans to the office was a big no-no (and it still is for formal offices). But these days, work dress policies aren't so strict.
In fact, with the popularity of loungewear and athleisure, jeans, aka "hard pants," are becoming an office go-to.
Product by FRAME, shop here.
We like this pair from Frame. The medium wash reads as more relaxed than a dark wash, and the straight-leg fit is just right. Not too loose, not too tight.
At the same time, these jeans aren't overly distressed or filled with holes. Wear these, and you'll still look put-together.
You could stop this outfit right there. But if you want to add a little more formality or layer up for a colder season, throw on a blazer. However, instead of a classic black blazer, you can keep your outfit casual "you" by going with a pop of print or color.
Product by Zadig & Voltaire, shop here.
This piece from Zadig & Voltaire is an excellent example of how to do this without being too "dressed up" or "out there." The plaid looks timeless, while the textured sheen and electric blue add a modern twist to this workplace staple.
Last, but not least, slip on a pair of loafers for comfort and function.
Product by Sam Edelman, shop here.
Mixing more formal pieces like the blazer and loafers with a casual piece like jeans keeps this look balanced and chic.
3. Power Casual
Not familiar with the term "power casual"? In short, it's our version of business casual. The idea is to find the perfect middle ground between formal and informal. It's about pairing relaxed elements with classic business-appropriate pieces in new, sophisticated ways.
We'll show you what we mean.
For example, start with a basic, like this lightweight turtleneck from C by Bloomingdales.
Black looks more dressed up and formal than lighter tones, and it goes with everything. The high neck fits office dress codes while also looking chic.
Product by C by Bloomingdales, shop here.
You know what we're about to say: tuck in your sweater!
This time, we're tucking it into a skirt instead of pants. You can wear pants and still rock the power casual look, but we loved how this French Connection skirt combined comfort with style.
Product by French Connection, shop here.
The asymmetrical hem, lush blue color, and playful pleats make this look stand out. You're showing your sense of style and personal brand without being over the top.
At the same time, the flowy silhouette makes this piece extra airy and comfortable.
We suggest going with one of our favorite workwear shoe choices: boots.
So often, people think that their only options for the office are heels or flats. But boots are the ultimate power casual shoe because they're easy to dress up or down for any occasion.
Product by Sam Edelman, shop here.
Opt for a knee-high pair like these pointed-toe boots from Sam Edelman for winter or cold weather. They'll keep your legs warm and stylish at the same time.
3 Polished Looks for Men and Why The Look Put Together
Now it's the guy's turn to see how to look polished and professional at work. We're going through the same three dress codes, just with different options for men.
1. Formal
Many guys feel like they don't have a lot of options when it comes to work clothes. Especially with a formal dress code.
However, you can still look formal without dressing like a congressman.
If your office allows it and it's summer, shake up your formal attire with a short-sleeved button-down. But instead of going for the typical white Oxford style, go for something with a little more personality.
Like this camp collar shirt from Reiss. The more relaxed collar and striped front are modern yet muted.
Pairing back your color choices is a great way to find this balance. See how this shirt stays in the neutral color family? The white and gray tones go well with any other color in your wardrobe.
Product by Reiss, shop here.
Once you have your shirt, go for a pair of well-tailored trousers. Tailoring and fit are important for every dress code, but it shows in a formal environment if your clothes don't fit well.
Product by Reiss, shop here.
Wear straight or slim-cut trousers so they already look more fitted to your body. Once you find a pair you like, work with an alterations specialist to get the correct fit at the waist, leg, and hem.
For most dress codes, the break of your pants should be right at the top of your shoe. Not dragging on the ground, not showing off your ankles.
Product by Tod's, shop here.
For shoes, skip the lace-up dress shoes and opt for the quick and easy loafer.
This black pair from Tods still looks just as formal as dress shoes without the hassle.
2. Power Casual
Next up: power casual for men. Like our outfit suggestions for women, you can easily look polished and professional with this dress code.
All you have to do is find the perfect balance between traditional workpieces and comfortable, modern updates.
In this case, let's think of what you'd typically wear to a formal work environment. You might have a sports jacket or blazer, for instance.
Layers are a great way to complete a look and frame an outfit. However, you don't have to wear blazers at work. Instead, the power casual alternative is a cardigan. It's softer, more approachable than a blazer. However, it still ties your look together.
Product by Theory, shop here.
Wear this blue zip-up cardigan over a classic white T-shirt. A Tee by itself would feel too casual for most offices. But with the cardigan, you're dressing up and making your outfit more intentional.
Product by Reiss, shop here.
Instead of the traditional trousers we recommended for a formal office, we like these hybrid pants from Reiss.
Product by Reiss, shop here.
The grey color isn't as serious as black or navy blue. The length is slightly shorter than the trousers, and the cuffs add a bit of casual flair.
Product by Vince, shop here.
Bring this outfit back to a casual place with a pair of sneakers.
We know what you're thinking – sneakers? To work?
Yep. Just like jeans, sneakers (when done correctly) are becoming acceptable office attire nationwide.
We like white sneakers for a neat, polished look. Just make sure you keep your shoes in good shape and avoid styles with unnecessary logos.
3. Casual
Finally, let's talk about how to look more polished and put together for a casual dress code. Just like we said for women, it's all about finding pieces that fit and are well-made that fit into that casual bucket.
For example, check out this crew neck sweater from Rodd & Gunn.
Product by Rodd & Gunn, shop here.
This is a sweater you could wear on a weekend and to the office. The marled knit looks more casual than a solid knit. But thanks to the high-quality fabric and the perfect fit, it doesn't look messy.
This is another opportunity to add jeans into the mix. Except for variety, we're suggesting a black pair.
Product by Paige, shop here.
Black jeans, just like dark wash denim, look dressier than light washes. From far away, they even look like trousers. With these, you don't have to worry about looking too casual.
Product by Gordon Rush, shop here.
To tie it all together, we're reaching for this autumnal pair of rich brown chukkas. Just like the boots we recommended for women, these shoes balance between a dress shoe and a sporty sneaker. They elevate your jeans and sweater combination in a snap.
There you have it: how to look polished and professional no matter the occasion. Ready to make every outfit you own that put-together? Apply for Next Level Wardrobe's styling services for men and women. Our stylist crew has over 20 years of experience taking our clients ' wardrobes to the next level.