Ready for a shortcut to great CEO style? Apply to work with NLW.
APPLY
By now you are probably aware of whether your work environment is considered business casual or business professional. But you may not truly understand the difference (it's confusing!) and have found yourself in an unfortunate and awkward position sitting in a room full of suits while you are sporting your casual khakis, or even the reverse. Luckily, there are some tried and true guidelines that will help you answer once and for all, what
is
business casual for women?
Business Casual vs Professional Attire- what's the difference?
When in doubt, dress like the most well-dressed employee at your office who is on your same "level" in the hierarchy of positions. If you work in a formal setting, such as a financial, leadership, legal, or other professional office, and you often see peers and bosses wearing suits on a regular basis, it's safe to assume you are expected to wear business professional attire. However, this doesn't sentence you to a repetition of the same three suits throughout the weeks and months. Instead, it simply means we will pay more attention to integrating formal elements, and sometimes even just up your game in the shoe department.
View this post on Instagram
Business casual
is often more formal than jeans (though some workplaces allow well-fitting, hole-free jeans, which can work well with a blazer and heels), but more casual than a suit. Business casual professionals still wear dress pants, chinos, casual and formal tops, and skirts to the knee.
View this post on Instagram
A
Business professional
(or
formal
) dress code is more conservative than the business casual dress code. Traditionally you'll have to cover your shoulders. Dresses/skirts should hit around the knees (or longer) and no low cut tops. You'll be representing your company or your employer's so it's important for you to wear clothing that doesn't wrinkle easily, not wear items that you'd wear on your summer vacation and overall show a subtle, timeless style.
First, a quick note about the importance of color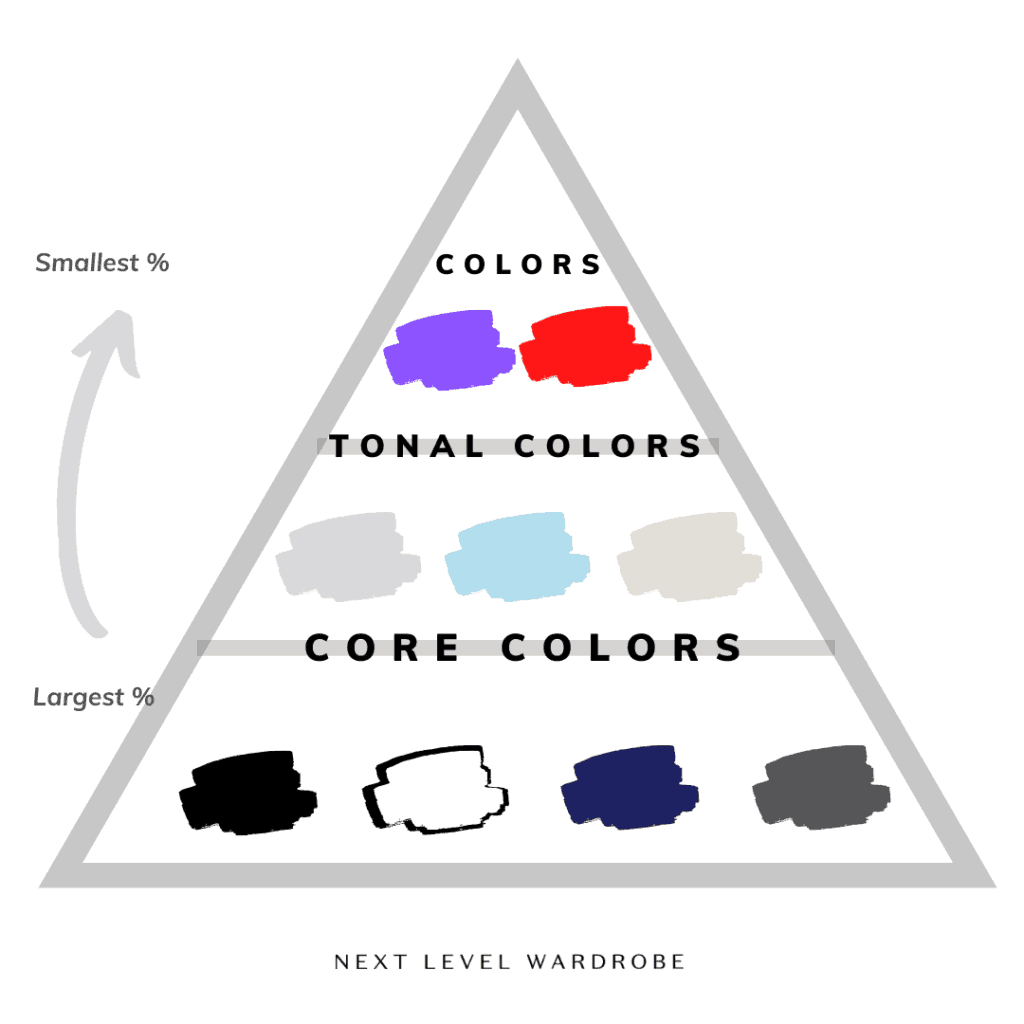 You may have more of an ability to play with color in a business casual environment, but all office wear can benefit from following my
color-coding advice
in the
Next-Level Style System
. I encourage to focus on a balance of color, fit and essential pieces (as well as recommend certain percentages to follow!) 50 percent of the outfits pictured use "core colors" as she recommends, including white, navy, gray and black. Only 10 percent of an outfit will feature a brighter or more seasonal color, and shoes are often a great way to pull this off in a professional work setting. Prints and tonal colors make up the remaining 40 percent, which can be integrated into a business casual outfit as a casual blouse or a
jacket
with a fun printed shirt underneath. By following this rule, you will be able to integrate colors and prints tastefully as you figure out what is business casual for women, and what is business professional attire.
Now, let's breakdown 5 items that are musts for either type of dress code.
1. The well-fitting black pant: a staple in both workplaces
View this post on Instagram
Women who are wondering what is business casual (or not) can take a simple, well-fitting pair of black pants as a base (check
this workwear guide for more guidelines on black pants
). Then, add a more formal top, such as a button-down or a blouse with fancier detail, and tuck it in. Top this with a well-fitting blazer, and you essentially have a business professional-approved mix and match suit. The same outfit could be considered business casual if you simply remove the blazer and wear more casual shoes. In this way, fit and layers become an important aspect of determining business casual and business professional attire.
2. The power of shoes to move from casual to professional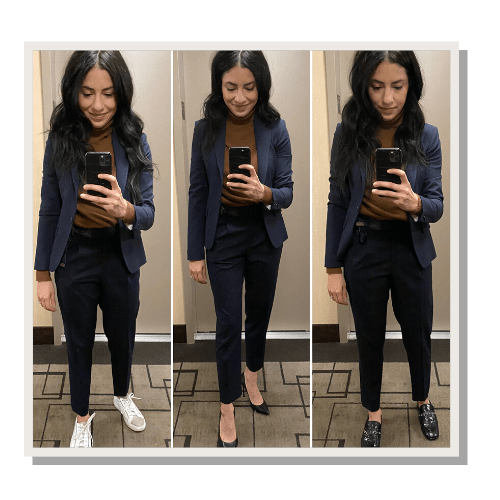 Another way to determine what is business casual for women is to consider the shoe. High heels, stilettos, and dressier shoes can make an outfit seem more formal, and women working in professional offices often wear these types of shoes to communicate this professional vibe. Flats can still be worn in a professional environment, so don't worry if your feet (and back) can't handle high heels. A more practical one to two-inch heel can do the trick as well. You can still portray a commanding presence with flats, especially if they have a very small heel or other details that make them seem more professional, such as a patent leather detail or an interesting print. Notice in the photo that the outfits take on more of a casual vibe based on the sandals and flats.
3. The versatile high-waisted pant perfect for any dress code
View this post on Instagram
The high-waisted pant, especially one that ties, is another essential to both the business casual and business professional work environment. A well-fitting pair of black high waisted pants with a tie will make you feel instantly put together on days where you just can't find anything to wear. If you are deciding what is business dress attire, level up with a button-down or formal blouse and high heels. Also, consider pairing with a blazer for added formality. Business casual employees can use more of a casual top and flats with this combination. For either work environment, it's essential to wear a well-fitted top, not a baggy one, and to tuck it in to make sure there aren't too many flowy pieces happening all at the same time.
4. The power dress: a business professional suit alternative
View this post on Instagram
While women who are trying to build a business casual wardrobe can wear dresses- the fabric, fit, and style of these dresses are often more casual than a business professional's
power dress
. The Power Dress can replace the suit as a staple throughout the week. As seen in the picture, these formal work dresses are well-fitted and conservative, but definitely give off a powerful and put-together vibe. Paired with heels, these dresses can make for the perfect single item outfit. Women working in a professional environment should ensure the dress hit at or below the knee, or even lower like the flowy first option. Full-length dresses are not typically worn in a professional setting, such as maxi skirts or a full-length dress, though some business casual employees can wear a maxi skirt. As you can see from Megan Markle's developing baby bump, this can be a great option as well for women looking for maternity wear in a professional setting.
5. Putting the pieces together: The mix and match pantsuit
Some offices have circumstances in which employees need to move from business casual to business professional (and back) depending on the day, the meetings scheduled, and the clients or bosses they will see that day. In this case, the mix and match pantsuit is the key to a flexible wardrobe that can be modified based on your schedule. When you are sitting in important interviews, or presenting to the board, the full pantsuit together conveys power and poise, as well as a more formal tone. Individually, blazers can be paired with dark jeans, a blouse and heels on a casual Friday. Dress pants or a pencil skirt can be used any day of the week to dress up or down depending on the occasion. By rotating a few different shirts, you can get days and weeks of wear before you've even repeated an outfit, and have the ability to tailor your professionalism to the day's tasks. Regardless of the pantsuit, take the time to have a tailor ensure fit regarding pant and arm lengths. Next Level Wardrobe offers
image consulting
and
personal styling services
to professional women. If you're interested in our services, please
contact us
.
More Posts Related to CEO Style