Business casual shoes for women can feel confusing in the summer months, especially when you still want to look professional at work.
My clients often ask me during our personal styling service appointments if it's appropriate to have open-toed shoes in the workplace, and whether heels are really necessary.
These essential summer business casual shoes for women will ensure you have a quick and polished go-to option for each outfit.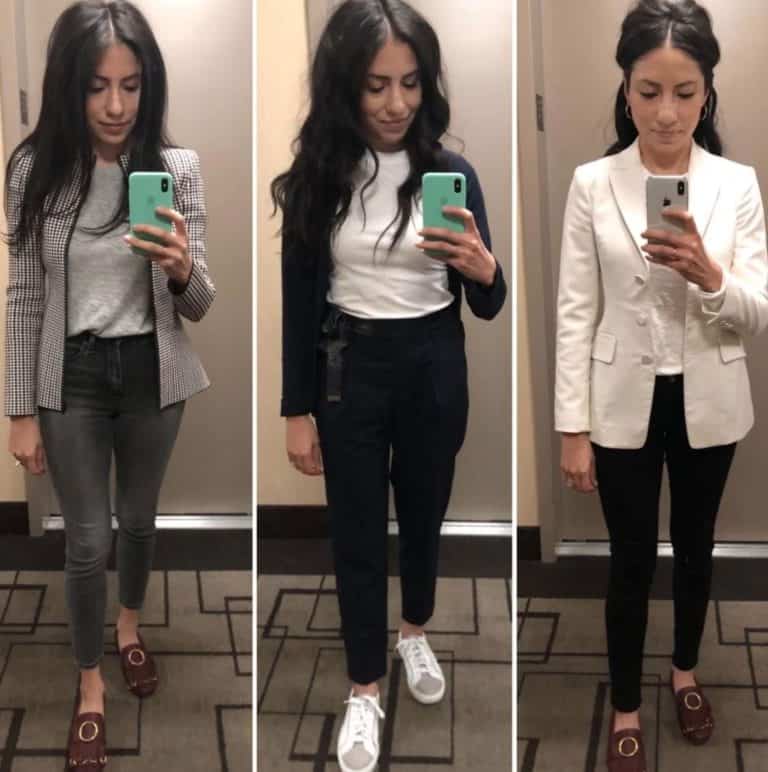 Summer Business Casual Shoes for Women #1: A fun sneaker
It's definitely a myth that a fun sneaker never has a place in the office, especially a casual business casual setting during the summer months.
When it comes to business casual sneakers, you want to make sure that you invest in more luxe fabric that reads more appropriate for offices – like leather or suede.
If your feet run hot and get sweaty easily – just pair your sneakers with a no-show sock. I personally wear these from Amazon and they are great (be sure to look for socks that have a sticky portion on the back to prevent them from not slipping).
One of the most versatile and functional shoes is this leather sneaker.
Not only are these made with a cushy ortho-lite sole, which is perfect for a lunch break walk around the block, but the leather is also super soft.
The laces are made from recycled water bottles, which the environmentally conscious will appreciate, and these shoes even come in half sizes to ensure the perfect fit. Pair these with any workplace trousers, jeans, shorts, skirts, a jumpsuit, or a dress to complete your business casual look.
Peace Out Sun Sneaker | Soludos
These fun and quirky sneakers have a lighthearted vibe and pair well with almost any summer business casual look, from dresses to a great pair of trousers.
Since the shoe is your statement piece, make sure that you let them shine by wearing with a solid color trouser- grey would look perfect for a business casual office.
Designed by embroidery artist Marie Sophie Lockhart, these sneakers would work well with an outfit in a core color, which easily pair with accessories in bolder prints such as these. There's no right or wrong way to pick a bold color or print; simply see what colors you are drawn to.
Summer Business Casual Shoes for Women #2: A slip-on sandal
The old rule that open-toed shoes shouldn't be worn at work is a thing of the past, especially with these classy nude sandals which are handmade in Greece.
These sandals with gold accents will pair nicely with a business casual dress and gold jewelry, but will really go with anything, making them a versatile choice. Summer sandals tend to get pretty beat up with frequent wear, so don't feel guilty just using them for one season and investing in a new pair each summer.
As these don't come in half sizes, and Italian sizing runs a bit smaller, size up if you are unsure.
Summer Business Casual Shoes for Women #3: A sophisticated ballet flat
It doesn't get much easier than a ballet flat in a core color or a fun print for creating simple and modern outfits for summer business casual wear.
Chloe Lauren Scalloped Suede Ballet Flat | Net-a-Porter
Summer is the perfect opportunity to lighten up the color of your clothes, and your footwear.
These lightweight, comfortable flats come in a variety of colors, but I recommend the "stone" gray, beige, snake print, or neutral.
These Italian shoes look polished with trousers, dresses, or skirts, and break in easily so you can avoid pesky blisters and sore feet.
They are true to size, and will need to be treated so your suede looks top-notch all summer.
Summer Business Casual Shoes for Women #4: A dressy slingback heel
Swap out your traditional black office pumps for a fun slingback heel in the summer, especially if you are in an office that's on the more dressy side of the business-casual spectrum.
These chunky-heeled pumps are available in two colors, "biscotto" and "taupe" which will easily pair with everything in your closet.
With a 1.25 inch heel, this option is perfect for a woman who is on her feet all day at the office, but still wants a bit of height.
The adjustable slingback will help ensure a snug fit -there's nothing worse than a shoe that slips off.
The beautiful lambskin will transition well to nighttime functions, such as a dinner or a more formal after-work event. Italian sizing means you should size up here as well.