It's no secret that knowing how to dress for work isn't clear-cut. With all the different dress code types out there, it's hard to know where to start.
But dressing yourself each morning shouldn't feel like a stressful obstacle course. When you look at your closet, you should feel prepared, professional, and above all, calm.
If you're tired of wading through all the information and want an easy way to get ready, read on.
Table of Contents
At Next Level Wardrobe, we've put together the ultimate guide on all things dress codes. How? From over 20 years of experience in the fashion industry and (most importantly) first-hand experience with styling real people.
We've worked with people of all industries, lifestyles, and body types and helped them find a professional and personalized wardrobe. So no matter if you're:
– Entering a new decade in your life
– Leveling up your career
– Or you're just plain tired of buying tons of clothes and still having nothing to wear
…this guide is for you.
How to Dress for Work: The Basics
Recently, we polled our clients to ask them if they knew how to dress for their dress code.
The result? 59% said No.
People are so confused about business dress code types and figuring out how to dress for work. Part of that has to do with the lack of clearly defined, simple dress codes.
For one, it seems like no one can decide what these dress codes actually mean. There's so much information online, but it's all confusing, overwhelming, and just plain unhelpful.
So most people are left with asking their friends for advice or trying to scope out their coworker's wardrobes.
(But these people don't know what they're doing either.)
These days, even HR doesn't help much. Employee handbooks with easy-to-understand dress codes are non-existent.
All of this has only gotten harder post-COVID. Even in highly traditional industries like law and finance, the world looks more casual than it did pre-pandemic.
What does that mean for workers? They have to resort to guesswork, and no one wants to put up with that.
That's why we came up with this guide. Bookmark this and download our PDF graphics to keep on hand the next time you have a no-dress code event.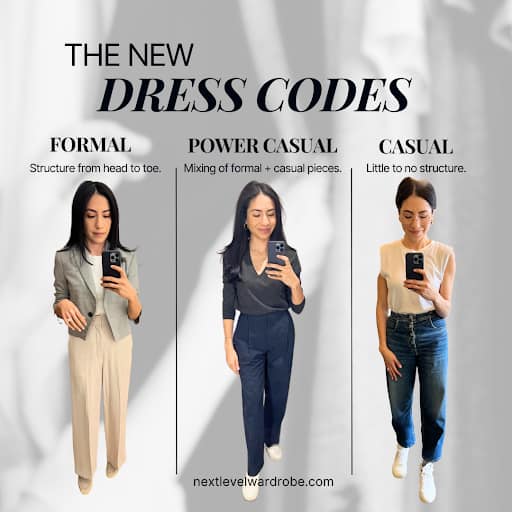 4 Types of Dress Codes for Work and How To Wear Them
There are 4 major types of dress codes that everyone should know, ranging from formal to casual. These are the most common ones you'll run into, and they're easy to adapt to your specific situation. They are:
– Business Formal
– Business Casual
– Power Casual
– Casual/Work From Home
If you want a quick rule of thumb for these different types of dress codes, remember that formal = structure. The more structure an outfit has, the more formal it looks. Another quick tip: Business casual and power casual are blends of more traditional elements and casual elements.
Keep reading for our style breakdown for each code and examples of where to wear them.
Dress Code Types: Business Formal
Dressing for work and need to look formal? Then you'll need a business formal outfit. You're most likely to see it in traditional fields like finance, law, and politics.
However, depending on your profession, you might also need to dress formally if you're in a leadership position.
For example, most medical workers wear uniforms or coats over their clothes. But if you're the hospital president, you need to dress up.
Business Formal (also known as a business professional dress code) and suits go hand in hand. For this dress code, picture blazers, suit jackets, and trousers.
This is also the most conservative of the office dress code types. Unless your boss or HR tells you otherwise, you'll need:
– A blazer or suit jacket
– Button-downs and blouses
– Full-length dress pants, trousers, or dresses/skirts no shorter than knee length
– Covered shoulders
– Closed-toe shoes (dress shoes, oxfords, flats, low heels)
You should avoid:
– Low-cut tops
– Shorts
– Cropped tops
Some work environments may even require men to wear ties. If you're starting a new job and aren't sure if they're expected, bring one with you just in case. (You can always scope out your peers and add one on in the bathroom.)
How To Dress for Work: Business Casual
A business casual dress code is the most popular among our NLW audience, with close to 50%.
It's a go-to for most offices because it balances casual and formal. But it's also one of the most confusing dress code types.
How do you know how formal to go? What's too casual when it comes to how you dress for work?
Remember how we mentioned that formal dress codes have more structure? So if business casual is less uptight than business formal, you can relax a bit. This means skipping the full suit.
Instead, you can mix and match separates and show off more of your personality.
For example, think of a pair of light gray trousers and a sleeveless, floral high-neck blouse. Blazers are optional, but you could always add a cardigan to stay warm.
Or for men, picture chinos and a button-up tucked in.
Here's an example of must-have items for a business casual dress code for women:
– Blouses, button-ups, sweaters (Here you can go with short sleeves or sleeveless shirts as well.)
– Slacks
– Midi and Pencil Skirts
– Flats, loafers, or low heels (under three inches) for women
And here are items for a business casual dress code for men:
– Button-ups, and polos (yes, they're business casual!)
– Slacks
– Chinos
– Sport-bottom oxfords or chukkas for men
If you're ever in doubt about how to dress for work, go with business casual.
Dress Code Types: Power Casual
Are you ready for NLW's favorite way to dress for work? Introducing: Power Casual. You might also recognize it as "smart casual" or even corporate casual attire.
Much like business casual, this type of dress code mixes relaxed, casual styles with professional, polished staples. The difference here is that power casual feels more updated, modern, and wearable.
Picture wearing your favorite jeans with a blazer that makes you feel like a CEO. Or dress for work in an effortlessly cool combination of white sneakers, dressy joggers, and a cable-knit sweater.
We love this dress code because it:
– Functions for almost any situation
– Is easy to dress up or down
– Fits into most post-Covid work environments
So how do you build a power casual wardrobe for men or women? You focus on high-quality items in core colors with the perfect fit. (Aka, our patented Style System.) Let's break that down a little further:
1. Why focus on core colors? Core colors are black, white, navy, and gray. These colors go with everything. If this is most of your closet, you'll never have to worry about having too many clothes and not enough outfits ever again.
2. Why invest in high-quality items? Simply put it's all about quality over quantity. If you're buying a bunch of low-quality, flimsy clothes, that means you're having to replace them more often. Buying well-made pieces and treating them with care saves you time and money!
3. Why prioritize fit? If it doesn't fit right, you're not wearing it. There's nothing better than that feeling you get when clothes seem tailor-made to your body. Don't settle for pieces that don't fit properly. After all, if you don't feel good about yourself in your clothes, you're not wearing them.
Embrace this dress code and you'll know you have flawless style. Why? Because you already have the right pieces in your wardrobe.
How To Dress for Work: Casual
Let's wrap up our dress code types rundown with the least formal of all: casual.
A casual dress code for work is the most relaxed and the closest to your weekend wear. However, don't mistake it for sloppiness.
The biggest mistake people make with this office dress code is that they think it's a free for all. They take it as permission to wear whatever they want, however they want.
But if you want to look like a professional, leader, you still need to put thought into your outfits.
And yes, that even goes for our Work From Homers out there. Even if you never go into the office, you don't need to be wearing sweats 24/7.
Believe it or not, how you dress affects your mood, productivity, and self-confidence. When you set aside time to shower and put on an outfit, you're showing up for yourself.
Wondering how to dress for work when you have a casual dress code (or no dress code)? Then try something like:
A soft cardigan over a tank top paired with elastic-waist slacks. The cardigan frames your outfit the same way a blazer would, but with more comfort. This is perfect for video calls and meetings.
A summer-inspired black midi paired with slide-on mules (or slippers while at home). You'll feel breezy and comfy (especially perfect for summer wardrobes) while looking put together.
So there you have it! Your one-stop shop guide to all things dress code types.
Are you looking for hands-on help when it comes to how to dress for work? Then try NLW's styling services for women and men. Whether you're looking for a personal stylist or a complete image rebrand, our experts have your back. Say goodbye to your style rut and sign up today!
*Disclosure: Next Level Wardrobe only recommends products that we'd suggest to our clients or personally wear ourselves. All opinions expressed here are our own. This post may contain affiliate links that at no additional cost to you, Next Level Wardrobe may earn a small commission. Read the full privacy policy here.