So many young professionals looking for career growth want to know how to look older for work. Why? Because they want to be taken seriously.
Though young workers are just as savvy as their elders, they don't always get the same respect. Many more senior workers have a more "old-fashioned" view of work culture and business. In fact, they might even think of younger workers as young kids rather than peers.
So how do you counteract these attitudes? Of course, working hard and bringing a confident, respectful attitude always helps. But you can also make major changes by switching up how you dress and present yourself.
Keep reading to learn how to age yourself up, product recommendations, and explanations as to why it works.
Table of Contents
Why Looking More Mature at Work Matters
So why is it important to know how to look older for work in the first place? Well, certain work environments skew older for one.
Businesses like finance are more likely to have a more senior workforce.
Therefore, it's harder to earn the same respect as older workers if you look much younger than your peers.
If you work in a more conservative industry, aging yourself up is a surefire way to move up the ranks.
Once you have a positive impression, you can more confidently (and successfully) build strong work relationships and snag important opportunities.
But dressing more maturely is also important because of first impressions. According to studies, humans make long-lasting and meaningful assumptions about each other within the first second of meeting. All of that, based on looks.
Being older often means you're more worldly and experienced. Many people think older workers are more experienced and savvy. They trust their judgment and believe they're more mature in all aspects of their professional lives.
Ready to bring this energy to your workplace? Let's dive into our list of how to look older for work.
How To Look Older for Work: Women's Edition
Let's see how women can look older at the office. While there are many ways to boost your appearance and age, our three categories are:
– Avoid trendy pieces
– Keep accessories minimal and understate
– Lean into structured silhouettes.
Follow these guidelines and you'll look like a young CEO in no time.
How To Look Older for Work: Avoid Overly Trendy Pieces
One of the biggest mistakes we see people make, is to rely too much on trends. Just because something is hot now doesn't mean it will be a year or even a few months later.
We know it's tempting to scroll past something on Instagram and want to buy it. However, if you'll get more longevity and use out of timeless, classic pieces. And, you're more likely to gain respect from your co-workers.
The first step to building a closet full of professional, timeless clothes is to first conduct a closet clean-out.
Go through each piece you own and decide if it's:
– Work appropriate
– Age-appropriate
– Well-fitting
– Versatile
Look at your clothes and ask yourself, "Does this reflect the place I am in my career today?"
Once you've identified the pieces that suit your goals and off-loaded those that don't, you can fill any gaps in your closet.
Come up with a list of specific things you need for your work wardrobe. That way, you're less tempted by trendy impulse buys when you hit the stores.
Keep Your Accessories Minimal
Knowing how to look older for work also means picking the right accessories.
People tend to look younger and more inexperienced when they slap on a bunch of loud, over-the-top accessories. Too many pieces of jewelry or wearing distracting shoes and extras takes away from your overall outfit.
A more mature, polished outfit looks cohesive and put together. You don't have a bunch of pieces competing for attention.
That's why we recommend wearing minimalist accessories as a way to add a subtle sprinkle of personality to your ensembles.
Instead of splashing out on a showy timepiece, go for something cool and low-key like this silver Cartier watch.
Product by Cartier, shop here.
It's not bulky or flashy. Instead, you can easily wear this with a dress, blazer, or long-sleeve sweater without worry.
Or try something like these elegant earrings by Jenna Fisher.
Product by Jenna Fisher, shop here.
These barely-there huggies brighten up your face without looking like you're playing dress up.
When in doubt, listen to this famous Coco Chanel quote:
"Before you leave the house, look in the mirror and take one thing off."
If you're about to head out the door and you're not sure about your accessories, remove one accessory. When it comes to looking professional, less is more.
How To Look Older for Work: Lean into Structured Silhouettes
Our third recommendation for how to look older for work is to lean into structured silhouettes.
When you think about dressing like a successful entrepreneur or business person, what do you see?
Do you picture someone in soft, baggy sweats? Or someone in a well-tailored outfit or wrinkle-free suit?
That's where "structure" in clothing comes in. Structured clothing looks and feels substantial and purposeful. It's more likely to have strong lines and frame your body.
Some of the more common examples of structured clothes are things like blazers and suits. But you don't have to go totally corporate to incorporate structured silhouettes into your wardrobe.
Let's say you love skirts and dresses. Instead of wearing flimsy sundresses to the office, try something like this black midi.
Product by The Row, shop here.
It's still flowy, comfortable, and feminine. However, the thicker fabric and strong a-line shape add structure to your look.
Partner this with a tucked-in mock-neck knit and loafers for a modern, chic approach. Or channel a retro vibe with a white button-down and heels
Another easy way to play with structure is with layers. Women's blazers are a go-to, but you can get the same effect from jackets and coats too.
Product by Toteme, shop here.
This trench by Toteme, for example, is a perfect way to add maturity to your outfits. Wear it open over anything from trousers to dresses to jumpsuits.
No matter how you choose to add structure, just make sure you get the fit just right. Triple-check measurements when ordering online. And, when trying things on in-store, make sure all hems and seams are hitting in just the right places.
Find something you love and it's slightly too long or baggy off the rack? If it's the right piece for you and your workplace, contact a tailor about adjusting the fit.
How To Look Older for Work: Men's Edition
We've sorted out the ladies. Now, let's walk the men through how to look older for work. We recommend following the same advice above, but we've added three more tips to help you out:
– Focus on fit
– Invest in core business classics
– Don't overlook personal grooming
Let's dive deeper into these three points.
How To Look Older for Work: Focus on Fit
The best way to be taken seriously is to wear clothes that fit. You're more likely to command respect and attention when your clothes are well-tailored and suit your frame.
When clothes fit well, you look like you care about taking care of yourself and your appearance. Others are more likely to think that you're serious about yourself and your work when you dress the part.
For this reason, you should take the time to figure out what brands and styles fit you.
Don't just buy the first thing you see because you hate shopping and trying on clothes. You might think that saves you time, but in the long run, it actually wastes your time and energy.
Why? Because you'll have to replace or return it when it inevitably doesn't fit or falls apart after a few wears.
Instead, lean into higher-quality brands and try on different styles until you find your perfect fit.
And as we mentioned for ladies, don't be afraid to employ a tailor. Most men need at least some adjustments when it comes to hems, sleeves, or torso.
Invest in Core Business Classics
Wondering how to look older for work? It's all about the business basics. Learn to spend your money on those core, classic workwear musts that you'll get years of use out of. Even though they might feel like a larger expense now, shop wisely and it'll all be worth it.
So what are the must-have pieces a guy should have in his work wardrobe? It depends on your field, but for most offices, you'll need:
– Long-sleeve button-downs in core colors (black, white, blue, and gray)
– Great fitting trousers in slim or straight silhouettes (these cuts are the most timeless and less likely to look dated)
– Tailored suits in core colors
– Power layering pieces
Here are a couple of examples of pieces that should make your roster.
Product by Canali, shop here.
We love this sleek suit from Canali. The lightweight wool is surprisingly breathable yet sturdy for all seasons.
Plus, the navy color feels more approachable (yet still business appropriate) than an old-school black suit.
Does your office have a more casual dress code? Skip the blazer and grab a collared cardigan instead.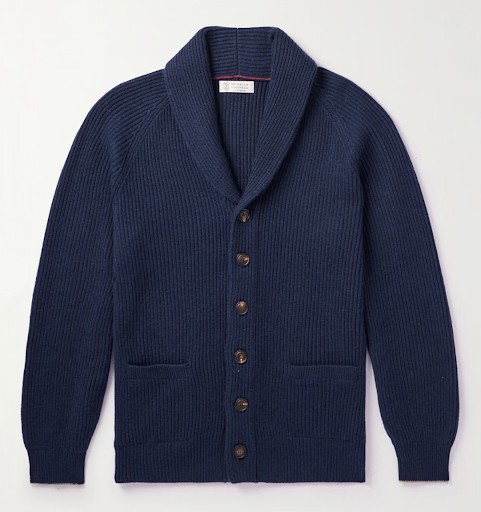 Product by Brunello Cucinelli, shop here.
This option from Brunello Cucinelli is the ideal balance of structured and soft. The ribbing adds visual interest, and the collar gives the same effect as lapels on a blazer without feeling uptight.
Wear this over a button-down or Tee and add slim-fit trousers or jeans depending on your work environment.
How To Look Older for Work: Personal Grooming Tips
If you're stumped on how to look older for work, never underestimate the power of personal grooming.
We're talking about hair and facial hair. Many of our male clients think that looking professional only has to do with what they put on their bodies.
But it's actually about the whole package. It's about showering each day, wearing a subtle dash of cologne, and making sure your hair looks well-kept.
For those with facial hair, we suggest buying a personal grooming kit to keep your beard or mustache in check. You don't have to be clean-shaven. (In fact, having a bit of facial hair helps to age you up.) But you shouldn't look scruffy or sloppy.
A great option is this grooming kit from Manscaped.
Product by Manscaped, shop here.
It has everything you need without being high maintenance. Plus, it's easy to pack for a business trip if you've got one on your agenda.
Or if you're on the hunt for beard and hair products, check out ScotchPorter. They've got balms, creams, and serums for all hair textures and types. (They also have sampler kits if you're new to the self-care game.)
Just by following these simple steps, you're already on your way to looking older (and wiser) at work.
Want to up the ante? Team up with Next Level Wardrobe's professional stylists to dress for success. Apply for our men's or women's styling or image consulting services. We'll work with you to develop a personalized wardrobe that matches you and where you are in your career.
*Disclosure: Next Level Wardrobe only recommends products that we'd suggest to our clients or personally wear ourselves. All opinions expressed here are our own. This post may contain affiliate links that at no additional cost to you, Next Level Wardrobe may earn a small commission. Read the full privacy policy here.