If you're starting your own business, you know that every detail matters. But we're not just talking about keeping your books in order, making the right connections, or refreshing your company website. We're talking about your wardrobe too.
Knowing how to dress like an entrepreneur separates you from the crowd.
Your wardrobe is a powerful tool. You want to make the right first impression, command a room, and instill confidence in others by looking put-together.
At Next Level Wardrobe, we have tried and true systems to help you look the part of a successful entrepreneur. We have years of experience helping professionals to streamline their closets so they can continue to excel.
The best part? We know our methods work because they're what we use with our clients as well. We pride ourselves on our consistent 5-star reviews from customers who wanted their style done right the first time.
Stop reading all the blogs out there and check out our 4 proven steps to acing the entrepreneur dress code.
1. How to Dress like an Entrepreneur: Hone in on a Color Scheme
View this post on Instagram
The first part of how to dress like an entrepreneur is getting your color scheme right. Founder and CEO of The Business of Fashion Imran Amed is a master of colors.
In his outfit above he's selected a clear palette: neutrals. He's combined different shades and tones of greys, beiges, and black to put together a cohesive, sophisticated outfit.
Having a concise color story allows you to appreciate all the details of the ensemble.
One of the most common mistakes we see with clients is not having the right colors in their closets. They either have a monotone collection of too-dark tones, or they have an explosion of colors and patterns.
The problem with the first scenario? A lack of variety. It's no surprise that you're tired of your wardrobe if all you have to choose from is the same shade.
The second scenario is also bad because it's unfocused. There are too many options, leaving you overwhelmed. Plus, not enough pieces go together to make a good outfit.
Both of these situations lack one thing: balance.
That's where creating a capsule wardrobe using the NLW color pyramid comes in.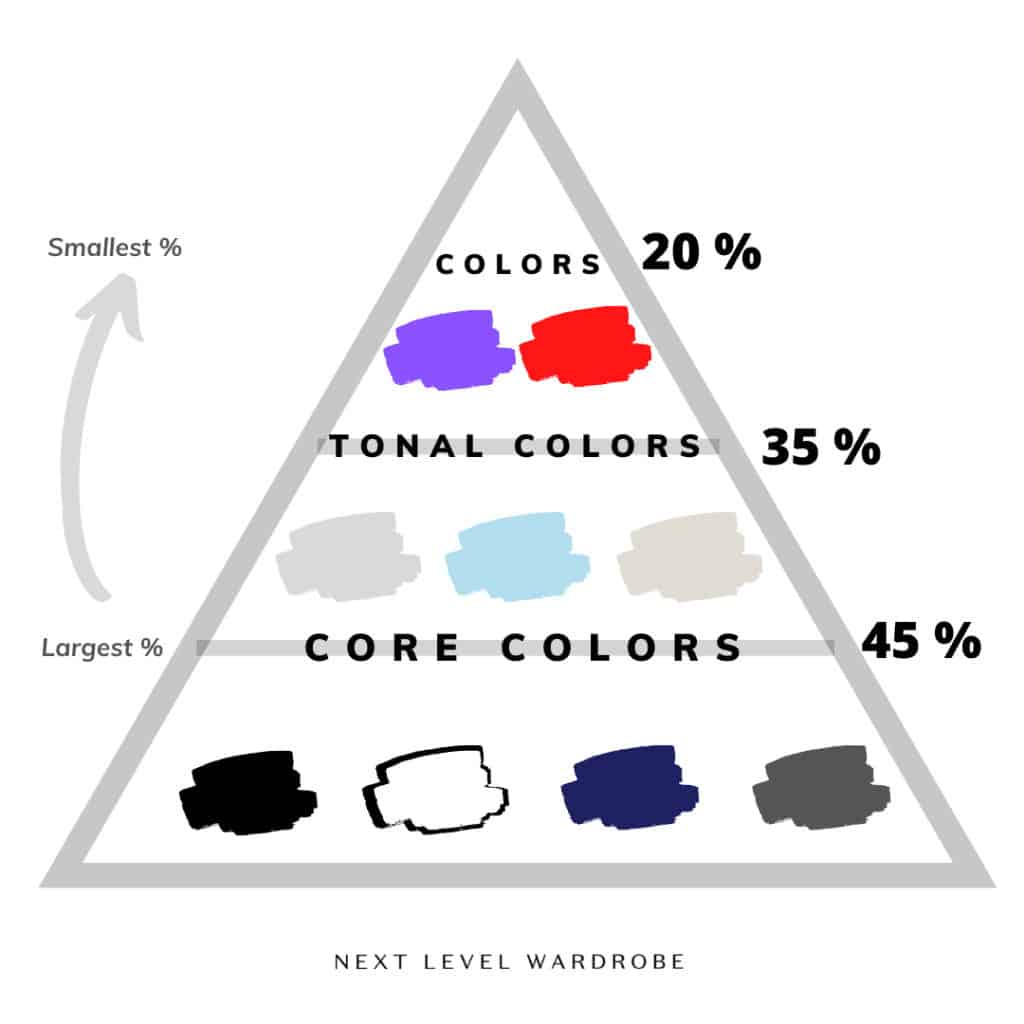 While you can adjust the percentages to match your taste and needs, the principles remain the same:
1. Bucket your wardrobe into three categories: core colors (black, white, navy grey), tonal colors (shade variations of core colors), and accent colors.
2. Make core colors represent the biggest portion of your closet. Why? Because these colors go with everything. This will maximize your wardrobe versatility.
3. Keep accent colors as just that: accents. They should take up the smallest percentage of your wardrobe and be chosen purposefully.
4. Fill in the rest with tonal colors and textures because they'll make your outfits more dynamic.
2. How to Dress like an Entrepreneur: Focus on Fit
View this post on Instagram
Arianna Huffington is the picture of a successful entrepreneur. From co-founding The Huffington Post to founding and acting as CEO of ThriveGlobal, she continues to make her mark.
She's also a great example of how to dress like an entrepreneur because of her well-fitting wardrobe.
Take a look at her outfit above.
Each piece looks tailor-made to her.
The blazer nips in right at her waist and the sleeves end just above her wrists. Her trousers also fit perfectly without looking too tight or too baggy.
Fit is everything.
You could have the most sophisticated, high-quality clothes but if none of it fits correctly, what's the point?
Ill-fitting clothing reads as sloppy and careless whereas a well-tailored outfit makes you look professional and trustworthy. As an entrepreneur, you want people to take you seriously straight out of the gate.
Want to see the difference in action? Check out the makeover our founder Cassandra Sethi gave her dad recently.
Before you can see Cassandra's dad wearing baggy pants and oversized shirts.
Now for the after. He's sporting tapered pants that break at the right spot and jackets that fit in the arms. Overall, his outfits are much less bulky.
We know fit is challenging. That's because stores make their clothing based on patterns and averages. If you're having trouble getting your perfect fit off the rack, it's time to hire a tailor.
So many people resist spending money on alterations, but the fact is the right tailor can change your life. It's worth investing in an expert who has the craftsmanship to make clothes fit you, not the other way around.
3. How to Dress like an Entrepreneur: It's all in the Details
If you know anything about Big Tech, you know that Evan Spiegel and other Silicon Valley CEOs have their own entrepreneur dress code.
Don't worry. We're not about to tell you to start wearing a Mark Zuckerberg-style hoodie and hype beast sneakers. (By the way, if you want real advice on wearing tech CEO sneakers, check out our dos and don'ts.)
So why is Evan Spiegel a great example of how to dress like an entrepreneur? Because he finds the right balance between looking put-together and adding personalized details.
In the picture above, he's wearing an electric blue sweater with a statement-making graphic. But he's also paired it back with more traditional, neutral pieces.
Just because you're systemizing your wardrobe it doesn't have to feel like you're wearing a uniform.
There's no point in hating what you wear.
Find opportunities to infuse your outfits with details and accents that make sense for you, your life, and your style.
It doesn't have to be as bold as a wildcat on your chest either. It can be as simple as adding a printed pocket square to your business suits. Or picking out glasses with a colorful frame.
In our Virtual Executive Image Consulting services for men and women, we explore how we showcase our client's personalities. We often recommend jewelry, make-up, hair, and scent.
At the end of the day, you're not just dressing like an entrepreneur, you're building your brand.
4. How do Entrepreneurs Dress? To their Personal Brand
Our last example of how to dress like an entrepreneur is Shonda Rhimes. As a world-renowned producer, writer, and founder of Shondaland, it's safe to say that Rhimes has her brand down pat.
You know a Shonda Rhimes TV show when you see it. It's filled with witty writing, powerful female leads, endless drama, and no shortage of romantic tension. Her products are vivid and strong so it's no surprise that she has the style to match.
Her fashion embodies her personal brand, as seen from her vibrant magenta dress above.
The simple answer to "How do entrepreneurs dress" is to their brand.
Your personal brand is what you want people to think when they see you or anything associated with you. It's the overall lasting impression you leave with others.
So why do you even need a personal brand?
Because it strengthens the overall image of your business. It sets you apart from competitors for one thing. It also makes you and what you're selling seems more authentic.
Wondering how to dress according to your brand?
Start by identifying who is your style role model.
If you see someone doing it right, why not use them as your jumping-off point?
Some of our favorite style role models are Michelle Obama and David Beckham.
Obama finds the sweet spot between timeless classics and statement-makers. This matches her brand of being a smart, pragmatic woman who's not afraid to speak up
Beckham embodies his persona of a suave, cool athlete and businessman by switching between dapper suits and trend-savvy casual outfits.
Ready to add the entrepreneur dress code to your closet? Check out our virtual styling services to work with an expert who can elevate your wardrobe.