Ready for a shortcut to great CEO style? Apply to work with NLW.
Is your closet getting the best of you? Feeling overwhelmed, disappointed, or stressed about your wardrobe is not unusual (unfortunately). It's a sign that you need to get your style back on track. How? With the right closet clean-out guide.
At Next Level Wardrobe, we believe that the style of your dreams starts in your closet.
In this guide, we're sharing THE most important parts of our styling and image consultation process- the closet edit. We'll cover why cleaning out your closet matters and the simple, four-step process to get the job done for good.
Using a Closet Cleanout Guide: Why Your Closet Can Make Or Break Your Style
Want to know one of the biggest reasons people resist following a closet clean-out guide?
They underestimate how important their closet is to their entire style outlook. The environment where you keep your clothes and the manner in which you store them matters. Think about it.
One of the first things you do in the morning is, go to your closet and pick an outfit. It sets the tone for your entire day style-wise. So if you open your wardrobe and see a disorganized mess you hate, you're starting out on the wrong foot.
Already you're associating getting dressed with anxiety, confusion, and a lack of confidence.
Think of your closet as a kitchen. You're the chef trying to make a beautiful pizza. But you go into your kitchen and only find ingredients for a bowl of pasta.
You might be wondering, "What does Italian food have to do with my style?"
We promise we're not just trying to make you hungry.
Just like you need the right ingredients to make a meal, you need the right clothes to make impeccable outfits. This is what we see missing all the time in clients' closets.
So why do people get this wrong so often?
Because no one wants to talk about it. Telling people to sit down, clean out their closets, and only focus on having the right pieces isn't glamorous. It's more attractive to tell people to go shopping. Or to constantly pick up the latest trendy pieces to keep their closet "current".
But at Next Level Wardrobe, our stylists and our community want real results that last. Focusing on your closet will give you that
What We Often See in Closet Clean-Out Guide Sessions
Team NLW works with successful professionals all over the world to create wardrobes they love. No matter the person or service, we start out at the same place: a closet clean-out guide session.
Our team's seen hundreds of closets. We've noticed that most of them fall into two categories: the boring black closet or the crazy-colored closet.
Camp 1: The Boring Black Closet
This closet is full of the same color and it's usually black. This person fell for the idea that the way to be timeless was by draping themselves in head-to-toe black.
The result?
The owners of these types of closets often feel bored with their wardrobe. Even though they've developed professionally, their wardrobe hasn't kept up with their success. This can happen for years and get to a point where they can't see a way out.
Camp 2: The Crazy-Colored Closet
This closet is all over the place.
Even for our expert team, it's hard for us to envision outfits in this scenario. Imagine how the average person feels.
Notice how this wardrobe is overflowing (literally) with colors, prints, patterns, and off-the-wall styles. Nothing is cohesive.
This person loves color and feels comfortable wearing it. In fact, they often question the excitement and versatility of the NLW Style System since it's focused on core colors. (Good news—our system works for them too.)
People who own this type of closet overbuy to solve their outfit-making problem. They'll add prints and colors in hopes that they'll be able to put ensembles together. But it only adds to the issue.
So which closet camp do you fall into? No matter your answer, you can fix your closet to have the right foundation for maximum versatility. Keep reading to find out how.
NLW's Closet Clean-Out Guide: 4 Steps to Better Style
The goal of any (great) closet clean-out guide should always be the same.
To create the right foundation for your style that concentrates on the right pieces, in the right fit for your body, in the right balance of color. That's 'The NLW Style System' in a nutshell.
This should hold true no matter your style, body type, location, or profession.
Once you achieve that, you'll be able to:
– Create more outfits with less stuff
– Have an effortless, put-together style for any work or outside-of-work occasion
– Actually love everything in your closet and have it fit you like a glove
Roll up your sleeves and let's dive in step by step.
Closet Clean-Out Guide Step 1: Closet Prep Questions
As with any project, it's always best to start with a strong vision in mind. You want to outline a clear set of goals to keep you focused throughout the clean-out process.
That's why the first step of our closet clean-out guide is to answer the below prep questions. Pull out a notepad and jot down answers to these key questions:
– What do I want people to think about me based on my personal style? What image of myself do I want to put out into the world?
– Who is a style role model that I admire and why? (If you don't have one, write down the top 5 words that describe your dream style)
– How can I clean out my closet to reach these goals?
Take thirty minutes to reflect and answer these important questions.
If you're wanting to explore more and get extra credit from NLW, we encourage you to create a Pinterest Board. Create a fresh board titled, "My Style Vision" and start pinning clothing, outfits, and colors that you're drawn to.
Don't think twice, just pin. And please don't restrict yourself or say "I can't wear that because…"
This exercise retrains your brain to have fun with your style, to dream, and to explore a world of possibilities. Here is our Pinterest account that you can use for inspiration.
Don't worry if what you wrote down and pinned feels ambitious right now. The next three steps show you how surprisingly simple it is to achieve those style goals.
Closet Clean-Out Guide Step 2: Prepare for the Clean-Out
With the style vision work completed, it's time for the practical prep part of our closet clean-out guide.
To keep your closet makeover on task and efficient, you need the right tools. We recommend you invest in durable, uniform hangers.
Those flimsy, plastic hangers you bought back in your college days may have worked for the dorm life. But if you want to step up your wardrobe game, we recommend black velvet hangers.
These hangers treat your clothes better and let's be honest, look better than a plastic hangar. Velvet-covered hangers won't snag or stretch fabric and you can use them for tops and bottoms.
Once you have the right hangers, let's talk about how to prep for the dirty work of purging your wardrobe:
The donation aftermath after an in-person closet edit.
1. Gather garbage bags. This is where you'll put all the clothes that no longer have a place in your closet. That way you can easily donate them. (Personally, we give to Vietnam Veterans or Goodwill.)
2. Take out all of your clothing. We're not just talking about what you have hanging up or in your dresser: we mean everything. Go into storage and pull out every last piece.
3. Make a pile of clothes you're positive you want to donate. Eliminate pieces that:
a. You don't like
b. You haven't worn in the past year
c. Look worn out, stretched, or stained
4. Then, organize your clothes by category. We suggest organizing by category. That means all the t-shirts together, sweaters, jeans, pants, etc. This step will make the editing process much easier.
5. Next, organize each category by color. That means all white tops with white tops, brown bottoms with brown bottoms, and so on.
With this step done, you'll clearly see what you have too much of and what gaps exist in your closet.
Tour of NLW client's closet after an edit and reorganization.
Closet Clean-Out Guide Step 3: Editing Your Closet
At this point in our closet clean-out guide, it's time to pat yourself on the back.
Seriously, you've done the heavy lifting. All that prep work you did has set you up for this next phase of the clean-out process.
We call this part "the closet edit". Think of it as fine-tuning your style selection so you're just left with the cream of the crop.
In order to create the right wardrobe, you want to focus on fit, color, and the right pieces. These are the essential cornerstones of 'The NLW Style System.'
Here are the steps that you'll want to follow for the actual cleanout:
Go through each item and ask yourself the following questions:
1. Does this fit me properly? (Yes, you have to try everything on.)
2. Is this an essential piece?
3. Does this fit into the color goals?
If you get yes yes yes, then the piece stays. If you get one "no", it goes. Let's take a closer look at each question.
Does This Fit Me Properly?
For a lot of us, understanding fit is tricky.
If you don't come from a fashion background it's hard to know how a garment is meant to fit. This can feel even more daunting if you've gone through any body changes, like many of our clients.
Don't worry, we got you! Our closet cleanout guide has got you covered with a few simple tips on achieving the proper fit.
In general, nothing should be too tight or too loose.
You'll know something is too tight if you see pull lines or gaps between buttons. You'll really know an item is too tight if it's uncomfortable, restricting movement, or revealing undergarments.
On the other hand, you'll know something is too loose if you're constantly having to readjust it in place. Another sign is if the seams aren't lining up with the natural lines of your body. (Like darts in the front of a blouse or sagging shoulders on a blazer.)
Make a pile of items you feel would fit well with some light tailoring. Pant length, sleeve length, and taking in the body are all very common changes tailors can manage.
(If you're unsure about whether something fits, ask a partner, friend, or hire a stylist. An expert can quickly decide if it fits properly or not and advise next steps.)
Our former clients have loved getting the perfect fit of clothing. When you get the right fit for your current body, you'll instantly find confidence and increase positive self-perception.
Is This an Essential Piece?
NLW client going from wearing dated pieces in trend-focused colors to timeless clothing aligning with her current career.
The goal of our closet clean-out guide is for you to be intentional about what takes up space in your closet.
Sometimes we keep things in our wardrobe just for their sentimental value. But if you're not wearing them, they don't belong in your closet. You don't need to throw them away, just find a new way to honor that feeling or remembrance.
Once that's out of the way, it's time to think about what occasions you need clothing for. Here are a few starter questions to help you weed out unnecessary clothing:
1. What is your typical office dress code?
It's no secret that fashion is much more casual than it was ten years ago. Many of our clients edited out the sea of formal suits that once took up space in their drawers. They now reach for power casual styles instead.
2. Where do you live? Are you dressing for the seasons you typically experience?
If the evening lows in your town barely reach 60, three winter coats are unnecessary.
West Coast we're looking at you.
On the other hand, someone who experiences four true seasons may need a larger variety of essentials.
3. What do you want people to think of you, based on what you are wearing?
In less than a second, others make long-lasting first impressions of you based on what they first see.
Your clothing is a huge part of that.
If an item of clothing isn't fitting in with the personal brand you're crafting, kiss it goodbye. And if you've had it since starting your career, it's time to send it off. That way you can align your style with your success today.
Does This Fit into My Color Goals?
We already talked about the two most common closet camps we see while going through our closet clean-out guide.
The all-black funeral closet or the unfocused colors closet.
Neither extreme is ideal. That's why our founder Cassandra Sethi developed the Next Level Wardrobe Hierarchy of Color.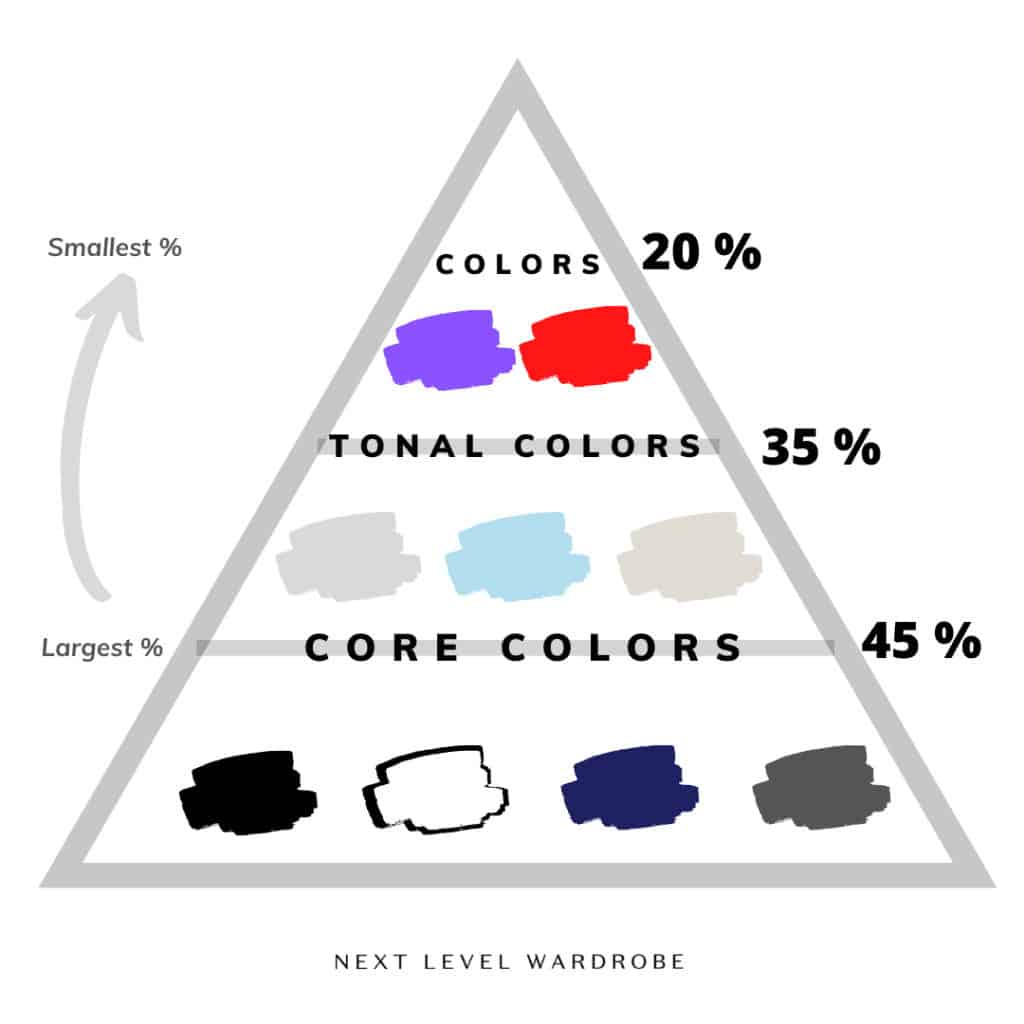 This tool helps you to find that perfect balance between unifying core colors, tonal colors, and accent colors.
Most of your wardrobe should be in core colors (navy, grey, black, white) and shades of those colors. These hues make up the bottom and middle tiers of the pyramid above.
The smallest percentage of your closet should be in brighter colors and prints.
Following the Hierarchy of Color allows you to get the right balance of light and dark colors (and prints). With that, you can effortlessly create outfits for any occasion.
As you work through your items, be sure that they land in 1 of 3 piles: keep, donate or alter. Be very strict about sticking to those piles as it will make the last step easier to complete.
Closet Clean Out Guide Step 4: Organization
Congrats!
You've reached the last step in our closet clean-out guide. Can you believe you're getting closer to having the wardrobe of your dreams?
You should be down to three main buckets:
– Clothes you're keeping
– Clothes in a garbage bag to donate
– Clothes to alter
For the items that you've decided to keep, remember that if you can't see them, you won't wear them. It's important to organize your closet in a way where most of your items are easily visible to you.
Why is this step so important?
Caring for your clothing is one of the areas of style that isn't trendy to talk about. But it is such a critical part of keeping your wardrobe in tip-top shape.
(Check out this reel from our stylist, Maggie for some of our favorite wardrobe care to dos)
We're firm believers that most items can and should be hung. This includes tops AND bottoms. If you have the space, do it.
This includes pants, t-shirts, blouses, layering pieces, and yes, even jumpsuits.
When it comes to sweaters, proceed with caution.
Hanging heavy knits will cause the knit to stretch in the shoulders and neck, eventually making it unwearable.
When in doubt, fold your sweater—better to be safe than sorry.
There you have it. You've completed our one-stop closet clean-out guide. Bookmark this page for future reference or share it with a friend who could use a refresh.
If you want one-on-one support ensuring you're correctly executing these steps, apply for our men's or women's styling services.
*Disclosure: Next Level Wardrobe only recommends products that we'd suggest to our clients or personally wear ourselves. All opinions expressed here are our own. This post may contain affiliate links that at no additional cost to you, Next Level Wardrobe may earn a small commission. Read the full privacy policy here.
Cassandra Sethi is a NYC Personal Stylist and Image Consultant. After working over 15 years in the Fashion Industry, most recently as a Senior Buyer for Equinox, she created her business, Next Level Wardrobe – a luxury personal shopping service for successful professionals.
Next Level Wardrobe has been featured in Wall Street Journal, Today and CNN. See here.