When you picture entering your closet to get dressed in the morning, do you feel stressed or peaceful?
Your answer may indicate whether it's time for a major closet overhaul.
At Next Level Wardrobe, the style of your dreams starts in your closet.
In this guide, we will discuss how to clean out your closet, optimizing your organized wardrobe to find the best work from home outfits, and easy closet tips to ensure you are creating a long-lasting style system that serves you for years to come.
Why your closet can make or break your style
If you picture your closet as it is now, does it give you a feeling of peace, or does it stir up anxiety just picturing the disorganization, piles of clothes, and mismatched hangers?
If you can't immediately identify where your clothes are, or you often have trouble finding certain items, a guide to cleaning out your closet is exactly what you need.
Your closet goals should include:
– Feeling confident, put together and powerful in your clothing each and every day
– Creating more outfits with less stuff in your closet
– Having all the right pieces in your closet- that fit your body perfectly and all go together
None of these goals can be accomplished until you have the right items in your wardrobe, and eliminate what is unnecessary and even repetitive (no, you do not need 10 pairs of jeans).
What I often see in closet clean outs
I work with successful men and women all over the world to create a work wardrobe that they love to wear. The first styling session of all my services begins with a closet edit.
Most closets fall in 1 of 2 camps:
Camp 1. The Boring Black Closet:
This closet is full of the same color and it's usually black. There is no option for versatility and this usually ends up with the owner being bored with their closet.
Camp 2. The Crazy Colored Closet:
This type of closet has way too many colors, prints, patterns that there's not cohesiveness. This makes the owner feel overwhelmed and frustrated that they can't easily put an amazing outfit together easily.
Which camp do you fall in?
The goal of any closet clean out
No matter your style goals, body type, location or profession- the goal of your closet clean out should be:
To create the right foundation for your style that concentrates on the right pieces, in the right fit for your body, in the right balance of color.
Once you achieve that, you'll be able to:
– Have an effortless, put together style for any occasion
– Be able to put together outfits quickly and KNOW that you look amazing in them
– Create more outfits with less stuff
Now let's dive into how to do this!
Step 1. Closet Prep Questions
Like any project, it helps to start with goals and an end vision in mind.
Take out a notepad and take 15 minutes to write down these questions:
– What do I want people to think about me, based on my personal style?
– Who is a style role model that you admire? And why? (If you don't have, write down your style goals)
– How can I clean out my closet to reach these style goals?
– Most importantly, what outfits make you feel comfortable and put together, and most like your true self?
While these goals may seem ambitious and impossible to achieve, that's exactly why I started the Next Level Wardrobe system.
This proprietary system focuses on three key areas:
1. Investing in the essential pieces
2. In the correct fit
3. In the right colors
Now that you've established your closet clean out goals, let's move onto the preparation steps. Because when it comes to a closet edit, success is all in the preparation!
Preparing for a closet cleanout
Invest in durable, uniformed hangers
Having a closet you truly enjoy can take a little leg work in the beginning, but your only real start-up costs include leveling up on your hanger choice.
These Amazon Velvet Black Hangers are my top choice for clients, but any velvet hangers will prevent articles of clothing from falling off, and hangers should all be the same color and size.
Grab minimum 3 garbage bags. We'll be using these to put in donations that you'd like to move on from.
Get all clothing out from storage areas
When you do a closet clean out, you want to make sure that you're looking at the entirety of what you own, and not just one season.
For those living in smaller quarters- you'll want to make sure that you pull out any clothing/accessories/shoes that you're storing away.
Make a pile of items that you're positive you want to donate
As the next stage of the pre-preparation phase, you'll want to go through your closet piece by piece, eliminating items that:
– you know you don't like and won't wear again
– you haven't worn in the past year
-you have owned for more than three years
– look worn out or stretched out (watch for piling, stains or holes)
All of these items can be donated to your local thrift store, place of worship, or charity. (I personally use Vietnam Veterans or Goodwill)
Organize all your items by CATEGORY
The next step is to organize your closet by categories, including:
Tops: both formal and informal tops can be placed together, as well as blouses, t-shirts, sweaters, tanks, cardigans, and blazers.
Bottoms: jeans, trousers, skirts, shorts, both for work and play can be placed together
Miscellaneous items: dresses, jumpsuits, coats, jackets, scarves
Shoes: sneakers, flats, heels, gym shoes
Organize all your items by COLOR
And last but not least, the final stage of the pre-closet cleanout is to sort these categories by color.
For example, but all of your white tops together, regardless of type, and do so for each category.
Now that you have the proper supplies, some knowledge of what shouldn't be in your closet, and categories of clothes, you can get picky about what should earn a place in your wardrobe.
Step 2. Editing Your Closet
In order to create the right wardrobe, you want to focus on fit, color and the right pieces.
Here are the steps that you'll want to follow for the actual cleanout.
Go through each item and ask yourself the following questions:
Question 1. Does this fit me properly? (Yes you should try it on)
Question 2. Is it an essential piece?
Question 3. Does it fit into the color pyramid from Next Level Wardrobe?
While these may seem like simple questions, sometimes it doesn't feel like it in the midst of piles of clothes.
Let's examine each more closely to ensure you can power through when you are looking at actual items you are unsure of.
Question 1. Does this fit me properly?
If you aren't sure if your clothes really fit you, there are some tips to consider for both casual and professional outfits.
In general, nothing should be too tight that it is pulling, uncomfortable, restricting movement, or revealing undergarments. On the other hand, baggy pieces should be chosen with care, and shouldn't be paired with other loose-fitting items.
When in doubt, ask your partner or friend to work with you on your closet cleanout, trying things on and asking their opinion on fit.
When it comes to pants, most will need to be tailored to fit lengthwise and sometimes it will need tailoring at the waist or an added taper.
Make a pile of items you feel would fit well with some tailoring. Pant length, sleeve length, and taking in the body are all very common changes tailors can help you with.
My former clients have loved getting the perfect fit of clothing. When you get the right fit for your body today, you'll instantly feel more confident in your clothing and increase your self-perception in a positive way.
Question 2. Is this an essential piece?
As you consider what essential pieces you really need in your closet, ask yourself the following:
1. What is your typical office dress code?
If your office is typically business casual dress code, but you own multiple fancy suits you can downsize
2. Where do you live? Are you dressing for the seasons you typically experience?
If the evening lows in your town barely reach 60 degrees, three winter coats are probably pretty unnecessary. On the other hand, someone who experiences four true seasons may need a larger variety of essentials.
3. What do you want people to think of you, based on what you are wearing?
It only takes a 10th of a second (!!!) to judge someone based off of their clothing. The good news is that YOU can 100% control this.
Question 3. Does it fit into the pyramid of color?
My clients typically fall into one of two camps: they have mostly one color in their closet, or it's brimming with the full rainbow and a variety of prints.
Neither extreme is ideal.
During your closet cleanout, it's time to set the stage for balance and see what the gaps are.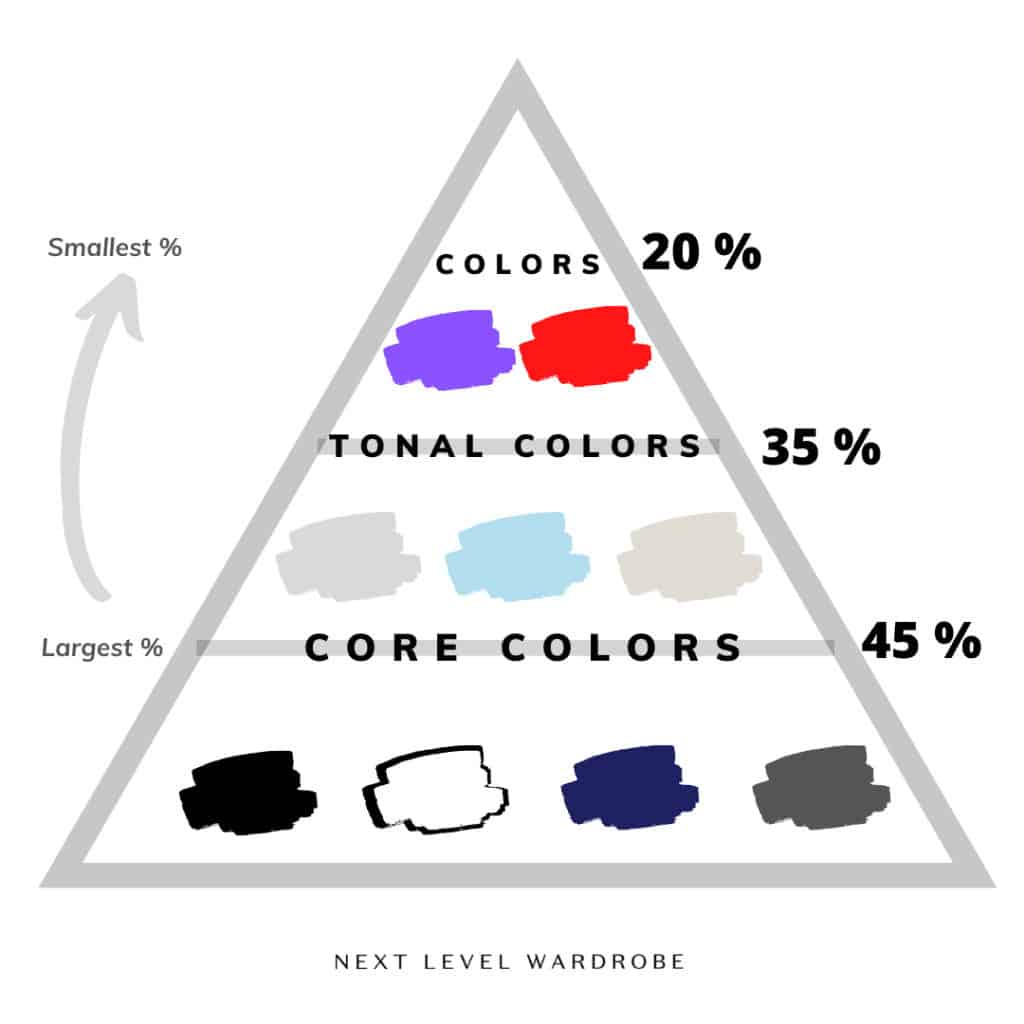 My personal styling system calls for the majority of your wardrobe in core colors (navy, grey, black, white) and variations of it- the bottom and middle tier of the pyramid above.
The smallest percentage of your closet should be in brighter colors and prints.
Following the Pyramid of Color will allow you to get the right balance of light and dark colors (and prints!) to make sure that you can effortlessly create outfits for any occasion.
As you work through your items, be sure that they land in 1 of 3 piles: keep, donate or alter. Be very strict about sticking to those piles as it will make the last step easier to complete.
Congrats!
You've gotten to the last important step of finishing your closet clean out and you're getting closer to having the wardrobe of your dreams.
Be sure to put all your donation items in a bag, as well as your alteration pile.
For your items that you've decided to keep, remember that if you can't see it- you won't wear it. So it's important to organize in a way where most of your items are out, easily visible to you.
Why is this step so important?
I'll be honest, caring for your clothing is one of the areas of style that isn't glamorous to talk about. BUT it is such a critical part of keeping your wardrobe in top shape so you can have it for years to come.
(Head over to The Luxe Strategist to read more about how to care for your wardrobe)
Most items can be hung and if you have the space, do it!
This includes pants, t-shirts, blouses, layering pieces.
When it comes to sweaters, you can hang lightweight cashmere sweaters but DO NOT hang heavy knit sweaters.
Why?
Because if the knit of the sweater is heavy, it will weigh down the sweater and you'll actually damage it if you hang for an extended period of time.
You'll see marks of the end of the hanger indented in the sweater and these are a pain to get out.
If you're in doubt, just fold your sweater– better to be safe than sorry.
Next Level Wardrobe offers image consulting and personal styling services to professional men and women. Contact us if you're interested in upgrading your personal style.
Cassandra Sethi is a NYC Personal Stylist and Image Consultant. After working over 15 years in the Fashion Industry, most recently as a Senior Buyer for Equinox, she created her business, Next Level Wardrobe – a luxury personal shopping service for successful professionals.
Next Level Wardrobe has been featured in Wall Street Journal, Today and CNN. See here.