You've graduated from your 20s, conquered your 30s, and now you're taking on your 40s at full force. While you may have more life experience, confidence, and savvy, what does this new age say about your style? If you're not sure how to dress in your 40s, this article is for you.
We're unpacking all the myths around "age-appropriate" outfits. Plus we're showing you how to look classic, and well-dressed without a bunch of out-of-date rules.
So sit back, relax, and enjoy our top stylist-approved tips and outfit recommendations tailor-made for you.
What's the Best Style For Women Over 40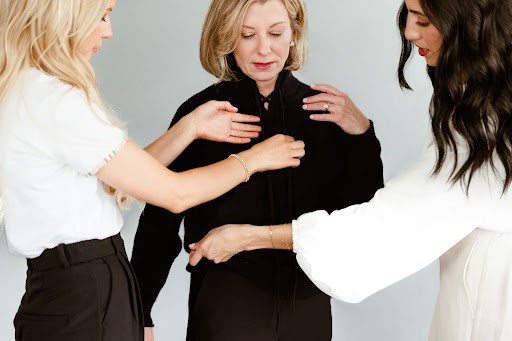 The biggest myth to bust around styles for women over 40, is that there's only one option. But guess what? 40 doesn't look the same for everybody. So why would your style?
We've found that not every one of our over 40 clients is at the same place in life. They may just be starting the best phase of their careers or discovering their purpose. For these women, this decade is all about self-reflection.
Maybe they've just established their career or settled into family life. Now's the time for them to step into their fullest potential.
Fashion and clothing give them a chance to discover who they want to be in this new decade.
At Next Level Wardrobe, we believe that anyone at any age can wear the pieces we suggest. We recommend classic, quality, versatile styles that don't have an age attached. That's how to dress in your 40s.
How do we know this works?
By hearing feedback from our clients first hand. We find that women in their 40s still want to be stylish and polished for work. (Often with a slightly more conservative touch).
Another benefit of working with real people is that we know the real fit challenges these women actually experience. We know that at this age, many women go through body transitions.
"I don't know how to dress my body post-baby."
"I still get mistaken for a 20-year-old, but I don't know how to dress my age."
"My old clothes don't fit the way they used to and I don't know what to do."
We've heard it all.
Our biggest piece of advice is to dress for the body you have today. Show up for yourself, and wear clothing that makes you feel happy, confident, and put together.
Outfits For Women Over 40
You've got the building blocks of how to dress in your 40s. Now, it's time to get into the specifics.
We've broken down 4 outfits for women over 40 by season, all based on our proprietary style system:
1. Identify essential pieces.
Ask yourself, "What pieces are essential to my life?" What are the clothing items you know you'll wear/love/need the most? Those should be the focus of your closet.
2. Have a balance of color.
A quick way to give your wardrobe cohesiveness and versatility is to refine your color palette. Make the majority of your clothing core-colored (black, white, gray, and navy). That way most of your pieces go together. Then, use tonal colors (lighter and darker variations and textures of core colors). Finally, use bolder colors and patterns as accents to bring out your personality.
3. Get the right fit.
Taking the time to try on different brands until you get the right fit is well worth it. And so is getting a tailor. Why? Because when your clothes fit and you feel comfortable in them, you'll actually wear them. It's that simple.
By following these three steps, you can have flawless style year-round. Keep reading to see our top outfits and product recommendations by season.
How To Dress in Your 40s: Winter Outfits
Let's start with winter outfits for women over 40. The great thing about this season is it's easy to be stylish, comfortable, and covered.
If you're wondering how to dress in your 40s during winter, you can't go wrong with a black coat.
We recommend this wrap style from Ted Baker as a chic way to keep out the wind chill. The mock neck collar and metal details help you stand out from the crowd without going over the top.
(Style Tip: Incorporating subtle, unique details into your outfits is the perfect way to avoid a style rut.)
Product by Ted Baker, shop here.
Plus, the wrap silhouette looks great on all shapes and sizes. You can adjust the belt to achieve your perfect fit and accentuate your waist.
Once you've got your coat selected, it's time to think about what goes underneath.
Since it's prime sweater weather, we suggest layering up with something like this color block option from Emporio Armani. It has a pattern without feeling too busy thanks to the neutral color palette that goes with everything.
Product by Emporio Armani, shop here.
We also love that this sweater is insulated enough to keep you warm yet thin enough to tuck into pants.
(NLW style tip: tucking your top into pants is a quick way to look polished in seconds. It defines your figure and instantly creates the impression that you took the time to style yourself.)
Product by Anine Bing, shop here.
For pants, balance your patterned top with a classic pair of black trousers. We suggest these wool ones from Anine for extra warmth while you're on your commute.
Last but not least, complete your look with a pair of our favorite winter work shoes: boots. If you're wondering how to dress in your 40s, boots are a must.
So many women think they have to stick to heels and flats at the office. But boots are actually the perfect middle ground, especially during the frostier months. They offer the closed-toe coverage your feet crave but with the style and (optional) height, you love.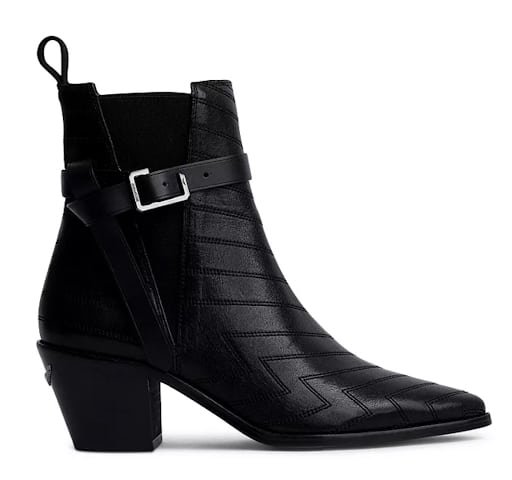 Product by Zadig & Voltaire, shop here.
This pair by Zadig & Voltaire is a chic way to show off an edgier, contemporary personal brand through clothing. The zigzag stitching and buckle feel effortlessly cool instead of stuffy or trendy.
How To Dress in Your 40s for Spring
Snow is melting, flowers are blooming—it's time to warm up your wardrobe with spring outfits for women over 40.
Start with this understated cashmere knit top from C by Bloomingdales. The scalloped neckline and sleeves sprinkle in a subtle feminine touch perfect for the season.
You also won't overheat thanks to the breathable cashmere blend.
Product by C by Bloomingdales, shop here.
Next, pop on a light layer like this all-season blazer from Majestic Filatures. We love this for our clients because it's not too heavy, and it's easy to dress up and down.
You can wear it with jeans for a power casual ensemble, or with matching white trousers for a monochrome moment.
Product by Majestic Filatures, shop here.
But for spring, why not show off your style expertise with a flowy midi skirt?
We picked this one from Ted Baker with painterly florals as a fun way to break up this all-white ensemble.
Plus, the wrap detail at the waist is a flattering touch to bring out curves.
Product by Ted Baker, shop here.
Finally, transition your footwear to spring with a pair of slip-on sneakers. Slip-ons are not only quick to get on in the morning. They're also a way to wear sneakers to the office while still giving off sophisticated vibes.
Remember, any rules about how to dress in your 40s telling you sneakers are "too young" are wrong. You just have to pick the right style.
Product by Vince, shop here.
Check out this leather option from Vince with a woven pattern. They'll keep your feet happy without detracting from the rest of your outfit. Win-win!
How To Dress in Your 40s: Summer Outfits
From working with clients, we know that people struggle the most with dressing professionally in the summer.
They often don't know how to balance workwear with staying cool. Especially when go-to's like blazers and suit jackets aren't practical to wear.
But knowing how to dress in your 40s during the summer doesn't have to be complicated. The main thing to keep in mind is fabrication.
What we mean is, this is the time to prioritize lightweight, thin, or natural fabrics. They're more breathable so you won't sweat as easily.
Next, gravitate towards lighter colors since they reflect sunlight instead of absorbing all that extra heat.
Keep these guidelines in mind and you'll be able to build a flawless summer capsule wardrobe.
For example, try out a sleeveless option like this textured top by Reiss.
Product by Reiss, shop here.
The sleeveless design will keep you cool as will the lightweight material. Best of all, you still get to show off your style with the subtle pleats at the front and stripes.
Tuck this blouse into a pair of summer-friendly trousers like these linen ones from Reiss.
Linen is the queen of summer fabrics. It's lightweight, airy, yet structured so you still look professional.
We especially like these for their universally flattering high waist, straight-leg fit. You can easily move around in these all day without feeling restricted.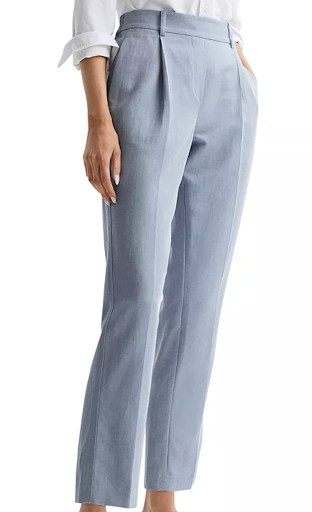 Product by Reiss, shop here.
Top off your look with our favorite accessory for summer outfits for women over 40: loafers. They're the ideal blend of comfort and professionalism.
Product by Sam Edelman, shop here.
Remember how we mentioned lighter colors work best for summer?
That's why we picked out these Sam Edelman loafers in light brown. They read as less formal than black shoes, which is perfect for the season's relaxed attitude.
How To Dress in Your 40s for Fall
Ready to watch the leaves turn colors? Here's how to dress in your 40s for fall.
Begin with a basic Tee in a core color. We recommend white or navy blue. Then, shrug on this plaid boyfriend-fit blazer by Anine Bing.
Product by Anine Bing, shop here.
What makes this piece work so well is how it blends classic with modern. The gently oversized fit feels contemporary and fresh, while the plaid pattern is timeless and perfectly fits the fall mood.
Speaking of fall, this season is the perfect opportunity to play with textures. Think ribbed-knit sweaters and fuzzy woolen coats.
But at the same time, you'll look just as chic mixing in sleek and shiny textures like leather.
For that effect, try these chestnut brown leather trousers by Malene Birger.
Product by Malene Birger, shop here.
Fun yet office-friendly, these pants help you embrace the spirit of the season in style.
No outfit would be complete without a great pair of shoes, so slip on these block-heeled mules. This suede-like pair from Splendid plays into your texture story while keeping your feet comfy. Now you're ready to step into autumn.
Product by Splendid, shop here.
Want more expert assistance on how to dress in your 40s or any decade? Apply for Next Level Wardrobe's women's styling services. Our team of stylists has years of experience helping diverse professionals to find their perfect style. Sign up today and change how you shop for good!
*Disclosure: Next Level Wardrobe only recommends products that we'd suggest to our clients or personally wear ourselves. All opinions expressed here are our own. This post may contain affiliate links that at no additional cost to you, Next Level Wardrobe may earn a small commission. Read the full privacy policy here.