Ready for a shortcut to great CEO style? Apply to work with NLW.
With temperatures dropping and the days getting shorter, there's no denying that winter is around the corner.
It's time to pack up your summer wardrobe and say goodbye to your sandals and shorts until next year. In place of your warm-weather things, bring on the sweaters and cozy layers a plenty.
But while you're bundling up in knits and full-length pants, don't leave your feet out in the cold. Figuring out what shoes to wear in winter is just as important as winterizing the clothes in your closet. Especially if you live in a climate like Chicago or New York where the cold months are no joke.
Need a little assistance deciding what shoes make the cut?
Read on for Next Level Wardrobe's guide to all things winter shoes. We'll walk you through the best options to wear to the office, with dresses and pants. Plus we'll tell you if open-toe shoes are appropriate.
Grab a hot cup of coffee and let's get into it.
What Shoes to Wear to the Office in Winter
You're not alone if you're stumped on what shoes to wear to the office in winter.
In fact, our clients ask us this question a lot. They're confused about what's appropriate and what's comfortable, warm, and stylish.
When deciding what shoes to wear in winter, the first thing to keep in mind is the climate. What works for a winter in NYC doesn't work for an LA winter.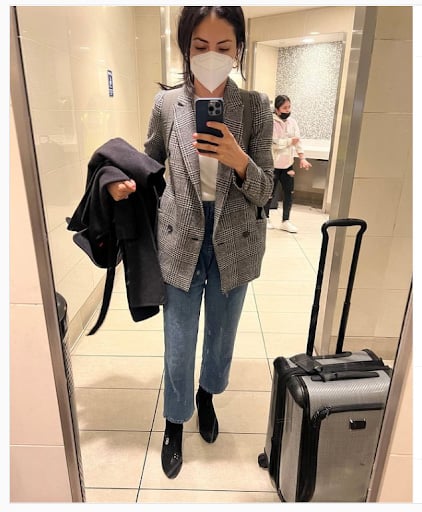 This is something our founder, Cassandra Sethi knows all too well. She splits her time between NYC and LA and changes her shoes accordingly. In New York, her go-to's are boots. If there's snow or ice on the ground, lug-bottom or high-grip treads are a must.
(Remember, safety first. Looking fashionable doesn't matter if you slip on black ice and twist your ankle on the way to work.)
However, if she's at our LA office, slip-ons like flat loafers and sneakers are the way to go. It doesn't get anywhere near as cold in LA as it does in the northeast.
Plus, west coast office dress codes are famously relaxed. Both loafers and sneakers give your feet heat without going overboard.
At this point, you may have noticed a trend in our advice: closed-toe shoes. So does that mean that open-toed shoes are a no go in the winter? Continue scrolling for the answer in the next section.
Can You Wear Open-Toe Shoes in Winter?
View this post on Instagram
Can you wear open-toe shoes in winter? The short answer is yes. If it's suitable for the weather.
Obviously, if you live somewhere like Montreal where you have to trudge through the snow, open-toe shoes are a no-go. You don't want to risk frostbite just for a chance to wear your favorite heels.
However, if snowfall isn't a concern but you're still dealing with low temps, winterize your open-toe shoes with tights. This is another one of Cassandra's favorite tricks for staying warm and professional.
Black or nude pantyhose are a workwear staple and an easy way to layer up your legs and feet.
If you need extra protection, try fleece-lined tights or thicker, sweater-like options.
Now say you live in a hotter climate. In this case, open-toe shoes are probably a year-round staple for you.
While you don't have to stress about frigid feet, you might want your shoes to look more winter-themed.
You can achieve this by trying darker color schemes. Rich tones like plum, emerald, and cognac brown give your outfit that seasonal cheer without the chilly air.
Another way to make your open-toe shoes seem winter-ready if you live in a warm climate is with fabrication. Suede, velvet, satin, and leather are all materials that read as cozy and wintery. Think about these fabric options when choosing what shoes to wear in winter.
Before we move on, we want to make one thing clear. When we say you can wear open-toe shoes in winter, we don't mean sandals. Sandals, flip-flops, or espadrille wedges are a hard no for winter, and always a no for the office. Save those bad boys for a beach day.
What Shoes to Wear with Dresses in Winter
Oftentimes, clients feel like they have to save their dresses for warm seasons. But with a little layering and the right shoes, you can turn just about any dress into a cold-weather outfit.
Wondering what shoes to wear with dresses in the winter?
Boots are the way to go. This is a styling trick we've been using with our clients a lot this year. Since boots come in so many different styles, it's easy to find the perfect pair for any dress or skirt. Here are our top three picks:
1. Knee-high Boots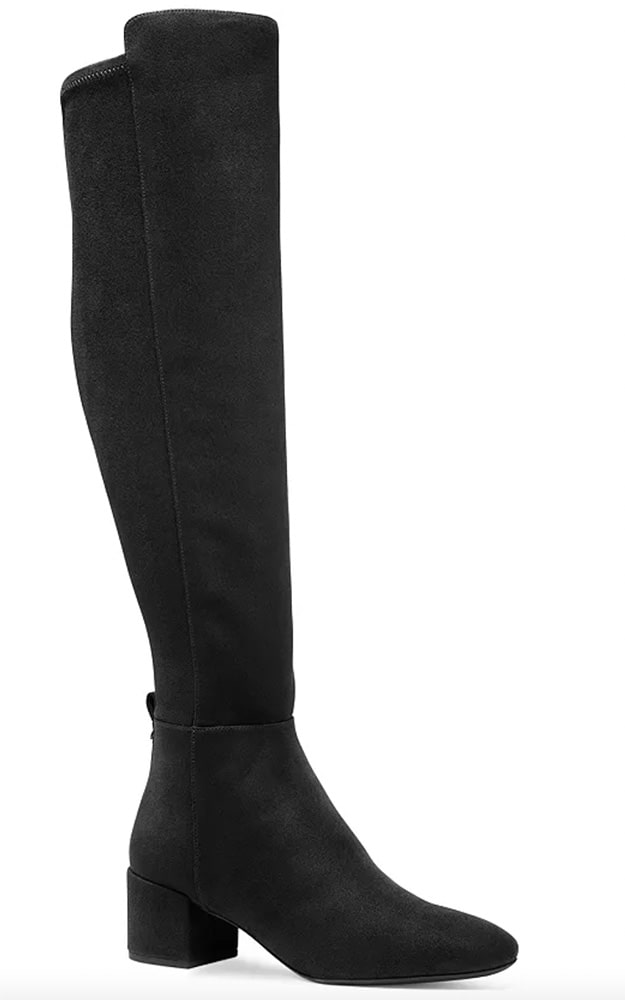 Product by MICHAEL by Michael Kors, shop here.
When you picture what shoes to wear in winter, knee-high boots probably come to mind. These are the quintessential shoe choice for cold weather.
The height makes them perfect for pairing with dresses. They'll keep your legs warm while looking chic and put-together.
We suggest going for a fitted silhouette, like these black ones from Michael Kors. The close-to-the-body fit stops your outfit from looking bulky or like you've got too much going on in your outfit.
You can partner these with any dress from a fitted knee-length option to a flowy maxi.
2. Chelsea Boots
Product by Rag & Bone, shop here
The next boot to have in your arsenal is a Chelsea boot. They're easy to pull on and have that classic, London-style appeal. Pick up a pair with a heel to add a little extra sophistication to your ensemble.
These pair well with midi skirts and feminine a-line dresses.
3. Flat Combat Boot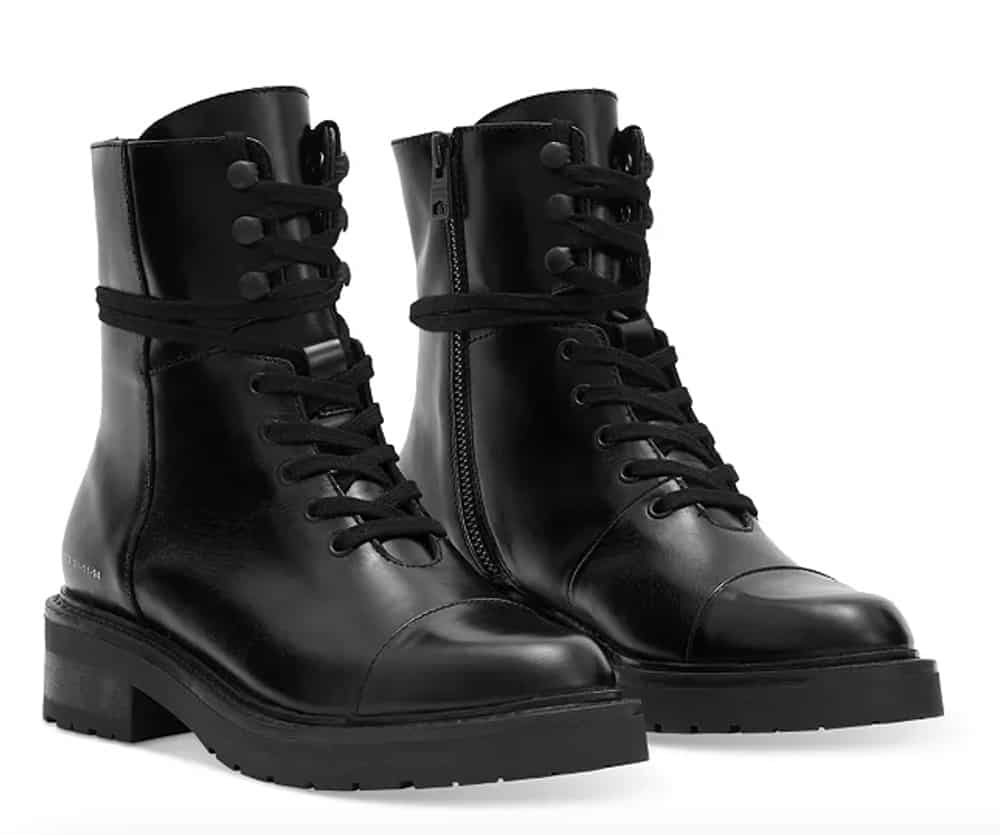 Product by All Saints, shop here.
We couldn't resist placing flat combat boots on our list of must-haves. We especially love these if you're dressing to fit your personal brand and want to add edginess.
Maintain a professional vibe by picking out minimalist combat boots. Stay away from pairs with excessive buckles, metal eyelets, or studs.
Instead, opt for a sleek black leather pair like these boots from All Saints.
What Shoes to Wear with Work Pants in Winter
Most of us choose to wear more pants during the colder months. It's functional, easy, and warm. So of course, we had to put together a list of what shoes to wear with work pants in winter. Here are our 3 favorite office-approved styles:
1. Heeled Ankle Boots
Product by La Canadienne, shop here.
Say it with us: boots work with everything.
If you're looking for a functional, smart boot to wear with your favorite trousers, heeled ankle boots are your answer. Tall boots and pants are a clunky combination. These shorter versions however are an ideal alternative. They have just enough height to protect your ankles from cold.
Going for a heel over a flat silhouette is a subtle way to elevate your outfit as well.
We love these brown suede ankle boots from La Canadienne. They look toasty yet polished all in one.
2. Loafers
Product by Vince, shop here.
Unsure of what shoes to wear in winter when you live in a mild climate? Stop your searching: loafers are the way to go. This shoe is having a major resurgence right now and we can see why.
Just take a look at the camel-colored ones above from Vince.
Loafers are a work wardrobe staple. On top of being comfortable, they look professional and have a unisex appeal.
3. Ballet Flats
Product by Chloé, shop here.
Last but not least: ballet flats. These are truly a 24/7, 365 days a year type of shoe. They're always going to fit any office dress code.
Much like loafers, we only recommend ballet flats for mild or warm winters. If you live somewhere that gets colder than 30 degrees during the workday, stick to boots.
But if not, these black scalloped flats from Chloe are an excellent winter shoe choice.
Need professional help revamping your closet for the winter? Apply for our women's virtual or in-person styling services. Our team of experts is ready to help you revolutionize your wardrobe and the way you shop.
*Disclosure: Next Level Wardrobe only recommends products that we'd suggest to our clients or personally wear ourselves. All opinions expressed here are our own. This post may contain affiliate links that at no additional cost to you, Next Level Wardrobe may earn a small commission. Read the full privacy policy here."