Are you searching for outfits for women over 50 and coming up empty? We know that feeling. With every new decade you enter, it seems like the fashion world gives you mixed signals.
Are you supposed to keep up with ever-changing trends? Or are you expected to "dress your age"—whatever that means?
If you're looking for chic, effortless fashion made simple, you've come to the right place. Dressing well doesn't have to be complicated. That's why we're showing you the best styles for women over 50 and answering your top questions right here.
Table of Contents
What to Look For in Styles for Women Over 50: All Your Burning Questions Answered
As a personal styling company, we hear firsthand what real people want from their clothes and their concerns. Here are some of the most common questions and concerns we hear when it comes to dressing over 50.
Do you have to change your style when you turn 50?
Absolutely not. We believe that great style works at any age. If you have the right pieces, there's no need to change how you dress just because of a number.
What about "style rules"? Don't I need to dress a certain way to build outfits for women over 50?
Nope. Style rules hold you back. We never tell our clients that they have to wear certain things based on their age. All those rules do is box you in and keep you from reaching your full potential.
How do I keep up with body changes?
We hear you loud and clear on this one. Many of our over 50 clients deal with menopause, and we take that into account. We know your body temperature might be warmer, so we avoid heavy fabrics and bulky layers.
We also know that the change in your hormones might cause weight changes. With that in mind, we look for comfortable fabrics and relaxed (not baggy) silhouettes. These items can keep up with your body changes.
I don't want to look like a Grandma. How do I look fashionable and age-appropriate?
If you search online for styles for women over 50, you get a lot of stuff like this:
Frumpy and boring.
But this is how we dress our over 50 clients:
Modern and sophisticated.
Find clothing styles for women over 50 you actually want to wear by:
– Seeking out classic pieces in updated silhouettes and styles
– Prioritizing fit (No unflattering mom jeans or sack-like shirts here)
– Balancing core colors with fun pops of personality
These building blocks come directly from our patented Style System, and guess what?
We recommend them to everyone we style, regardless of age or gender, because they work.
With that, let's get into outfit ideas for women over 50.
3 Simple and Stylish Outfits For Women Over 50
One of our top recommendations for clients who don't know what to wear is to find a style role model. Luckily, there are many notable over-50 celebrities and CEOs with impeccable style.
These women have stylists that help them find outfits for women over 50. They zero in on their favorite color palettes, preferred fits, and quality brands.
Today, we've taken just a tiny sample of those style role models and recreated three of their looks. Scroll to see how other female leaders dress and how you can incorporate their clothing styles for women over 50 into your life.
Outfits For Women Over 50: Viola Davis, Queen of Power Suits
First on our list of styles for women over 50: the new power suit.
EGOT-awarded performer, producer, and philanthropist Viola Davis is a walking lesson in chicness. At 57, Davis doesn't shy away from trying bold yet timeless outfits—and you shouldn't either.
Take this all-white pantsuit ensemble, for example. Even though this look is only one color, this look is anything but one note. The color contrasts beautifully with her complexion, while the fit skims her figure without feeling too tight or restrictive.
Bonus: the white color makes this ideal for staying cool in warm weather. Lighter colors absorb less heat than dark tones, so this is perfect for days when you're fighting hot flashes.
It looks comfortable yet put together.
Even without a jacket, this look says power, grace, and style-savvy. (But if you prefer to keep your arms covered, don't worry. We've got a recommendation for you too)
To create your own version of this look, start with this blouse with an asymmetrical neckline.
Product by Milly, shop here.
The unique neckline keeps this piece feeling contemporary and cool instead of bland. The airy silhouette is also perfect for staying comfortable and tucking into pants.
(Style Tip: Whether you're pulling together outfits for over 50 or under 30-year-olds, don't forget to tuck in your shirt! This is a fast, tiny way to instantly look polished and styled.)
Which brings us to our next piece: these cream-colored trousers from Reiss.
Product by Reiss, shop here.
Our female clients (especially women looking for over 40 styles) love high-waist pants. It's flattering on all body types and never goes out of style.
By tucking your blouse into the pants, you highlight the smallest part of your waist and create a definition.
Add a blazer for extra coverage (or to make this look more business formal vs. business casual). We recommend this single-breasted style also from Reiss. The longer fit feels modern, but the piece is still simple and clean.
Product by Reiss, shop here.
Complete your look with black shoes for contrast. We love these low heels from Sam Edelman.
Product by Sam Edelman, shop here.
For shoe styles for women over 50, we always recommend flat shoes or low heels. It's more practical and easier on your feet.
Styles For Women Over 50: Tory Burch Teaches Textures
If you want to know what CEO style looks like, look no further than Tory Burch. The designer and executive is known for a timeless style that never seems out of place.
One of our favorite outfits for women over 50 is this turtleneck and pant number she wore. Why? Because it shows you the power of textures.
Often, people think the only way to show variety in their outfits is through patterns and prints. But if you want something just as exciting yet slightly more subtle, textures are the way to go.
They add depth to your outfits, especially in the colder months.
To build this power casual look for yourself, start with a ribbed-knit turtleneck like this one from C by Bloomingdales.
Product by C by Bloomingdales, shop here.
We chose this style not just because of the texture but also because of the material.
This is made with cashmere, which, on top of feeling impossibly soft and luxurious, is a wonder fabric. Cashmere is cozy yet incredibly lightweight. It's much more breathable than other knits and blends out there.
Partner this sweater with another textured fabric: corduroy.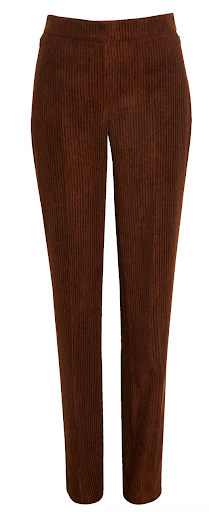 Product by Akris, shop here.
We chose these mahogany brown straight-fit pants from Akris. The deep, warm tone stands out against the light blue of the turtleneck for an energetic yet mature palette.
Product by Vince, shop here.
Pull on these black Chelsea boots for a touch of London-inspired edge for the final detail.
That's right—we're pairing black with brown.
We told you we were throwing out the fashion rules.
Outfits For Women Over 50: Laid Back Like Laura Dern
Our last style for women over 50 icons is actress Laura Dern. She has you covered if you're dreaming of a carefree and casual look.
Laura Dern masters the art of looking laidback without being sloppy. If you want to be comfortable and cool, check out this street style she put together for the summer.
She pairs too loose-cut silhouettes together, making for a heat-friendly ensemble. But she keeps this outfit from becoming too baggy with a defined waist.
Recreate outfit for women over 50 with a white, airy blouse like this romantic option from Careste.
Product by Careste, shop here.
The silk fabric makes it supremely comfortable and breathable. And you can wear it year-round with the right layers.
Tuck in the blouse to the waistband of these cropped plaid trousers from Elie Tahari.
Product by Elie Tahari, shop here.
Though you could wear these pants with heels or a blazer for the office, they're also easy to dress down.
The cropped length is ideal for a summer capsule wardrobe and an off-duty outfit.
Tie the look together with a simple pair of white sneakers, such as this pair from Sam Edelman
Product by Sam Edelman, shop here.
We love white sneakers because they go with everything and are versatile.
A clean, simple style like these doesn't seem too casual or "sporty," meaning you can wear them everywhere.
There you have it, three different outfits for women over 50 that work no matter your dress code.
Do you want to take your wardrobe to the next level? Apply for NLW's personal styling or executive image consulting services. Our experts have years of experience working with successful, driven women of all shapes and sizes. Whether you need styles for women over 50 or want to redefine your brand, we'll help you achieve your goals.
*Disclosure: Next Level Wardrobe only recommends products that we'd suggest to our clients or personally wear ourselves. All opinions expressed here are our own. This post may contain affiliate links that at no additional cost to you, Next Level Wardrobe may earn a small commission. Read the full privacy policy here.