At some point in your life, your body will change.
Maybe you're a new parent: "I don't know how to dress my post-baby body."
Perhaps recent stressful events changed your relationship with your body: "None of my pre-pandemic clothes fit me anymore."
Or maybe a lifestyle change shifted your appearance: "I'm divorced and back in the dating scene for the first time in fifteen years. I have no clue how to dress my mid-40s body for a date."
No one is the same size their whole life. And very few people experience adulthood without some kind of shift in their shape or weight.
As personal stylists, we've worked with all ages and body types and guess what?
Over 80% of our clients have recently gone through or are undergoing body transitions.
Body. Changes. Are. NORMAL.
Yet so many people think they can't dress well when their body changes. Or that they need to wait to be their "goal" weight or size before they deserve stylish clothes they love.
We're telling you once and for all: don't wait to care for yourself and your wardrobe.
It's part of life to go through transitions, and it definitely doesn't exclude you from having great style.
How do you dress for body changes? By finding a stylist that can help create a wardrobe that fits your new body, not the other way around.
At Next Level Wardrobe, we believe anyone can have great style. A stylist is just the shortcut to get you there.
Today we're sharing our top tips for what to wear for weight gain and for building a weight-loss wardrobe. Trust us. It's not as scary as you think.
Table of Contents
The Golden Rule for Dressing for Body Changes
Before we get into the specifics, let's get the number one rule out of the way.
No matter your size, remember that clothing isn't meant to fit you off the rack. Whether you're tall or petite, plus or straight-sized. Companies base all of their clothes on single fit models. They follow one or two patterns for all of their sizes.
And guess what? Most people have body types outside of those standards, and that's okay!
Instead of stressing about being between sizes, save yourself the headache and get a tailor. A talented alterations specialist will know how to get the perfect for your body today.
Yes, we know a tailor is an investment. But it'll make a huge difference even if you just pick a few high-quality pieces to adjust.
How To Dress When You've Gained Weight
As personal stylists, one of the common questions we get is, "How to dress after gaining weight."
There's so much to say about the unfair and unhealthy social shame around weight gain. But what we hear the most from those experiencing weight gain is that they're just plain tired. Tired of wasting time and money on clothing that doesn't fit right.
We work with so many professionals who don't want to waste money on clothes that make them feel bad.
Plus, they don't have the time to sift through the millions of brands, Instagram content and pieces to find their perfect fit.
These people have kids, families, busy jobs, and hobbies they enjoy that they'd much rather invest time in. They don't have time to order, try on millions of brands, and return them until they strike gold.
(That's where having a stylist pays off. A stylist can take the burden of shopping off your hands. They'll find brands and pieces that fit your proportions, body shape, and style goals.)
Tip #1 Do a Closet Cleanout
The first step for anyone looking to take control of their wardrobe is a closet cleanout.
However, from working with clients adjusting to weight gain, we know this step is especially helpful.
Why?
Because of its massively positive effect on a person's mental health.
How are you supposed to feel good if every time you open your closet, you're reminded of a size you used to be?
Your wardrobe should reflect yourself, and that image should be positive. It shouldn't be tied up in negative self-talk or emotions.
If you want to start loving your clothes, take control of your closet.
Take everything out of there, and donate or get rid of every item that doesn't fit anymore. We know this step is hard. But don't think of it as a loss. Think of it as you freeing up space for the new, best version of yourself.
Tip #2 Try On a Lot of Different Brands and Sizing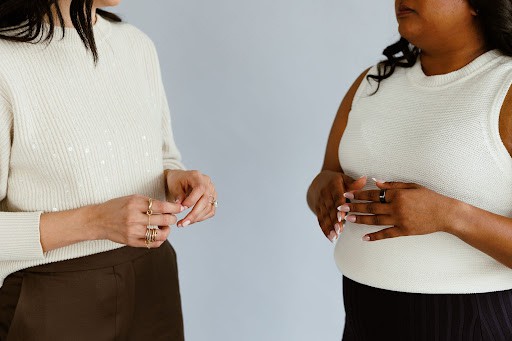 So many people looking for mid-sized clothing and plus options hate shopping because they don't want to try something new.
For some, this may be confusing. But our founder Cassandra Sethi understands this feeling completely.
She shares, "When I was a kid, my mom would take me shopping with her at our local mall. She would always go into Lane Bryant, and I remember her spending an hour or so looking through everything. She would browse all the clothes, try on jewelry, and get her head-to-toe look."
"Now that I work with curvy ladies, I realize why my Mom always went to Lane Bryant. It's because there weren't many options, and she knew that brand worked best for her."
Yes, fashion still has a long way to go for size inclusivity. But today, there are SO many great brands and options for plus-sized and mid-sized women to dress well.
Say goodbye to the days of, "Wear black, it's slimming," or "Put on this shapeless sack to hide your curves."
A part of our work with clients of all sizes is to be their fashion detective. We research all the brands out there and test them to ensure they're the right fit for you. When we find someone's holy grail piece or designer, they're beyond thrilled.
No more limiting themselves to Lane Bryant or Torrid. They feel seen, heard, and special, and like finally, the industry is catering to them.
Tip #3 Find Comfort in New Styles
Speaking of sticking to the same brands, let's talk about fashion ruts.
How often do you stare at your wardrobe and think, "I don't know what to wear."
If you're wondering how to dress when you've gained weight, we recommend trying new styles.
We know it can feel intimidating to venture out of your comfort zone. But chances are, there are so many flattering styles that you haven't tried. And they probably suit you way more than what you've been wearing year after year.
One of the perks of working with a stylist is that they help you discover new looks.
They get you out of that "I'm bored. I have tons of clothes, but I end up wearing the same stuff over and over again" feeling.
One example of this that we've noticed recently is trying straight and wide-leg pants on mid-sized and curvy folks. At first, our clients are hesitant. They're used to tighter-fitting silhouettes and the old skinny jeans style.
But once they put them on and we outfit them so they can see our full vision, they LOVE it.
Many get rid of their out-of-date fitted jeans after that and feel so much more comfortable. Their legs can finally breathe with an easy, breezy, wide-leg pant, and they still look polished and put together.
Building a Weight Loss Transition Wardrobe
We've talked about one half of the equation, but what about buying clothes after weight loss? If you're looking to create a weight loss transition wardrobe, here are three hacks to make the process easier.
Tip #1 Do a Closet Cleanout
Yep. Closet cleanouts are for everyone. Whether you're wondering what to wear when you've lost weight, gained weight, go through your clothes. Get rid of what's not working, and figure out what you're missing.
On top of that, you need to get organized. A messy closet means a messy mind.
It's much harder to create outfits you love if you don't know where everything is.
Get everything out of your closet, donate what you don't want, and organize the rest.
We recommend arranging your clothes by color so it's easy to find everything. Then, hang everything carefully on sturdy, lined hangers. They are much easier on fabrics than plastic or wire hangers.
Why hang your clothes? Because it's easier to see your options that way. And if you can clearly see your clothes and sort through them, you're much more likely to wear them.
Tip #2 Look for Items That Have aBit of Wiggle Room
If you're in the process of losing weight or changing sizes, reach for clothes with stretch. Look for pieces with elastane or spandex. That way, they'll move with you as your shape changes.
For pants, make friends with drawstrings and elastic waistbands. There are many more workwear-friendly options, thanks to dress codes getting more lenient since Covid.
You don't have to choose between being comfy and looking sophisticated.
Tip #3 It's OK To Go Lower Price Point for Certain Pieces
Here's one piece of advice that's different from our usual guidance:
If you're actively in the process of losing more than ten pounds, shop lower price points.
This isn't the time to spend $500 or more on a power blazer. Why? Because that's an investment piece. When buying the best of the best, you want to ensure you can wear it for a long time.
Save those big investment purchases for when you're at a stable weight (or close to it). Then you can go to a lower price point for most other pieces.
In fact, many of our clients trying to find outfits after weight loss book our services months in advance. That way, when we finally get to work with them, they're ready for the wardrobe of their dreams.
As long as you follow the NLW style system, you can easily have a framework, regardless of size.
Are you ready to dress your new body for success? Apply for Next Level Wardrobe's in-person or virtual styling services. Our expert team has years of experience working with diverse clients of all professions, genders, and backgrounds. We're ready to hear your fashion challenges and goals and help you take your wardrobe to the next level.