We've all had those days when you just don't know what to wear.
Maybe you're running into a serious case of outfit fatigue. You always find yourself reaching for the three pieces because you don't like anything else in your wardrobe.
(Or because your closet's in desperate need of a cleanout and you don't know where to start.)
Perhaps you can't make heads or tails of your work dress code and you always feel under or over-dressed.
On the other hand, maybe you used to know what to wear but you've recently gone through body changes. You're not sure how to dress your current shape and feel like your confident, best self.
Or maybe you just don't feel like styling is your forte. You don't want to waste time putting together outfits when you have a busy schedule and other passions.
Whatever the reason, we've got you. At Next Level Wardrobe, our team of stylists has seen it all. We work with clients of all sizes, genders, and professions who want to upgrade their style.
From that, we've zeroed in on timeless and time-saving ways to dress well no matter the occasion. Ready to say goodbye to that "I don't know what to wear" feeling? Keep reading.
How the NLW Style System Can Save You When You Don't Know What To Wear
What's the secret to styling yourself well day after day? Having a simple system that works for you and your lifestyle.
For us, we use the Next Level Wardrobe Style System invented by our founder, Cassandra Sethi. In three easy steps, you'll not only know how to create better outfits, but you'll also change the way you shop.
Here's what it looks like:
Don't Know What To Wear? Focus on Core Colors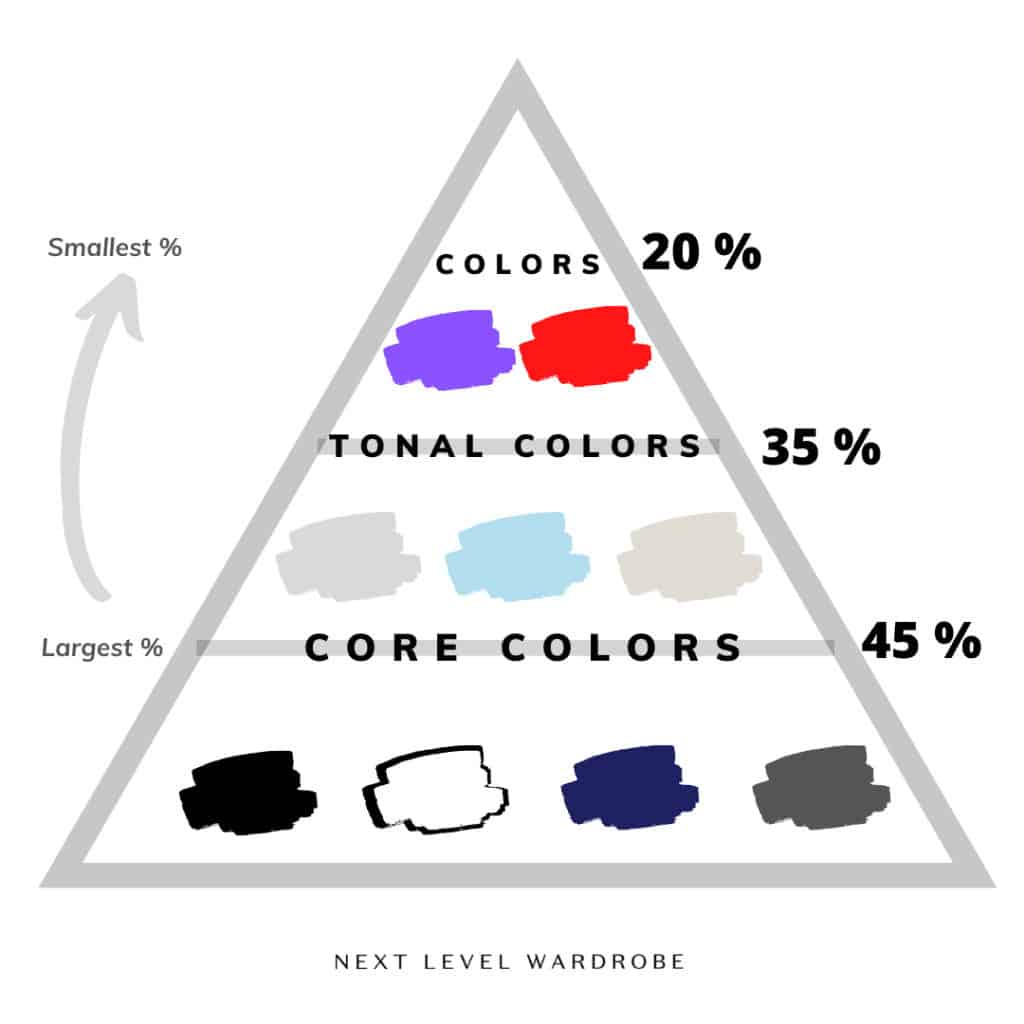 This pyramid breaks down the suggested ratio of color that you should have in your closet, year around.
For maximum versatility, core colors (black, grey, white, and navy) should make up the majority of your clothes (about 40-45%).
From there, the second largest portion should be tonal colors. These are lighter tints and darker shades of the original core colors and textures. This is also a prime spot to add in other neutrals like brown and nude.
Finally, the smallest fraction of your wardrobe is for bold colors and prints. This is the place to add seasonal colors and patterns purposefully. (Aka, pick clothing that matches your personal brand and how you want to present yourself to the world.)
By focusing your color palette and prioritizing tones that mix and match with everything, you're already setting yourself up for success.
It keeps you from having an overly-busy wardrobe where nothing goes together while still leaving room for variety and self-expression.
Invest in Essential Pieces
Do you know why people end up with a closet full of clothes and still don't know what to wear? Because they buy the wrong pieces in the first place. They shop without a hard list of what they actually need.
They don't give themselves specific guard rails, so they end up grabbing "splurges" or "impulse buys" instead of essentials.
That's why we recommend only investing your time and money in essentials. Here's how to figure out what should be in your wardrobe:
What's your office/ day-to-day dress code? What clothing items accommodate that?
Where do you live? Temperature and seasonality dictate what's practical for you to own.
What do you want your outfits to say about you? Are your clothes projecting the image you want? Or are they holding you back?
Go for quality over quantity and you'll have much less style stress.
Don't Know What To Wear? Get the Perfect Fit
At the end of the day, fit is everything. You can think an item looks fantastic on the hanger. But if it doesn't fit and flatter your shape, there's no sense in buying it.
You're not going to wear something that makes you feel bad about yourself.
That's why it's important to prioritize well-made, well-fitting clothing, and tailoring.
Let's face it: few people can wear anything off the rack and have it fit perfectly. Most folks need a hem, sleeve, or waist-fit adjustment on at least some of their work wardrobe staples. (Think blazers, trousers, dress shirts, etc.)
Again, prioritize quality, only buy something if it fits you, and when appropriate, invest in alterations.
There you have it. Three steps and you've got a new approach to fashion.
3 Full-Proof Outfit Formulas For When You Don't Know What To Wear
Now that you know how our proprietary style system works, it's time for the best part: outfit formulas.
If you don't know what to wear, follow these three streamlined systems. They'll get you in and out of the closet fast so you can get on with your day.
#1. The Color Formula for When You Don't Know What To Wear
Remember that color pyramid we showed you earlier? This formula is all about following our Hierarchy of Color.
All you do is pick out items that fall into the core colors category and put them together. Why? Because all core colors go together year-round. And they look phenomenal on everyone regardless of age, size, gender, or professional level.
Here's the color formula in action.
Let's start with a navy top. We've picked this scoop neck from Reiss.
It's silk so it's breathable for all seasons and especially perfect for a summer capsule wardrobe. Plus, it's easy to tuck in to define your silhouette, and you can wear it as is or layered.
Then, add these white pants from Vince Camuto. The belted waist adds a bit of flare without going over the top.
The straight fit skims your body without seeming too tight or too baggy as well.
To finish, slip on these black mules from Vince. They're simple, quality-made from long-lasting leather, and the perfect mix of formal and laid-back for a power casual dress code.
(And yes, we pair black with navy all the time. Throw out that old fashion rule and embrace the core color life.)
Let's see this same formula for men's clothing.
Pull on this quarter-zip cotton sweater from Bloomingdale's. The collar makes this sweater feel more put-together than a crew neck without being as stiff as a button-up.
Then, add these textured trousers from Zegna in grey. We like this slightly tapered, slim-straight fit as a modern, updated approach to office wear.
Want to do the tech CEO sneaker trend the right way? Complete your outfit with a simple pair of white sneakers. Keep them subtle and low profile (no loud logos or chunky soles).
Just like that, you've got the casual CEO look down pat.
#2. The 1-2-3 Formula
Our next formula for when you don't know what to wear, is the 1-2-3 formula. And as you can tell from the name, it's as easy as 123.
You can use this formula to play with a bold color or print or to stay low-key.
Here's the formula:
1= a top in a core color.
2=a bottom in a core color.
3= a layering piece in a core color, pop of color, or print.
This is an easy way to utilize your colors and prints. You don't have to spend time figuring out what matches that colorful coat in the back of your closet. The core colors do the work for you.
Here's an example for women:
Let's say you picked up this gorgeous green blazer from Frame. This will be your pop of color.
By layering it over this white scoop neck from St. John…
..and pairing it with this black bias cut midi, you let the jacket take the limelight.
Now let's do the same thing with menswear.
This time, let's do a more subtle layering piece. Like this cozy cardigan by Liverpool. Even though it's a core color, the cable knit texture makes it more dynamic and interesting to look at.
Go with a basic tee underneath. These white T-shirts from Mack Weldon are great because they're not too bulky and they're made from quality Pima cotton.
(That means no worrying about excess sweat throughout the day.)
Bring it all together with these black jeans by Page. Reaching for black is a great way to elevate your denim selection since it reads as more formal than blue.
#3. The One and Done Formula for When You Don't Know What To Wear
Want something even easier? If you don't know what to wear, embrace the world of monochrome with our "one and done" formula.
The formula? Pick one color and wear it from head to toe. Yep, that's it!
This outfit formula is a cinch to create and always looks polished. (As long as you have the right fit and pieces, of course.)
So here's what you do. Look at the color pyramid. Choose any color. Wear it from head to toe.
For beginners, we suggest that you select a core color.
But if you're more advanced, move up the pyramid to the tonal color or color tiers.
Here's a bolder example for fashion-forward women:
Find a simple top in a pop of color. Like this cherry-red short-sleeve knit from Boss. (Note the ribbed texture for a subtle dash of personality)
Then, pair it with the same color. Like tucking that top into these wide-leg trousers from Theory.
Why does this work?
You're matching from top to bottom so no worrying about clashing here
You've gone with work-approved silhouettes
You found high-quality pieces in the right fit
Last but not least, here's another way to do the "one and done" for guys. This time, we're going for neutrals.
Grab a camel-brown jacket like this suede option from Reiss…
…and wear it over this dark brown T-shirt by Theory. You're still in the same color family, you're just playing with different shades and tints.
Unify the look with these tan-brown pants that match back to the jacket.
Voila, you're ready to hit the ground running in style.
Try out each of these formulas and find what works best for you. As you get more comfortable in your style, you can always build off of them into more advanced ensembles.
Interested in more outfit formulas and styling help? Apply for our virtual or in-person styling services for men and women. Our team of experts will revolutionize the way you approach style and take your wardrobe to the next level.