Ready for a shortcut to your CEO style? Apply to work with Cassandra here!
Corporate headshots are more important than ever.
Whether you're speaking at an event, starting a business, or receiving a promotion, there's a good chance that people will see your photo online before they even meet you in person.
So, what to wear for corporate headshots?
What do women wear for corporate headshots?
Start by evaluating your professional brand goals.
What are you trying to communicate?
For example:
– Authority
– Confidence
– Approachability
– Maturity
– Trust
– Power
Having a clear idea of what you want to communicate will help you develop a style strategy for your headshots.
For many of my female clients, a suit is a great option for your corporate headshots:
Photo Credit: M.M. LAFLEUR
In particular, I love a blazer for corporate headshots. A blazer is a great way to convey authority, professionalism, and confidence.
(Quick tip: if you're wearing a blazer, be sure to get it tailored- especially the sleeve length.)
On the other hand, a lot of us have relaxed dress codes at the office or work from home.
Sherri Phillips, co-owner of Deutsch Photography in NYC and specialist in corporate headshot photography, suggests choosing clothing that expresses who you are. "Don't try to be what you're not," she advises. "Your clothes will have an impact on how you feel, and if you're dressed in a way that doesn't feel right, it will be reflected in your headshot."
If a blazer feels too stuffy for your workplace style, try a knit blazer or "jardigan" for a relaxed look that's still professional:
Photo Credit: Naked Cashmere

To dress up the look above a bit more, switch out the jeans for trousers or try a more put-together top. Like a button-down shirt or blouse.
For more inspiration, check out these amazing looks we created for our client Lianne's headshots:
When selecting your outfit for corporate team portraits, I recommend sticking with long sleeve tops or wearing a jacket.
Not only is this most flattering and more professional, it means your photographer can take photos from a greater variety of angles–without having to worry about awkwardly cutting off part of your arm or shoulder.
Another tip?
Always bring at least 3 outfit options to your photoshoot. This gives you a few backup looks just in case other ones don't work out. Multiple outfits also provide versatility. "Many of our corporate clients want more than one headshot," Sherri states. "They want multiple shots to help tell their story, so this requires variance in their clothing."
This is especially important because clothing doesn't always photograph the same way it looks in real life.
Sherri also recommends trying the clothes on in front of your mirror in advance to get a feel for how you will look. "The way we imagine we'll look in an outfit often doesn't jive with how we actually look," she says. "A dress may look sharp on the model, but when it's on you, you may realize it doesn't fit your personality at all."
If you're working with an NYC corporate headshot photographer (such as Deutsch Photography), they can also guide you and provide advice on what to wear.
What color should you wear for a professional headshot?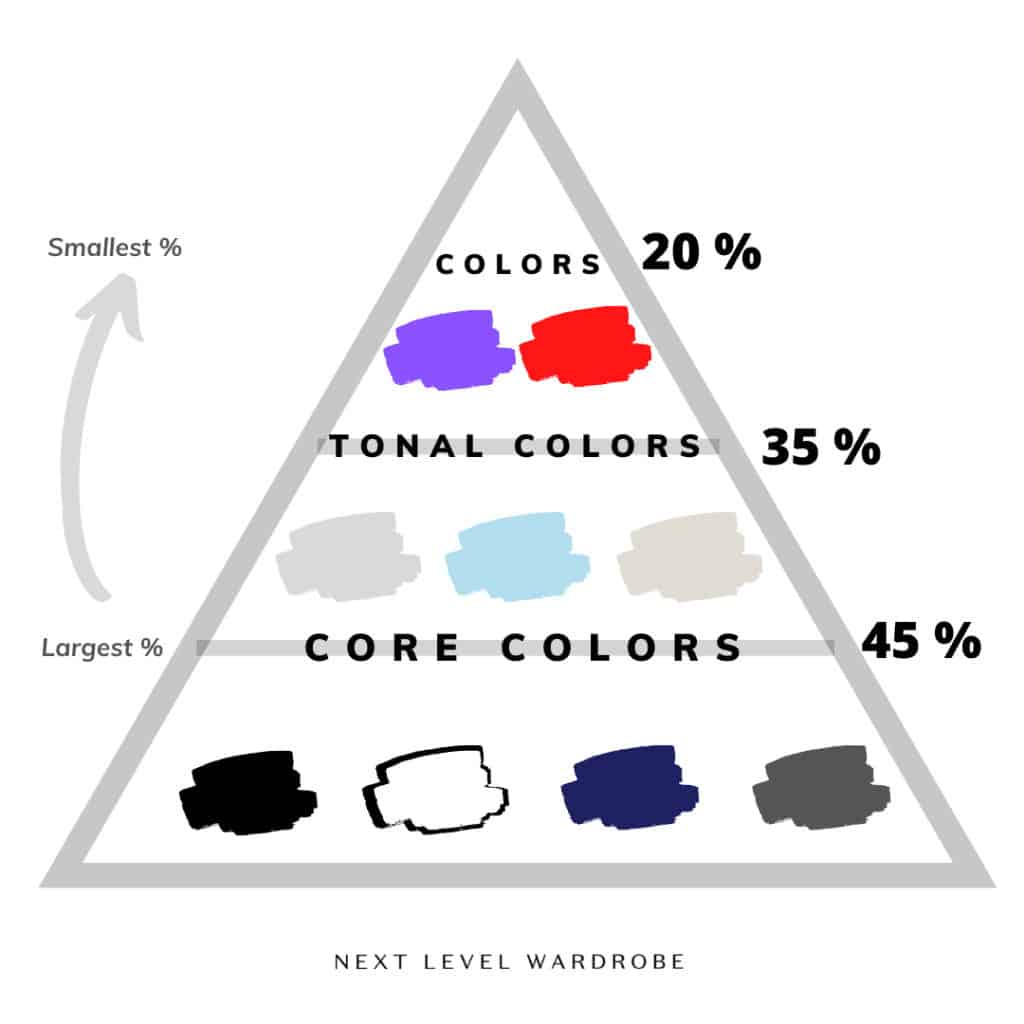 The Next Level Wardrobe Core Colors
Choosing the right colors for your corporate team portraits is something that is easy to forget.
In general, solid colors photograph best.
However, not all colors communicate that same message.
Do you want to convey professionalism, confidence, and trust?
Try using the Next Level Wardrobe core colors (navy, black, blue, and white). These are no-fail colors that look great on everyone.
Plus, they're easy to mix and match.
I also recommend that clients avoid any colors that match their skin tone too closely (for example, peaches, beiges, browns, and yellows). They may blend too much with your skin tone.
What about patterns?
I have good news here: You can definitely wear patterns in your corporate headshots.
You should avoid busy or distracting patterns. But a subtle houndstooth, pinstripe, or plaid can look great (like the patterned blazer I'm wearing below):
In short, patterns can look amazing, but you need to be careful about which ones you choose.
If you're not sure about a pattern, try reaching out to your NYC corporate headshot photographer for insights. Remember: they're there to help you!
What should you NOT wear for corporate headshots?
Sometimes avoiding the wrong thing is just as important as choosing the right thing!
Here are a few things to avoid:
– Low-cut tops
– Short sleeve shirts
– Bright colors
– Distracting patterns
– Logos
– Ill-fitting clothing
Another important area is your undergarments. It's easy to overlook, but underwear lines, bra stripes, bumps caused by a poorly-fitting bra, or even just the wrong color bra can ruin a great photo.
An easy way to avoid this is to try on the outfits you're planning to wear beforehand.
One more thing: plan to wear skin color undergarments. Especially, if you're going to wear white.
Remember the details
Small details can have a big impact on your style.
Don't forget about your hair, makeup, and accessories.
If you need to get your hair cut or colored, be sure to do so at least one week before your corporate headshots. If there is a hairstylist you trust, consider having your hair professionally styled or getting a blowout.
For your makeup, a natural look that enhances your features and conceals small imperfections is recommended.
For your accessories, minimal and simple is usually best. Anything too big or shiny can be distracting and take the focus away from you.
Remember, how you look in your corporate headshot should reflect how you look on a daily basis.
In other words, professional photos aren't the time to try out a completely new hairstyle or makeup look.
My final tip for great headshots?
Take a deep breath. Relax and enjoy the experience.
If you're stressed out or nervous, it'll show in the photos.
(This is another reason why it's so important to choose an NYC corporate headshot photographer you feel comfortable with.)
Headshots are the perfect time to reflect on your professional accomplishments. You should feel proud of everything you've achieved!
Another tip? Don't cross your arms! Turn on your favorite music and show your personality.
Still not sure how to prepare for your corporate headshots?
Want an expert to help you craft the perfect professional brand?
Apply for our Women's Executive Image Consulting service.