What exactly business casual entails is a matter of debate — it really depends on your office! — but one thing is clear: It's different in Los Angeles.
Thanks to the warm, sunny weather and laid-back vibe, Los Angeles business attire tends to be a mixture of traditional office wear pieces dressed down with more casual separates.
Read on to find out how to get the perfect Los Angeles business casual look, whether you live there or just want to dress like it.
Pair a Versatile Blazer With Denim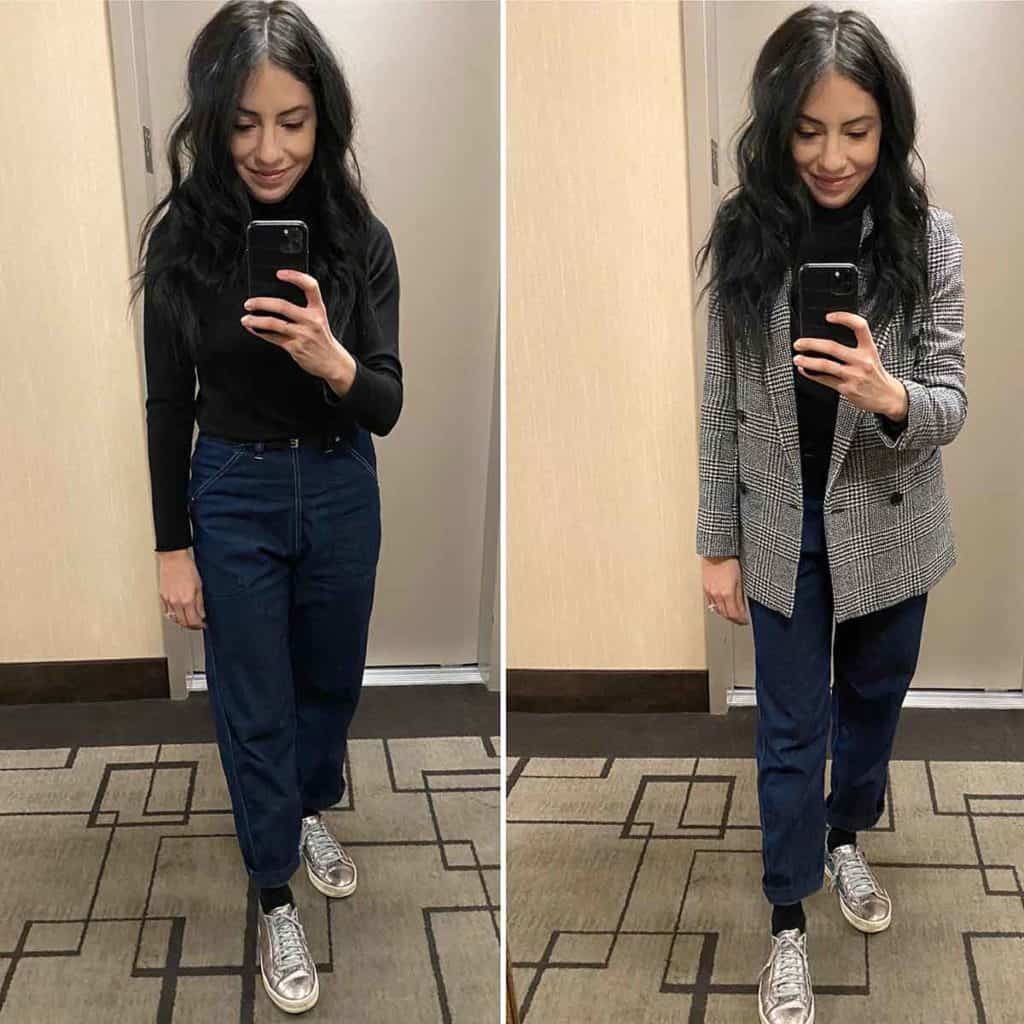 A modern blazer paired with denim creates the perfect California cool business casual look.
This combo is great for women who want to fit in with the West Coast business casual crowd without looking overdressed.
Dark denim makes a great swap for suit pants while still feeling a little dressed up. A lighter and/or distressed pair of jeans would lend a more casual LA vibe.
This is also a look that can go from work to play once happy hour rolls around — simply remove the blazer.
For more West Coast blazer style inspiration, check out How to Dress like Molly From 'Insecure.'
And if you need some help putting together stylish business casual looks like this one, check out my image consulting services.
Take All Black From Day to Night
Photo Credit: ANINE BING
This is a perfect outfit for women who need to be in the office during the day and then entertaining at night — it truly does double duty!
To keep this monochromatic look from veering into boring, think about layering different textures like leather, silk and cashmere or other knits.
A few simple accessories such as a gold pendant necklace or great sunglasses go a long way.
For a casual feel, stick with a pair of stylish sneakers; for a more formal look, go with heels, whether open-toe or a classic pointed toe.
Mix in Lightweight Blouses
Photo Credit: Equipment
They're perfect for occasions where you need to be both conservative and stylish, and super low-maintenance: Just throw them on with a core color pant and go.
You can also pair a blouse with a midi skirt, skinny or wide-leg pants, or denim — so many possibilities!
Invest in solid core colors for maximum mixing-and-matching possibilities, or this is also a great place to play with prints.
Many of my California clients want to embrace color, so I show them how to do it strategically. Ensure you have your core colors first to give you a solid foundation, then you can start adding in bolder colors and prints.
Keeping the LA weather in mind, you'll want to invest in lightweight, breathable materials such as cotton or linen.
Have Fun With Shoes
Via Pinterest
Via Pinterest
You'll notice that in most LA business casual environments, pumps and pantyhose are definitely a no-go!
Instead, feel free to have fun with your shoe selection. A great pair of shoes can take an outfit from basic to memorable.
The warm weather means open-toe mules, slingback heels, or strappy sandals are all solid options.
And of course, you can never go wrong with a pair of sleek white sneakers in a more casual office. They can lend the perfect dose of West Coast cool to anything from a midi skirt and sweater to a suit.
More Posts Related to CEO Style