Ready for a shortcut to great CEO style? Apply to work with NLW.
The weather outside is frightful but the clothes are so delightful.
With the advent of cold days, holiday cheer, and that end-of-the-year rush, it's time to buy into winter 2023 styles.
It's the same every year around this time. Our Next Level Wardrobe team sees hundreds of trends vying for their place in your closet. But how do you know which ones should make the cut?
That's why we've put together this guide to the season's must-have professional trends. We picked classic, versatile styles to keep you warm, polished, and fashionable. Read on for our complete run down.
How to Know Which Seasonal Trends to Skip
Before we get into all the winter 2023 style goodness, let's talk about your process. We know how hard it is to sift through all the articles and ads out there. It feels like everyone is trying to sell you on the season's latest trends. So how do we know which ones to skip and which ones to add to our roster?
Our face when we see more trends and sales
For this, we always circle back to the NLW style system: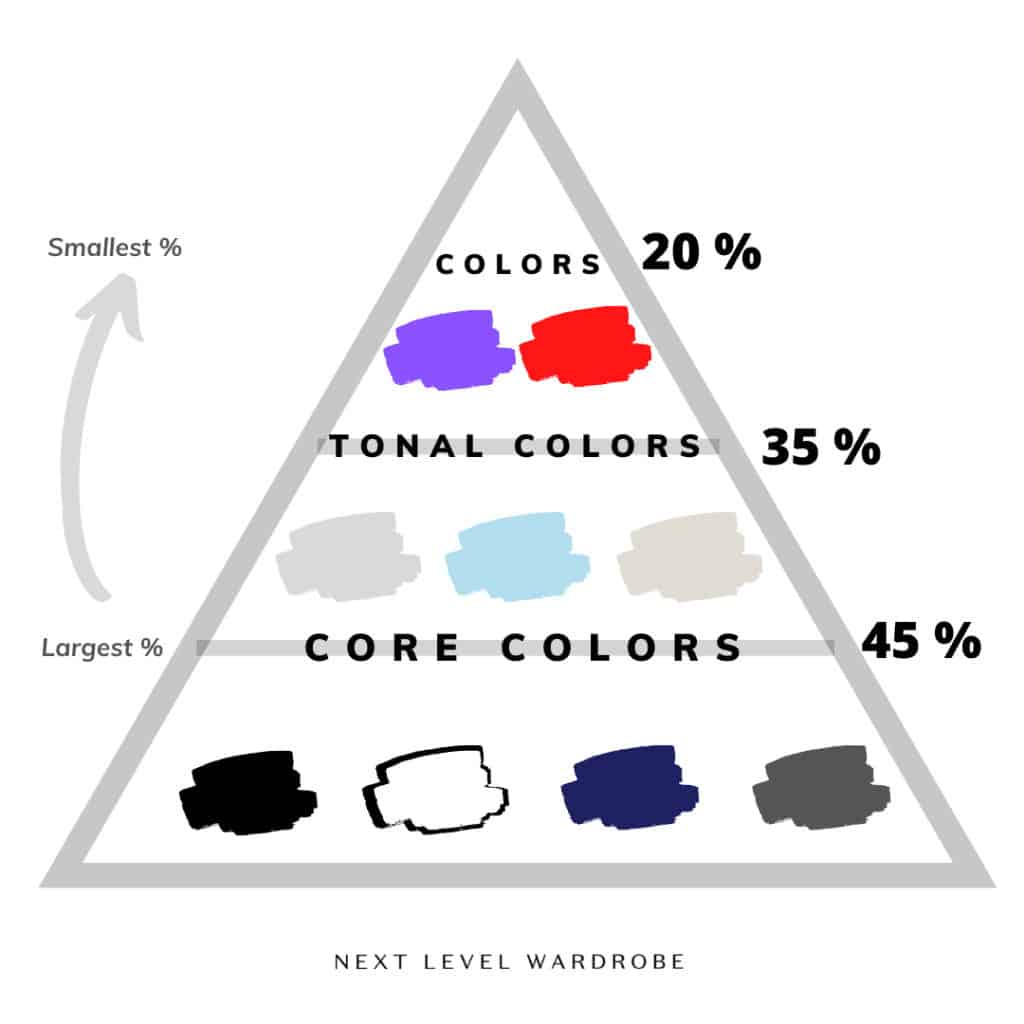 1. Focus on core colors.
Black, navy, white, and grey should make up the majority of your wardrobe. They go with everything, any time of year. Think of these as the 'unifying colors' of your closet so you can put together outfits easily.
What's one of the major faux pas you can commit while seasonal shopping? Overbuying in heavily trending colors and prints. Don't get us wrong—we love the occasional holly-red sweater.
Strategize your investment in your wardrobe from the bottom up, you'll spend most of your money on the bottom of the pyramid and then spend less as you move up. That means any bright colors or prints will get less money spent on them.
2. Invest in high-quality items.
You might think, "Well I can get five cheaply made sweaters for the price of one high-end sweater. Plus this way I can try out more trends!"
Resist this temptation.
Yes, you'll save money in the short term but you'll spend more in the long term. And not only money, but mental energy, which in our opinion is priceless.
When you invest in high-quality items, you're stopping the cycle of waste and investing in pieces that you'll get many outfits out of. Look for trusted brands (not fast fashion) and well-made materials.
3. Get the fit just right.
Whether you're trying to dress professionally as a petite woman or figuring out mid-size fashion, focus on fit. This means not only experimenting with different sizes while you shop, but also hiring a tailor.
With a professional's help, you can get the winter closet of your dreams.
Use these simple principles as your guiding light each season and you're sure to make the right choice every time.
Winter 2023 Styles for Professionals: Power-charged Power Suits
Product by Theory, shop here.
It's finally time to get into our favorite winter 2023 styles for professionals. Of course, we had to kick things off with the always timeless power suit.
It's no secret that workwear-inspired pieces have seeped into every part of the fashion world. That's why you're sure to see women sporting blazers and smart trousers even if they're nowhere near the office.
So as a CEO, executive, or corporate professional, why not pick up a power suit? It's your opportunity to bring out your personal brand and get in on the seasonal fun. Of course, we'll help you outfit correctly.
When picking out your blazer, look for something structured with a slightly longer fit for a modern take on a traditional piece.
Like the black wool-blend option from Theory seen above. The oversized silhouette is a more contemporary choice. Opt for this to keep your closet feeling fresh.
Theory is one of NLW's favorite minimalist clothing brands for women. We love styling our clients in their offerings as they have great products for professionals on the go.
Product by Theory, shop here.
Power suits are all about monochrome right now as well. So we advise you to pick out a pair of trousers in the same color as your blazer. Try out a wide-leg or flared option like these matching Theory pants. This roomy silhouette leaves plenty of room for any of your favorite winter shoes.
Winter 2023 Styles for Professionals: Play-Up the Plaid
Product by Marc New York, shop here.
Remember how we mentioned not over-purchasing trendy colors and patterns? Well if you're wanting a print this season, you can't go wrong with plaid.
Plaid is not only a great winter 2023 style, it's a fall and winter staple print. Why? Because it's a classic pattern that you can do in countless ways. You can get it in vibrant pops of emerald or icy blue. Or, you can lean into muted tones such as taupe and grey.
It's just the right amount of a statement piece, without looking like you're trying too hard.
Product by C by Bloomingdale's, shop here.
As image consultants in New York, we've also seen plaid coming through in accessories and smaller details. Like this icy plaid scarf from C by Bloomingdale's. Pop this on with an all-black ensemble for a look so chic you won't even notice the freezing temps.
Winter 2023 Styles for Professionals: Back to the Little Black Dress
Product by Lafayette 148 New York, shop here.
Every holiday season, we know someone is going to bring out the glittery sequin dresses. It's inevitable but it's not practical. Not for the office, and certainly not for any day except New Year's Eve.
Avoid purchasing another disco ball-looking dress in favor of the ultimate one-and-done clothing item: the Little Black Dress.
If you're ever at a loss for what to wear to the office, reach for a LBD. We suggest something like this sleeveless shift from Theory. It's conservative enough for just about any workplace dress code while still looking feminine and fashionable.
Partner it with opaque tights and heels while you're on the job. Then once it's time for an off-the-clock hot toddy, add heels, jewelry, and a leather coat.
Product by Milly, shop here.
Looking for something less reserved for an evening event? Go for a ribbed mock neck like this fitted style by Milly. The longer hemline goes well with boots to block out any wind chill on your commute.
Winter 2023 Styles for Professionals: Get Close-knit with Knits
Product by Faherty, shop here.
Last but not least, we have to talk about knits. Though it may seem obvious, knits are an unsung hero of winter 2023 style.
Here's the thing; we're not just telling you to pop on a sweater and be done with it. We're looking for a creative approach. Think of combining classic silhouettes with the more laid-back, casual vibe of knits.
Like this sweater polo from Faherty above, or the sweater midi skirt by Sandro below. Both of these are strong examples of power casual. What's power casual, you ask? It's the new dress code that can take you from business meetings to dinner dates without missing a beat.
Product by Sandro, shop here.
Both of these pieces strike the perfect balance between casual and business with a winter twist. Pair with knee-high boots, heels, or flats and you'll be put together in no time.
Inspired to prep your wardrobe with winter 2023 styles?
Apply for our women's virtual or in-person styling services. Our team of experts is ready to help you revolutionize your closet and the way you shop.
*Disclosure: Next Level Wardrobe only recommends products that we'd suggest to our clients or personally wear ourselves. All opinions expressed here are our own. This post may contain affiliate links that at no additional cost to you, Next Level Wardrobe may earn a small commission. Read the full privacy policy here."