As personal stylists, we've dressed people of just about every shape and size. In that time, we've helped hundreds of midsize women find the business casual wardrobes of their dreams.
We've cut through the noise telling them what "straight sizing" is versus "plus-sizing" and instead focus on style. No trends, no outdated "fashion rules."
Here, we're sharing more of our midsize style secrets to help you look polished and put together at work. We'll break down some of our favorite outfit formulas and reveal our favorite places to shop for midsize work outfits.
Table of Contents
Midsize Work Outfits To Inspire You
Whether we're finding workwear for plus size, midsize, or straight-sized clients, we have the same high standard.
Don't mistake that for a one-size-fits-all approach. We know there are unique fit needs for every individual. Plus, your size is only part of the picture. We want to ensure you're presenting yourself to the world in a way that makes you feel strong and confident.
But. we do believe that great style for ANYONE should check these three boxes:
Impeccable fit
A thoughtful color palette
Quality materials
AND the ultimate key to style success: balance. Are you ready to see all of those elements in action together?
Below, we're sharing before and after photos from three different midsize clients who needed business casual pieces. We'll break down how we used our NLW style system to freshen up their wardrobe while staying work-appropriate.
Outfit #1: Have Fun with Color
NLW Client Before and after photos.
Oftentimes, people think that workwear = boring.
They know they need to dress up to work or look a little more formal. They want their peers and clients to take them seriously, so they go for shapeless silhouettes and drab colors.
And guess what? A lot of the advice online says this is the way to go.
But not us.
In our opinion, the last thing you want to do is to dress in a boring, outdated way. Take a look at the before and after pictures of our client above. On the left side, we have an all-grey dress and blazer with black flats.
Not exactly memorable, right?
Now take a look at the outfit on the other side. It's still polished and corporate-appropriate but with personality.
For one thing, everything fits better. Instead of a boxy dress and a blazer that's too long in the body and too short in the sleeves, we have tailored pants, a tucked-in blouse, and a fitted coat.
But the real winner of this outfit story is the color palette. Look at how much more impactful the outfit on the right is thanks to the dark magenta jacket.
It's more lively and engaging than the drab grey look without being distracting.
Underneath we still have a nice, neutral base of a navy top and black pants for balance.
Remember, just because you work somewhere traditional doesn't mean you have to kiss colors goodbye.
Outfit #2: Neutral, Not Boring
NLW Client Before and after photos.
Is a bold pop of color the only way to look modern yet professional for midsize business casual attire? Absolutely not.
In fact, one of the key parts of our style system is to focus on core colors.
Core colors are black, navy, grey, and white. We call these core colors because they should form the core of your wardrobe. They go with everything (including each other) and they're the foundation of a successful wardrobe.
The trick is learning how to use them in a way that works for you.
Check out the before and after pictures above. This client was a partner at Deloitte, so she needed to look trustworthy, savvy, and professional.
Her outfit on the right wasn't cutting it. The pieces didn't quite fit, the shirt read as too casual, and the skirt was outdated.
We chose to modernize this look with striped, neutral pants with a light sheen. The shiny texture and subtle pattern make this outfit more interesting and engaging without overpowering the rest of the pieces.
It's cohesive with the white blazer and top, and the neutral heel.
All of these pieces are neutrals, but they're anything but boring thanks to the cut and styling details
This is a look you could wear to a boardroom without getting lost in the crowd.
Outfit #3: Patterns Done Right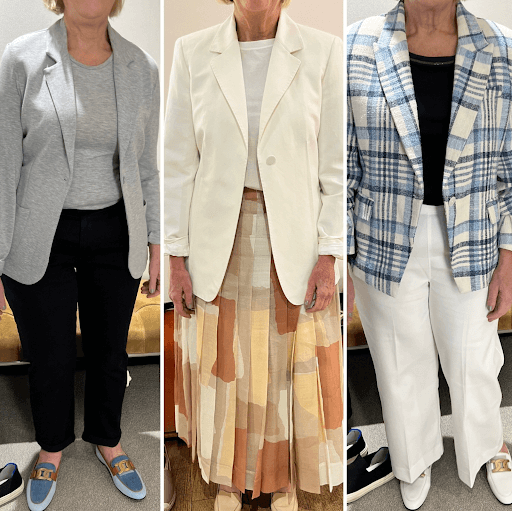 Three "after" looks for our client.
Our third tip for finding business casual midsize clothes is to play with patterns.
Prints and patterns intimidate a lot of people, and we understand why.
For one, there are a lot of bad patterns out there, especially in the "trend" world. Every season brands buy into one fad print or another, only to abandon it six months later.
For another, plus-size and midsize folks often hear they should avoid patterns altogether because they "make them look bigger."
(Cue the eye rolls.)
Your size, age, or body shape doesn't limit what colors and prints you can and cannot wear. You can wear whatever you like. Our only recommendation is that you find pieces that fit, suit your personal brand, and make sense for the occasion.
If you're looking for midsize work outfits, bold patterns can absolutely be your friend.
Take a look at the outfit above. The blue and white plaid blazer instantly elevates this ensemble. The white ties into the pants and the black matches the blouse. These pieces go together without seeming too "matchy" or basic.
The blazer adds a needed splash of personality.
The Best Midsize-Friendly Brands for a Business Casual Dress Code
One of the biggest misconceptions about midsize business casual attire is that it doesn't exist.
We've heard from clients that they feel the pressure to be a size that they're not. Because of that, it's harder to be motivated to dress well, let alone find pieces they love.
But the truth is, the majority of American women are midsized. The US average size ranges anywhere from a size 12 to a size 16 depending on who you ask. So not only are you not alone, but the market should be catering to you.
While not every brand has size diversity and uses updated fit models, a few hit it out of the park.
As stylists, we're obsessed with fit. From years of researching and testing brands, we've come up with the three best brands out there for midsize business casual attire.
Hobbs
We think of style as being timeless. It doesn't rely on whatever's trending on Instagram or the latest runway craze. Someone with great style looks fantastic no matter the year and time.
Hobbs is a British brand that shares that same attitude. They follow the mantra "contemporary yet timeless," creating work-ready pieces that feel relevant while staying classic.
They also do a fantastic job of stocking sizes for midsize women and designing clothes for those body types as well.
Lafayette 148
Business casual workwear doesn't have to be boring. If you ask us, it definitely shouldn't be!
In fact, we prefer to call it power casual, because it should help you step into your power. You should feel comfortable, confident, and like the best version of yourself in this dress code.
If that's what you're searching for in your midsize workwear, then visit Lafayette 148.
This brand is a favorite of ours for providing updated silhouettes and details to classic office pieces like blazers. You can find refreshing pops of color, modern textures, and updated fits to all your weekly must-haves.
Vince
Vince is a brand we recommend to most of our clients because of how well it does quality, quietly sophisticated clothing.
It's a go-to for well-made basics that you can wear on their own or dress up. Browse their selection and you'll find cozy knits, flattering trousers, and timeless accessories, to name a few.
This makes them perfect for a business casual dress code.
And the best part is, you won't have to worry about these pieces going out of style in a year or falling apart. They're designed to last.
If you're searching for an expert on midsize business casual style, Next Level Wardrobe is here to help. Apply for our women's styling services to connect with our team of outfit experts.
We'll help you identify your brand and show you how to use your clothing to capture that. From cleaning out your closet to hand-picking items just for you, we'll be with you every step of the way.