With age comes wisdom and experience — and this definitely applies when it comes to personal style. An expert way to show this off is by wearing business casual for older women.
Why? Business casual (or as we at Next Level Wardrobe call it, power casual) balances sophistication with approachability. When done right, this style looks effortlessly chic.
By focusing on timeless, classic pieces that can mix and match, you can achieve great style no matter your age.
Here are four business casual outfits for older women to feel classically polished and put-together at work.
Table of Contents
1. Classic Tee & Slim Pants: The Go-To Business Casual for Older Women Look
When it comes to business casual for older women, a well-fitted tee with slim pants is as classic as it gets.
The perfect cotton tee is a wardrobe staple. Why? For one, it goes with everything from jeans to slacks to a skirt. You can slip a blazer on top for a career-ready look or dress it up with a pendant necklace.
Another part of the appeal of a great T-shirt is you can wear it year-round. Wear it as is during warm weather and add a cardigan or a leather jacket on top for colder weather.
Product by NIC+ZOE, shop here.
Are you searching for that touchably soft yet quality-made T-shirt to complete your closet? Then try this black option from NIC+ZOE.
The cotton-viscose blend makes for an incredibly comfortable fit that stretches and moves with you throughout the day.
Slim pants are just as versatile as the cotton tee. The tailored silhouette flatters every body type. With the right pant, you never have to worry about busting out of your pants or drowning in them.
Product by Hobbs London, shop here.
These navy trousers from Hobbs London check all the boxes. The slim-straight fit just skims your silhouette instead of pulling at the hips or thighs. Plus, you don't have to worry about it bunching up around your feet thanks to the ankle-length hem.
Finally, the blue color feels more modern and business casual than traditional black pants.
Put these two wardrobe essentials together and you have your new 24/7 dress code. All that's left to do is switch up your shoe choices depending on your plans.
Want to go from business meetings to dinner in a flash? Opt for simple Chelsea boots. Need to stay on your feet for a full day of walking? Pop on white sneakers and you're ready to go.
2. Turtleneck Sweater & Cropped Pants
Next on our business casual for older women wishlist? The polished turtleneck and cropped pants.
We know what you're thinking: a turtleneck and cropped pants? Something's mismatched here.
In reality, these two pieces work together because they're different. The high neck of the sweater balances out the shorter length of the pants.
Choosing the correct fabrics for the pants and sweater is key to nailing this ensemble.
Product by C by Bloomingdale's, shop here.
A sweater in a luxe fabric is a wardrobe essential you'll have forever, so it's worth the money.
Take this cashmere mock-neck from C by Bloomingdale in a muted merlot. It's not a chunky knit. It's lightweight enough that you could tuck it into your pants. But don't worry, the wool is warm enough to keep you cozy.
Wear it with joggers, a midi skirt, or cropped pants for an easy go-to business casual look.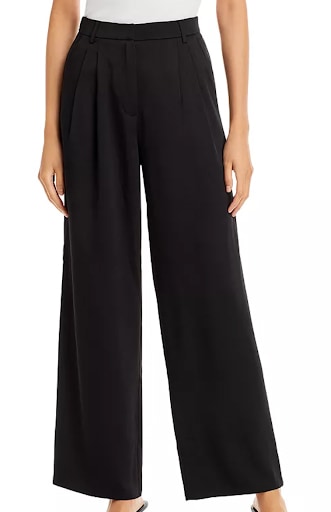 Product by Lucy Paris, shop here.
For cropped pants, we recommend a wide-leg style like this high-waisted option from Lucy Paris.
So many of our clients fear wide-leg pants. There's this misconception that this shape only works on tall, thin women.
Here's the truth: wide-legs work on every body type. If you haven't found the pair for you either:
– Haven't tried enough brands
– Haven't invested in a tailor
Very few people can wear all of their clothes straight off the rack. Almost everyone needs alterations, whether it's in length or size.
The cropped length of the pants shows a little ankle and keeps you from feeling too covered up. Finish off the look with a chunky loafer or a ballet flat.
3. A Suit & Graphic Tee: A Cool Approach to Business Casual for Older Women
Business casual for older women doesn't have to be boring.
Wondering how to wear a suit to your business casual office without feeling stuffy or overdressed? Swap in a fun graphic tee for the usual blouse.
We especially love this combination for women dipping their toes into the world of corporate casual attire.
There's no age limit on a graphic tee. It's all about choosing the right print and color scheme.
For a look that feels on-trend but is still office appropriate, stick to core colors. Black, grey, white, and navy are all top choices for women over 50. Neutrals give a sophisticated edge to this fun look.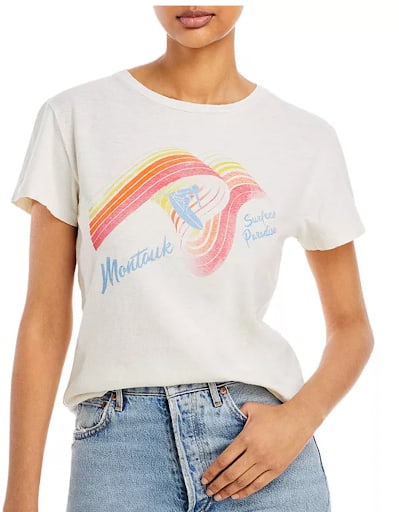 Product by RE/DONE, shop here.
A style you love is this Montauk crew neck from RE/DONE. The vintage fading gives it that perfect dash of cool without trying too hard. Plus, the print itself is simple. It doesn't distract from your overall look or feel over the top.
Now for the suit part of the equation.
If you're shopping for a new suit, look for an updated silhouette. Think slim-fitting pants and a blazer with a nipped-in waist.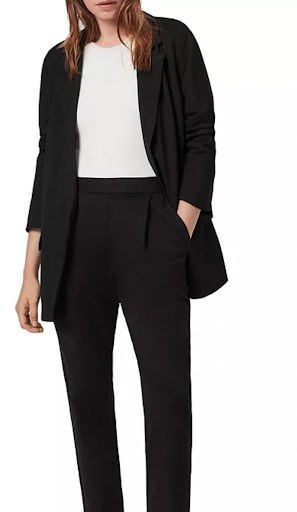 Product by ALLSAINTS, shop here.
ALLSAINTS does a great job of designing business casual suits for all ages. Not the relaxed fit of the blazer? This prevents the suit from feeling too stuffy or dressed up.
This makes for a much more natural-looking match with the graphic tee.
Complete your look with sneakers if your office leans casual. Or if you want to make this a power suit moment, add black or nude pumps for some extra oomph.
4. A Blazer & Great-Fitting Jeans
Ready to round out our must-have business casual outfits for older women? A blazer with jeans is the perfect business-meets-casual look, and paying attention to the small details will elevate this outfit.
Purchasing the right style of women's blazer is a game changer.
Look for a blazer in a breathable, comfortable fabric like merino wool or linen for maximum versatility.
Product by Hobbs London, shop here.
Try this outfit with the oatmeal-beige blazer by Hobbs London. The lighter color brightens up your ensemble, especially when paired with classic dark-wash denim.
Plus if you live in a warm climate like Miami or LA, the linen fabrication will keep you sweat-free.
For jeans, focus on fit above all else. When it comes to shopping for denim, we encourage our executive stylist clients to cast a wide net. You may have to try on at least 5 different pairs (or brands) before you find your perfect fit.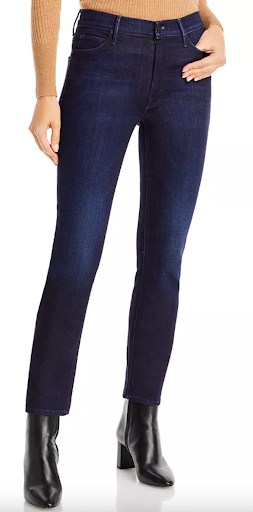 Product by MOTHER, shop here.
A brand we love for clients of all sizes is MOTHER.
They do a great job at balancing trend-aware silhouettes with timeless colors and quality denim. The above pair is the ideal shade: dark enough to wear to work but cool enough for casual Fridays.
They also are great for body transitions- the waistband is usually pretty stretchy and comfortable.
Finish off the look with a pair of bold-colored shoes. Remember when you wear core colors, you have greater flexibility with your accessories.
Interested in more business casual style inspiration for older women? Apply for our Women's Styling and Image Consulting services. Our team of workwear experts knows how to transform your style at any age.