In this article, I'm sharing my expert styling tips on ALL things summer style for men: how to dress in summer, the best summer clothes, and men's summer essentials.
How can you create amazing summer outfits, without:
–Looking like you're trying too hard
–Overheating and sweating profusely
–Any stress
Let's first dive into a question I get often:
"Why is it so HARD to look good in summer?"
Well, I'm going to be honest with you– men's summer clothes styles just aren't as cool as winter.
I mean just check out these LAYERS:
For those that are wanting to create a layered look of TEXTURE, summer isn't the season for you- but don't worry the colder months will be here before you know it.
The next reason why it's so hard to look good in summer is because there are just so many guides.
When I type in "Men's Summer Outfits" into Google there are over 391,000,000 RESULTS!
Then combine that with the endless brands and clothing options for men (894,000,000 results)– how do you even know what's right for YOU?!
If you're reading this, you want:
>> An effortless style that won't put you as the center of attention or look like you're trying too hard
>> A simple style that's comfortable, cool AND stylish (yes you can have both)
>> A low maintenance style that you can wear for work, weekends and everything in between
The number 1 question to ask yourself before you buy anything for summer
Next Level Wardrobe is all about becoming more intentional around your style vs buying just to buy.
Before we get into the tactics- I want to zoom out and ask you a question I ask my clients when I start working with them:
"What do you want people to think about YOU, based off of your clothing?"
Here's what a few men in my community have shared:
"I just recently got a new job and am nearly the youngest there— I want to be taken seriously as a professional"
_
"I'd like to better reflect my status, confidence, and ethos is what I wear."
_
"I really want to be taken seriously in my new role. It's a little lower on the totem pole than I think I should be considering my past experience, and I'd like to prove myself and be promoted quickly."
_
"For the past year I've been moving into a new life stage and building a business. I want my style/appearance to catch up with my intellect and business life."
We've all heard that judgments are made in a blink of an eye, but the good news is that you can use that to your advantage and communicate the right things through your style.
Summer clothing for men: 3 key things to focus on
1. THE BEST SUMMER COLORS TO WEAR
One of the easiest ways to create effortless summer outfits is to lighten up your color palette:
When it's 100+ degrees outside, most people feel more inclined to wear lighter colors like white, heather grey, light blue or even bolder prints.
But how do you do that?
Here's my Hierarchy of Color: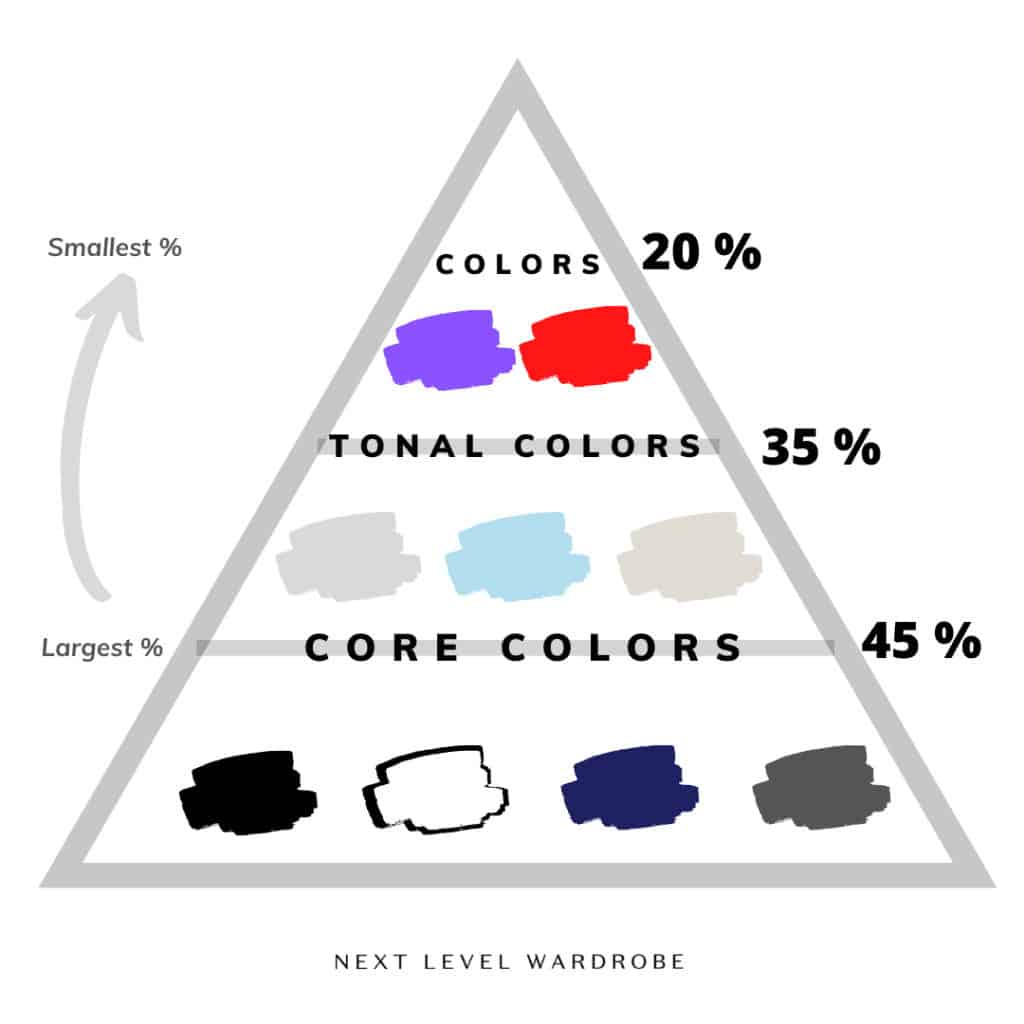 While you want to make sure that the majority of your wardrobe is in the bottom portion of the pyramid, for warmer months, you want to invest more into the middle and top tier.
This is where you invest in lighter and bolder colors. You can even invest in fun prints for summer.
(Read more about my hierarchy of color here)
Here's how I'd lighten up a wardrobe to create sophisticated men's summer outfits:
Notice how the palette is not only lighter BUT it feels lighter too! This can read more approachable, fun, and even trustworthy.
(If you're more advanced with your style and want to try wearing more color and prints- click here)
2. THE BEST FABRICS TO WEAR FOR SUMMER
When it comes to an effortless summer style, the last thing you want to do is invest in fabrics that will trap heat, make you even hotter and so uncomfortable.
That's why focusing on investing in breathable fabrics is so important. When you do this, you'll be wearing pieces that will help circulate heat and keep you as cool as possible- for any occasion.
Here are 3 of my top picks for fabrics to invest in:
Lightweight cotton fabrics: Triblends + Cotton Slub-
These fabrics are a MUST for warmer months because they are lightweight and don't trap heat.
A tri-blend fabric is usually made of 3 types of yarn (polyester, cotton and rayon) It's highly durable and super soft– in fact this was a best selling fabric while I oversaw Soulcycle's retail business.
I like this fabric for summer because it has texture– it doesn't look so flat and average.
Cotton slub was also another best selling fabric at Equinox and Soulcycle.
This fabric is made when cotton yarns are thicker than the others and some pieces of the fabric look more transparent than others.
This fabric has a more casual feel so I recommend it for warmer months and casual events.
Chambray–
Light and dark chambray- the perfect piece for Summer
Most people think Chambray is denim, but they are actually very different.
Without getting too technical, chambray is lighter weight than denim, which makes it a great summer fabric to wear. It also has some other colors in it, such as white, and gives the fabric some texture vs it looking "flat".
Chambray is a great fabric that you can wear with denim or just about any other color for a great head to toe look.
Linen–
Linen is a natural, lightweight fabric made of a flax plant.
It has all these amazing properties, such as natural water wicking (aka sweat), breathability, and durability so you'll have it for a long time.
Linen also has a 'looser weave' which means that the fabric has a more relaxed fit.
This is important because you should lessen up your fit a little bit in the summer so you can look stylish and less sweaty. Check out the image above– note that loose fit does not mean baggy!
3.
THE BEST SUMMER CLOTHING ESSENTIALS FOR MEN
As with any other season, there are summer essentials that every guy needs in his wardrobe- no matter your job, location or body type.
These men's summer essentials will ensure that you're creating versatility with your wardrobe (creating more summer outfits, with less stuff in your closet), investing in a timeless style and one that you'll actually look forward to wearing.
The best part is that most of these pieces you'll be able to wear year around! Yes you heard that right.
With the exception of a printed button up short sleeve and shorts, you'll be able to wear the other items with colder month clothing.
Some of my favorite brands for these basics include Buck Mason and Bonobos.
If you don't have time to figure out what to buy and where to shop, check out my Men's Virtual Styling Service.
When you invest in the right colors, fabrics and styles you'll have created an effortless, stylish summer wardrobe that you'll have for years to come. Not to mention amazing outfits, like these: