Choosing what to wear for corporate headshots is an important step in crafting your professional brand.
After all, you only get one shot at a first impression.
What you wear conveys information about who you are, your role, your power and influence, and more.
And, professional headshots have an even bigger impact today.
Many of the people you meet and work with, will see your headshot online on your company website or LinkedIn before they even meet you.
In other words, they'll form their first impression of you by looking at your corporate photo.
Because of this, you want to make sure that your headshots send the right message.
So, what should you wear?
Keep reading for the style tips on how to prepare for your corporate headshot.
What should men wear to corporate headshots?
For business casual headshots, try a look like the one above. A quarter-zip or a bomber are also great options for a casual dress code.
To dress it up a bit more, you can even pair your jacket with a polo, like in this outfit.
Or, for a more casual environment or for a younger entrepreneur who still wants to look put together, check out this suit and t-shirt combo:
(The sneakers and maroon socks are a cool touch too.)
Here's another great example of how to wear a tee with a suit:
On the other hand, in a formal office environment, like law and finance, you should dress more conservatively. For corporate headshots men, a well-fitting suit in navy is a great choice.
Another tip on how to prepare for your corporate headshot?
Try on your outfits beforehand.
In particular, check the fit of the clothing.
Anything that is too big, too small, or doesn't fit right will be even more noticeable in a photo.
Plan ahead so that you have time to get your clothing tailored.
What color should you wear for a professional headshot?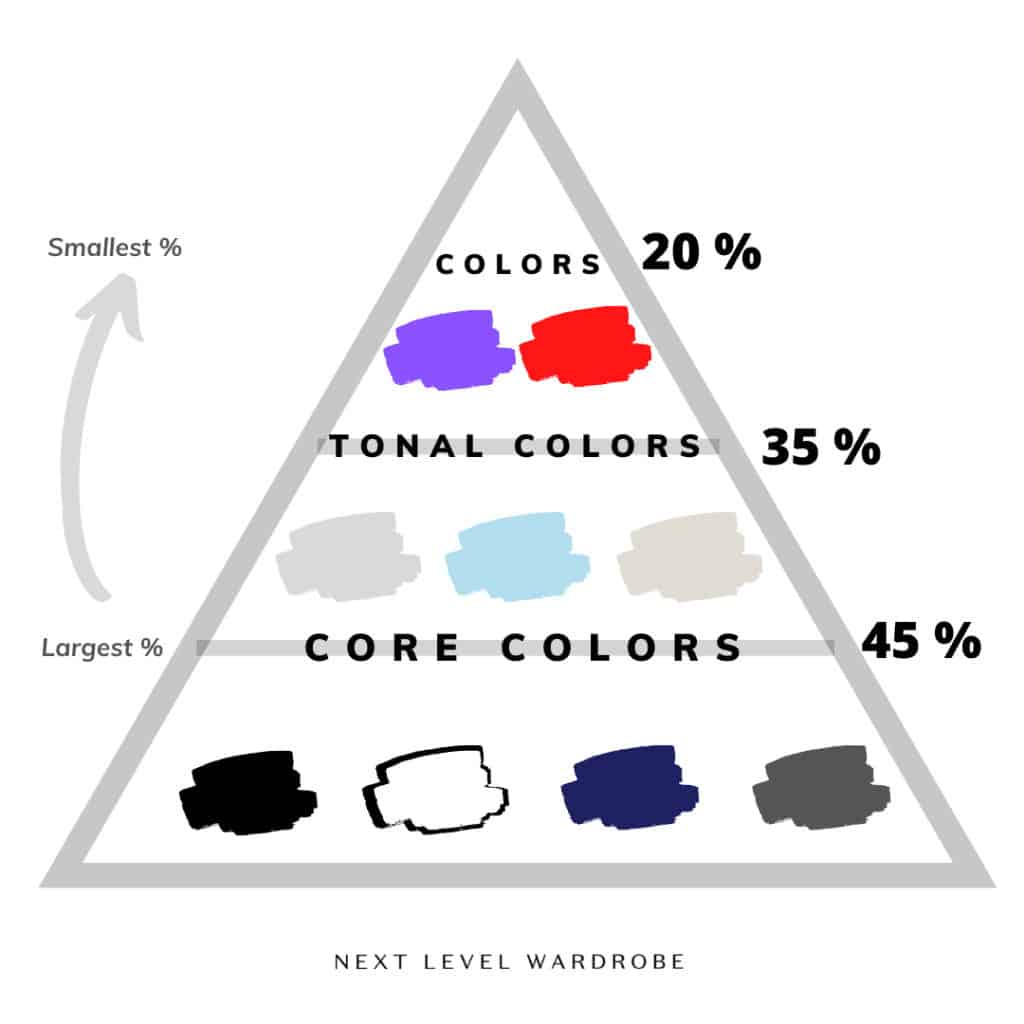 When figuring out what to wear for corporate headshots, you've probably wondered what colors are best.
For men's corporate headshots, I recommend our core colors: navy, black, gray, and white.
These are all colors that communicate trust, reliability, authority, power, and professionalism.
Plus, they're not distracting which means people will be focused on you–not what you're wearing.
These colors are also easy to mix and match. Whether your office is business casual or formal, you can wear these colors.
In fact, these core colors are a key part of our Executive Image Style System for Men.
What should you not wear for corporate headshots?
Making sure you don't wear the wrong thing is just as important as choosing the right outfit for your headshots.
Here are a few things you should avoid when deciding what to wear for corporate headshots:
– Graphic Tees
– Logos
– Bright colors
– Distracting patterns
– Ill-fitting clothing
If you're still stuck, check out what your boss is wearing. Use this for an idea of what is appropriate.
Finally, if you're able to, consider bringing a few outfit changes.
This gives you a few backup options and gives you some versatility.
Multiple outfits are also helpful because clothing doesn't always photograph the same way it looks in person.
My final suggestion for how to prepare for your corporate headshot is this:
Relax. Take a deep breath and enjoy the moment.
You should feel proud of your professional accomplishments and this is the perfect moment to embrace that. Also, please don't cross your arms as a pose- just don't. Put some music on, have fun and show your personality!
Need help preparing for headshots?
Ready to take your professional brand to the next level?
Apply for our men's image consulting services.
Cassandra Sethi is a NYC Personal Stylist and Image Consultant. After working over 15 years in the Fashion Industry, most recently as a Senior Buyer for Equinox, she created her business, Next Level Wardrobe – a luxury personal shopping service for successful professionals.
Next Level Wardrobe has been featured in Wall Street Journal, Today and CNN. See here.