If you're working on building your executive image, you've probably read advice from dozens of business professionals and experts on how to be a successful leader. As a personal stylist who has worked in menswear for decades and has dressed numerous NYC male executives, I know that looking the part is just as important to your success.
Feel like it's time to step up your wardrobe to project a professional executive image but you aren't sure how outside of filling your closet with 3 piece suits?
Whether you just got a big promotion or are dressing for the job you want, achieving an executive image is totally doable with my simple Next Level Wardrobe style system.
Read on for the easy three-step process I use to create streamlined, professional wardrobes for my men's image consultant clients. And if you're too busy to do it on your own, let Next Level Wardrobe do the work for you with our Men's Executive Image Consulting services.
STEP 1: Build a Foundation With Core Colors
My executive image styling clients quickly get familiar with the concept of core colors.
Core colors are exactly what they sound like: The basic colors of black, gray, navy, and white that create a solid foundation for your professional wardrobe.
These colors are seasonless, look great on everyone, and create a cool, cohesive look when combined with one another.
Core colors should typically make up at least 40% of your closet, and building your wardrobe that way will ensure getting dressed every morning is easy and you always look perfectly put-together.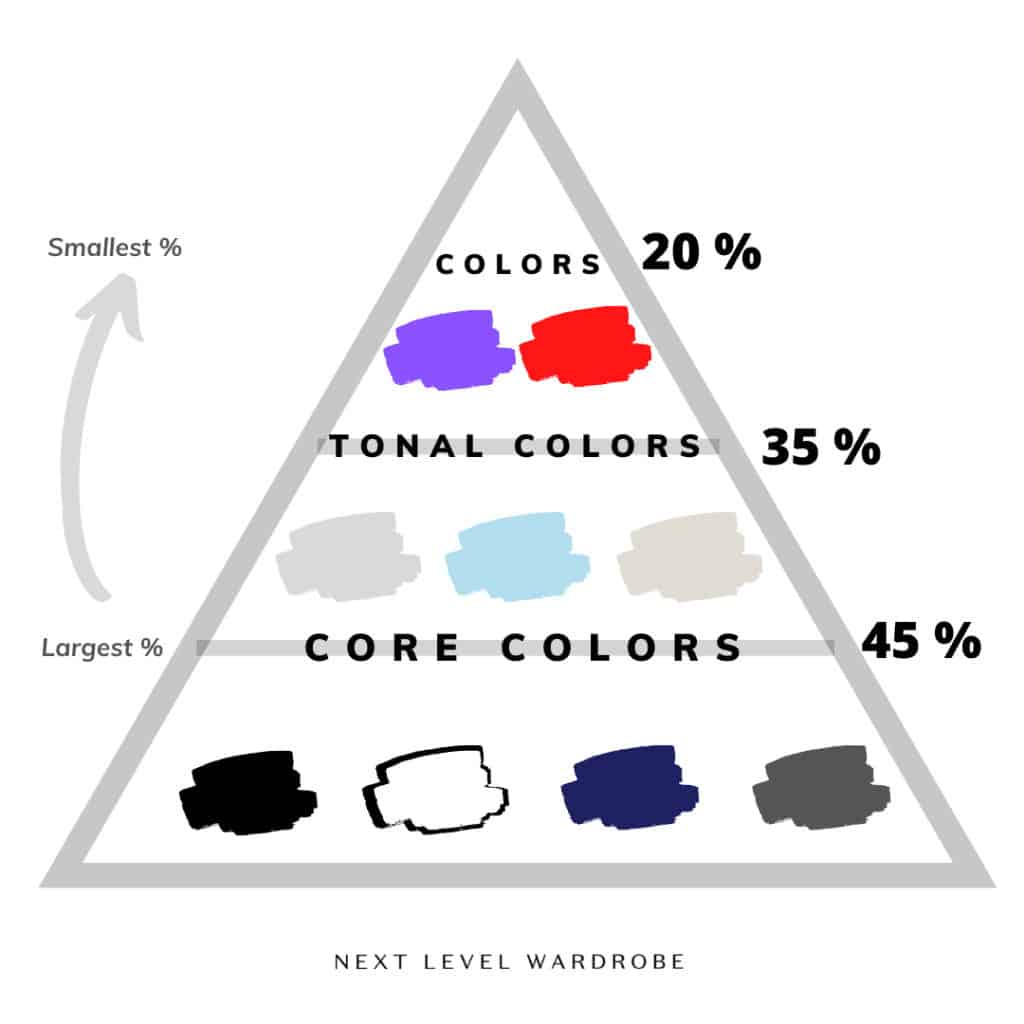 Once you've assembled a solid base of core colors, you can then start adding in additional colors and patterns.
But by focusing on core colors first, you'll eliminate any confusion when it comes to getting dressed every day.
STEP 2: Invest in Wardrobe Essentials
The internet is full of articles professing to tell you the exact pieces you need to build a wardrobe for an executive image, but the fact is, it's different for everyone.
What's "essential" for your executive wardrobe will depend on a few different factors.
When considering how to develop your new executive image through your wardrobe, ask yourself these questions:
First, what's your office dress code? The basic wardrobe pillars for a bank executive will be different from what's in a tech CEO's closet.
Next, what's the climate like where you live? Professional men on the West Coast and in the Northeast have unique wardrobe needs based on both the weather and their area's general vibe.
Finally (and most importantly): What do you want to convey with your clothes?
This is a question that takes some serious consideration to answer, but deciding what you want your wardrobe to say about you is vital before you start shopping.
STEP 3: Focus on Fit
As a corporate image consultant for professional men, I constantly talk to my clients about the importance of fit.
So many of my male executive image clients struggle with finding clothes that fit them just right, and they're definitely not alone! (Check out the before and after picture of my client Sam)
Keep in mind that off-the-rack clothing is designed to fit an average body type of a brand's customer, so it's highly unlikely you'll find a perfect fit right off the bat.
Don't just grab "your size" and buy it automatically — take the time to head to the dressing room and make sure the piece is actually a good fit for your body. Sizes can vary so much across brands.
And most importantly, plan to work with a tailor: A vast majority of the time, clothing will need to be altered in order to fit you perfectly, whether that's hemming pants, shortening sleeves, or taking in a jacket.
Ready to get help with your own executive image? Check out my virtual executive image consulting for men services.