Picture it: You're in a comfortable routine with your nine-to-five wardrobe. You figured out your work dress code (finally), and then you get the email: It's conference season. Before you know it, you're back at the drawing board. You're racking your brains over what to wear to a business conference for women.
From working with countless clients over the years, we know this feeling all too well.
Let's unpack how you get to this feeling in the first place, how to avoid it, and three trust-worthy outfit combinations to simplify your conference time.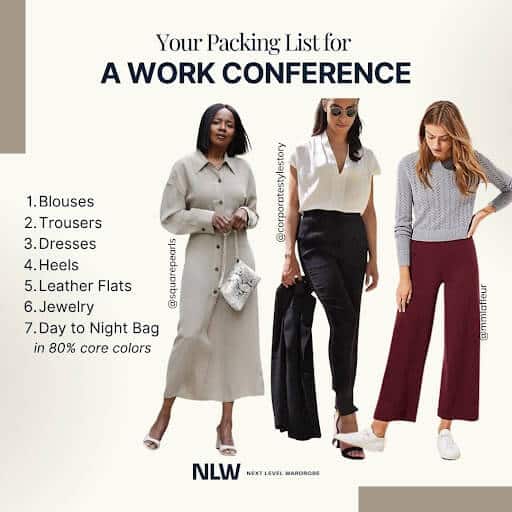 Table of Contents
Why Is It So Stressful To Pick Clothes for a Business Conference?
Because conferences are a break from your regular routine, you freak out.
This hits even harder since COVID-19 shifted so many to remote work and away from workplace socializing.
You go into panic-buy mode because you feel the pressure to impress. Your work wardrobe warriors don't feel "good enough" to make a hundred new first impressions with your industry peers.
This causes so much unnecessary stress. (Not to mention wasted time, energy, and money when you should focus on the conference itself!)
Plus, travel brings out the overpacker in everyone. They pack a ton of stuff but still feel like they have nothing to wear.
That affects your confidence and can start your day on the wrong foot.
So, how do you break this cycle and figure out what to wear to a business conference?
By setting yourself up for success from the start with a strong wardrobe foundation:
A balanced color palette – make neutrals like black, white, navy, and grey the biggest portion of your closet. Follow it up with shades, tints, and textures of neutrals. Then, make the smallest section all about accent colors and patterns. This makes mixing and matching a cinch.
High-quality items – Stop wasting on fast-fashion pieces you have to replace every few months. Invest in well-made, smartly-sourced items built to last.
Impeccable fit – Clothes should fit you, not the other way around. Get rid of anything too big or small, and try out new brands to find what suits your shape. (And don't be afraid to get a tailor involved for the finishing touches.)
We call this the NLW Style System. It's the recipe for versatile, polished outfits 24/7.
Do this, and you won't have that urge to buy new outfits whenever a conference invite rolls around.
What to Wear to A Business Conference for Women: The Only 3 Outfit Formulas You Need
Want to make finding women's clothing for a business conference stress-free and simple?
We recommend using outfit formulas as one of the cornerstones of any minimalist wardrobe. Outfit formulas are style templates where you can plug in different items for your closet for easy and stylish ensembles.
Today, we've got three easy options that'll see you stylishly through your conference itinerary. The best part? You can mix and match these eight pieces for a full week's worth of outfits!
No more worrying about long packing lists for business trips or checking bags. All you need is your carry-on, and you've got a ticket to flawless conference style.
1. The Black and White Classic Combo
If you're familiar with our style system, you know that we LOVE the simplicity and timelessness of neutrals. Colors like black, gray, navy, and white mix and match each other and all the other colors.
(That's why we recommend that the biggest portion of your closet should be made up of neutrals, aka core colors.)
That said, nothing is as effortless as a black-and-white outfit. This color palette never goes out of style and always looks professional.
For women's wear for a business conference, we recommend starting with a simple white blouse. Like this one from Nic+Zoe.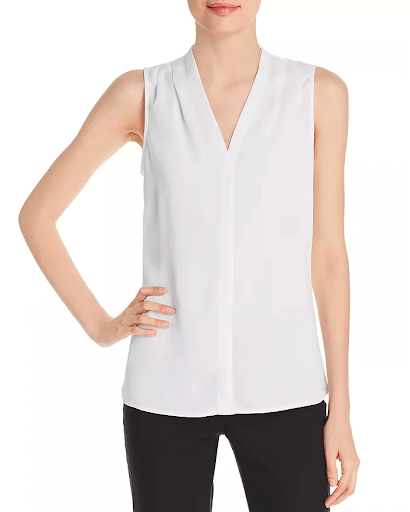 Product by Nic+Zoe, shop here.
The sleeveless cut covers your shoulders (great for business casual dress codes) while giving you room to breathe and move.
The v-neck isn't too deep or awkwardly short, so you're staying office-appropriate without seeming stuff.
Tuck this top into the waistband of these black pants from Vince.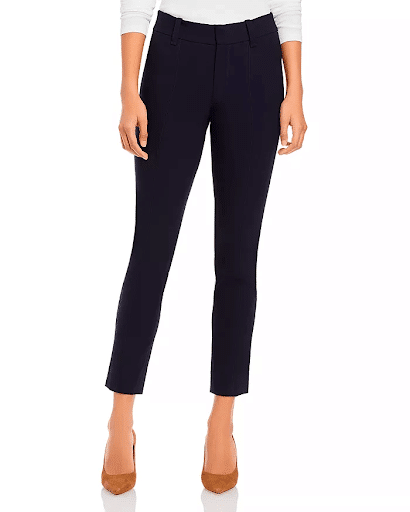 Product by Vince, shop here.
The slim-straight fit flatters all figures because it's not too tight and not too baggy. It just skims your shape for a tailored yet comfortable silhouette.
Product by Porte & Paire, shop here.
Complete this look with a pair of ballet flats. Most of our clients prefer flats over heels for comfort and practicality.
We agree, especially for a conference when you'll likely be on your feet more than usual. These will stave off aches and exhaustion, all while tying your outfit together.
2. Add a Pop of Color
Don't worry. As much as we love neutrals, we're not asking you to have a completely black-and-white closet.
Pops of color and patterns are a major part of having a well-rounded, stylish closet. It all comes down to how you use these accent pieces.
We believe you should use them as just that – accents. They should be a finishing touch – that something extra that shows off your personality and separates you from the bunch.
An easy way to mix in some personal flare is through layering pieces. Keep the rest of your outfit neutral. Then add a jacket, blazer, or sweater in a splash of color. That way, your look feels balanced instead of busy.
Here's an example of how to use the pop of color method at a business conference.
First, pick out your hero piece. We're choosing this fire-hydrant-red blazer from Aqua.
Product by Aqua, shop here.
The elongated silhouette helps this piece feel modern and contemporary.
You could wear it over the first outfit formula or try it over a dress.
For a dress, we recommend something like this LBD by Vince.
Product by Vince, shop here.
Because of the longer fit of the blazer, it'll actually function as more of a jacket or coat here. The red will pop even more against the black dress for maximum impact.
Instead of styling this combination with boots, we say you use your flats again from look number one. Why? Because boots plus the jacket plus the longer dress line would be overwhelming.
The flats are much more subtle.
3. An After-Hours Ensemble
Last but not least, it's time for an off-the-clock look.
Anyone who's been to a conference before can tell you it's not buttoned-up business 24/7. There's bound to be some downtime or extracurricular activities.
Whether it's a group dinner or you want to explore the city, it's a good idea to pack a fun option.
For this, we're going for a semi-monochromatic outfit formula. The idea here is to focus on matching or similar color shades and tints for your palette.
We're starting with a cream sleeveless turtleneck from C by Bloomingdales.
Product by C by Bloomingdale's, shop here.
What's great about this piece?
While the loose fit, bold neck and sleeveless knit style are all fashion-forward, the top is still super wearable. It doesn't feel over-the-top. In fact, you could wear it with the black pants from the first outfit for another day at the conference.
However, we're going to lean into its more elevated side by pairing it with this pleated taupe skirt by Reiss.
Product by Reiss, shop here.
This skirt checks all the boxes. The flowy shape and elastic waistband amp up the comfy factor. The color is versatile and timeless, and the length suits all dress codes.
Ready to tie the whole thing together?
Product by Larroudé, shop here.
Change up your shoe choice with these playful block heels from Larroudé. The flower-shaped hardware is trend-aware without being trendy, and the height is just right.
With these three outfit combinations, you're all set for several days at a conference from day to night.
If you liked how easy and straightforward these formulas made your business trip, we have good news. You can make getting dressed for any occasion that easy by working with Next Level Wardrobe's styling team. Apply for our women's styling services to learn how to shop better, dress better, and use your closet better.
*Disclosure: Next Level Wardrobe only recommends products that we'd suggest to our clients or personally wear ourselves. All opinions expressed here are our own. This post may contain affiliate links that at no additional cost to you, Next Level Wardrobe may earn a small commission. Read the full privacy policy here.