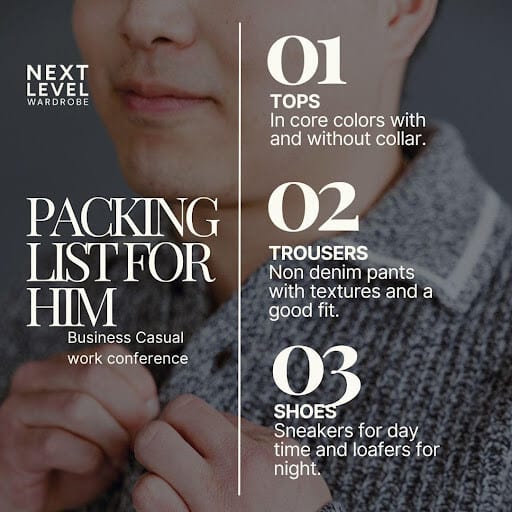 Table of Contents
A business conference is your opportunity to represent your company and yourself in the best light. Plus, you're making connections with your peers. Because of that, figuring out what to wear to a business conference as a man is crucial.
But it doesn't have to feel like the pressure is on. In fact, we've found a way to make dressing for a business conference as stress-free as possible.
How? By using outfit formulas and a capsule wardrobe.
With a capsule wardrobe, you use a few trusty pieces to create countless outfits. (This saves you from panic buying right before your big event or worrying about lost luggage on your flight.)
No more overpacking or focusing more on your wardrobe than the actual conference itself.
Keep reading for the only three men's outfits you need for your next work trip.
1. Business Formal
Do you work in a more traditional field like medicine, finance, government, or law? Then, what you should wear to a business conference is men's business formal attire.
This means a blazer or suit jacket, a button-up shirt, trousers, and dress shoes.
(You might even need this dress code regardless of your industry if you're in an executive or CEO position.)
Business formal outfits tend to have more structure and look more "dressed up." But that doesn't mean you have to look stuffy.
To make business formal feel modern, try a blazer like this textured jersey option from Canali.
Product by Canali, shop here.
Here's what we love about this blazer:
The navy blue color makes it feel more approachable and updated than a traditional black suit jacket
The texture adds visual interest and personality
The soft shoulders give off a friendly vibe, perfect for networking (and it's also easier to pack.)
Wear this blazer over a button-up like this sky blue option by Reiss.
Product by Reiss, shop here.
This combination works because:
The navy blue over the light blue shows off your style skills. You're doing a monochromatic look without feeling "one note."
This button-up has a slim fit, which creates a more flattering look than those old baggy button-ups of the past. (No more looking like Jim from The Office.)
You could round out your look with a matching pair of navy pants. But, we prefer to go for a mixed separates approach.
Why? Because it gives you more versatility to wear your pants and blazer with other pieces in your suitcase. And because, again, it feels more contemporary and less stuffy.
Product Zegna, shop here.
For that reason, we've gone with these lightly heathered charcoal grey pants from Zegna. These pair well with your shirt and jackets because:
The crease in the front adds a dash of traditional formality.
You're still working in the same dark core color palette, which helps this combination feel intentional.
Ready to round out your outfit? It's time for shoes. Here, we're going classic with a derby pair from Boss.
Product by Boss, shop here.
Boss is a go-to for all things workwear and formal wear. They have those classic pieces that most professional men need at their fingertips. If you haven't invested in a pair of versatile dress shoes, try these out.
2. Power Casual
Of course, not every conference calls for a suit. In fact, many guys need help finding what to wear to a business casual conference.
Especially after 2020, when required work attire shifted across the board to a more casual approach.
If you usually go for business casual, we recommend a power casual ensemble for men.
If you're unfamiliar with the term, power casual is the updated version of business casual. It's that perfect middle ground between relaxed and structured, classic and contemporary.
Start with a white tee to get this look off the ground. A white T-shirt is a closet staple. It's one of the three pieces every person should have in their work wardrobe.
Once you have your tee, layer it with a sweater or hoodie, like this one from Vince.
Product by Vince, shop here.
If you work in a creative or tech field, this hoodie is about to be part of your usual work rotation. Here's why:
While the design is casual, the materials are luxe (cashmere!). It's super soft and durable, meaning it won't look ratty after only a couple of wears.
It's simple. No over-the-top logos or colors. Black is timeless and wearable.
The fit is just right. Not too tight like you're wearing an old college hoodie that doesn't fit anymore, and not too baggy like you're in gym gear.
After the hoodie, we're throwing on another essential item for every closet: jeans.
Product by Paige, shop here.
These straight-fit options from Paige are perfect for workwear and a conference with a power casual code. Why?
The solid, dark blue color reads as polished. A lighter wash or a distressed pair would look unprofessional. But these instantly look purposeful.
The fit. A straight silhouette skims your frame without excessive pull lines or bagging at your ankles.
Of course, you wouldn't want to finish this outfit with your dress shoes from before. This look calls for sneakers.
Product by Vince, shop here.
Our favorite shoe option for business casual and casual dress codes is men's white sneakers. This is because:
White sneakers go with everything. As a core color, you can wear white with other neutrals or bold pops of colors.
They can brighten up an outfit. Take this ensemble for example. The color palette is pretty dark with the hoodie and jeans. But the white sneakers break that up and tie back into the white T-shirt.
3. Off The Clock
All work and no play?
No way.
Most work conferences either have a little downtime or free hours for yourself. So make sure you add one more outfit to your packing list for a business conference.
For this, we recommend showing off your personality. Pull on a trend-aware piece like this knit button-up camp collar shirt from Reiss.
Product by Reiss, shop here.
This is an excellent example of what to wear to a business conference as a guy because:
It's a subtle statement piece. The shirt features a pattern, but it's not too bold. Vertical stripes are classic and great for making you look taller.
The colors are still in that core color wheelhouse. That means you can still mix and match this with the other items in your luggage.
The fabric and style make this ideal for multiple seasons and climates. Adjust this with layers depending on where you are.
Since you're off the clock, leave the traditional trousers for your next meeting. Instead, change into a cool, relaxed-fit option like these grey bottoms from Reiss.
Product by Reiss, shop here.
These pants seal the deal because:
The looser fit reads as more laidback and cool without looking sloppy. Same with the lighter color.
The cuffed bottoms. It sounds like such a small detail, but finishing touches like that make you look more styled and put together.
The cuffed hem also makes this a great opportunity to show some ankle. So, pull out those white sneakers again to complete your ensemble.
Just like that, you have three effortless outfits for any type of conference or business trip.
Want more help with what to wear to a business conference? Apply for Next Level Wardrobe's men's virtual or in-person styling services. Whether you're looking for a rebrand or a seasonal refresh, our team has your back. Thanks to over 20 years in the fashion industry, we know how to simplify style and boost your confidence.