I've styled plus-size women across the country, and one theme comes up again and again: Despite the fact that nearly 70% of American women wear a size 14 or above, they have trouble finding stylish, professional clothing to fit their bodies.
Read on for staple wardrobe pieces to build a business casual wardrobe for plus-size women, plus my top brands for plus-size styling.
WIDE-LEG PANTS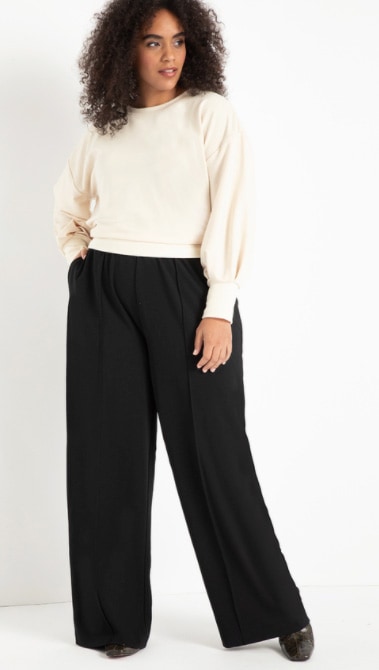 My product recommendation: Pintuck Wide Leg Pant, Eloquii
I find that the plus-size clients I work with tend to box themselves in with what they can and "can't" wear.
I worked with a client, Deanna, who was certain she couldn't wear wide-leg pants because of her size and height (she's a size 12 and 5'2").
She ended up loving the ones I chose for her and realized they were far more flattering than her closet full of leggings.
While the instinct might be to stay away from wide legs to avoid looking bigger, in fact they can be extremely flattering and stylish — especially when paired with heels and a fitted top.
A VERSATILE BLAZER
My product recommendation: Nova Blazer, 11 Honoré
My main focus in working with any client, including plus-size women, is making sure they feel confident in projecting a professional image at work.
A blazer is a great way to do that: Look for a style with a defined waist, like the one I chose for my styling client Lianne.
A core color like black, navy, or gray will give you maximum versatility.
You can dress it down for casual days with cropped pants and sneakers, or dress it up with pants in the same color and heels.
Two of my favorite plus-size brands to dress clients in are the minimalist Universal Standard and 11 Honoré, which carries a variety of luxury brands; they both have a great selection of blazers
THE PERFECT WHITE BUTTON DOWN
My product recommendation: Ming Wang Button Front Shirt, Nordstrom
Another common thing I hear from my plus-size styling clients is "I can't shop there because they probably don't have my size."
While that's true far more often than it should be, major department stores like Bloomingdales and Nordstrom are now in fact carrying a wide range of plus-size pieces.
Those are both great places to shop for classic staple pieces, such as blazers, pants, simple dresses and button down shirts.
A white button down in particular is a wardrobe pillar you can mix many different ways. Pair it with jeans and loafers for a casual, office-appropriate look, or wear it with a blazer for a big meeting.
PENCIL SKIRT
Photo: Universal Standard
Plus-size women often think they can't or shouldn't wear fitted pieces like sheath dresses or pencil skirts.
Actually, these styles can work with your shape for a sleek, professional look.
Go for a pencil skirt in a dark core color like black or navy, and look for a fabric with some stretch to it to further flatter your figure.
Try pairing it with a simple tailored tee and flats, or a tucked-in button down and pointed-toe pumps.
When shopping for a business casual wardrobe for plus-size women, don't limit yourself by automatically assuming you can only wear certain styles. As I've seen firsthand with my plus-size styling clients, you'll often end up loving clothing you previously never considered.
More Posts Related to CEO Style