As a stylist I've worked with many plus-size clients, and a recurring theme is confusion about what to wear in the summertime.
The right summer clothing for plus size women will help you stay cool, feel confident and look amazing- effortlessly.
Read on for my picks for what should plus size women wear in summer.
The Best Fabrics to Wear in the Summer
Fall and winter outfits are all about layers, but in the hot summer months, that goes out the window in favor of lightweight pieces to keep you cool.
When shopping for summer clothing for plus size women, avoid fabrics like polyester that will trap heat and make you sweaty and uncomfortable.
Instead, focus on buying breathable, lightweight fabrics that will keep you comfortable and cool, no matter the occasion. Here are my top fabric picks for summertime:
Linen
Linen is a classic summer fabric for good reason: It's breathable, durable, and naturally sweat-wicking.
This natural, lightweight fabric has a looser weave, so it lends itself well to looser-fitting silhouettes that are more comfortable in the summertime.
And because linen has a naturally rumpled look, it's great to pack for summer trips — no iron needed.
Cotton (Tri-Blend & Slub)
Cotton is eternally popular because it's lightweight, affordable and easy to care for, but there are two specific types of cotton I recommend to my styling clients.
Tri-blend cotton is made up of 3 types of yarn (cotton, rayon, and polyester), making it super soft and extremely durable, with a little texture for visual interest, while still being breathable.
Another great fabric for summer is slub cotton; this is a type of cotton where the yarn is thicker in some places, giving it a unique texture.
Some sections of slub cotton fabric are more transparent than others, creating a super lightweight fabric that's perfect for summer.
The Best Colors to Wear in the Summer
Yes, black is slimming and an all-black outfit looks sleek — but wearing black in summer can be way too hot.
One of the best ways to create easy, stylish summer outfits is to lighten up your color palette.
Focus on lighter shades that will help reflect heat, like white, khaki and/or light blue, and incorporate pops of color or prints as accents.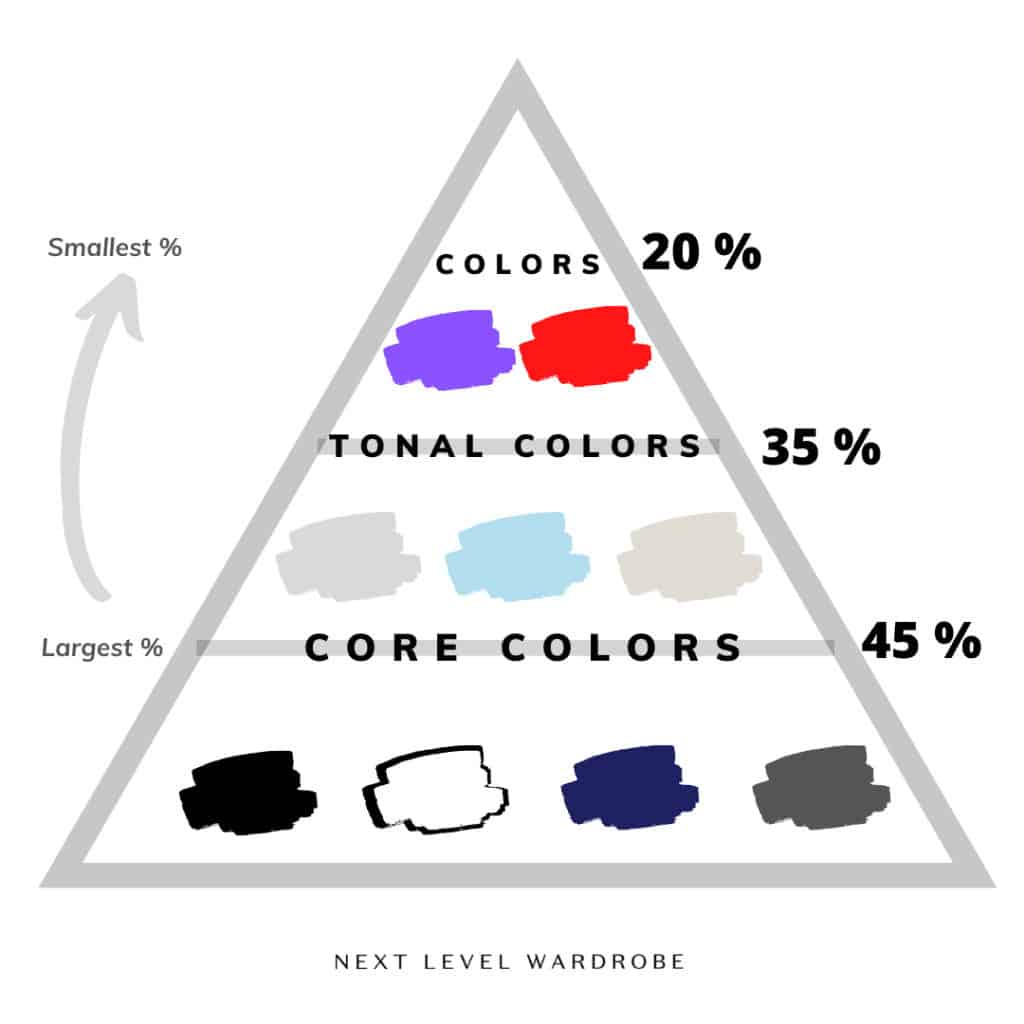 I teach all my clients about building their wardrobe on a foundation of core colors, but for summertime you'll want to focus more on the middle of the pyramid.
Four Summer Clothing Essentials for Plus-size Women
Looking for specific recommendations for sophisticated plus size women's clothing? Here are four essential pieces I recommend for summer.
A Great-Fitting T-Shirt
The perfect white tee is a wardrobe workhorse that can be paired simply with linen pants or jeans, or worn under a blazer for the office.
The Zoe Tee from 11 Honore has a flattering cropped fit that's perfect with a high-waisted bottom.
Comfortable Pants
Linen pants in a light neutral shade will help you create a ton of easy, stylish summer outfits.
These cream-colored linen pants from Eloquii have a comfortable drawstring waist.
An Easy-to-Wear Dress
Universal Standard
Look for light-colored dresses in simple silhouettes and breathable fabrics that can be dressed up or down.
This v-neck jersey dress from Universal Standard (one of my favorite minimalist brands for plus-size women) can be dressed down with sneakers or sandals — plus you can wear it in the fall with a leather jacket and boots.
Lightweight Layers
Whether you work in an air-conditioned office or just feel more comfortable with your arms covered, summer-friendly lightweight layers are a key piece.
This linen-cotton blend cardigan from Nordstrom's Caslon line is a great core color for summer.
Need help assembling a stylish plus-size wardrobe for summer and beyond? Check out my virtual personal styling services for women.