Photo Credit: Netflix
On April 18th, Netflix is releasing How to Get Rich, an eight-part series following finance expert Ramit Sethi as he helps folks across the US to live their rich lives.
Each episode teaches viewers how to take control of their money in an unconventional, optimistic way. But did you know it's also a lesson in style?
That's because Next Level Wardrobe's own, Cassandra Sethi styled Ramit for his first TV Show.
Keep reading for a behind-the-scenes look at the styling process. Plus, we'll show you how to channel five of Ramit's best looks from the show.
How TV Styling Differs from Everyday Styling
Cassandra chatting with her store contact about Ramit's wardrobe.
What's one of the first things Cassandra thought about when styling Ramit Sethi for How to Get Rich? How she would adapt her process.
While the NLW team regularly dresses diverse clients, TV was a new challenge.
For one, the show was shot all over the country in drastically different weather conditions.
Secondly, she had to think about the people he'd be meeting and their dynamics.
How to Get Rich is all about taking the mystery out of finances. If Ramit showed up in a suit, he'd seem like another uptight, stuffy financial advisor.
He needed to look knowledgeable yet approachable and trustworthy.
And of course, she had to consider what would look good on camera. Things like structured clothing and bright colors pop on the screen. But that didn't match Ramit's actual style.
Ramit needed to have a consistent, camera-friendly look that remained cohesive and consistent while staying true to his personal brand.
A private room waiting for Ramit to shop in. Cassandra pre-pulled all the items so they were ready to go.
If that sounds like a lot to juggle to you, you're right! That's the other big difference between styling someone for TV versus everyday life: planning. And lots of it.
TV shows take months (sometimes years) of prep and planning and that includes wardrobe.
Cassandra had to plan out outfits far in advance. This included accounting for tailoring, outfit creation, things not working out, and finding substitute items.
Photo Credit: Netflix
Some pieces were completely custom as well, like the pants Ramit's wearing in the Netflix thumbnail. (Those were made four months before filming!)
So what was the saving grace in all this? The Next Level Wardrobe Style System®.
This method of building a capsule wardrobe based on core colors, fit, and quality over quantity works for TV too.
And since this was something Ramit already used and had in his closet, he had loads of fantastic pieces in his wardrobe beforehand. (That also means less money to spend on NEW clothing—Cassandra actually reused a lot of his clothing for the show.)
Creating Ramit's Personal Brand
Ramit meeting with Frank at his home
Photo Credit: Netflix
At Next Level Wardrobe, we don't just style our clients for a season or a one-off occasion. Instead, we consider how clothing feeds into an individual's personal brand.
That way our customers have clothes that they love and can wear for years to come.
The same idea held true when Cassandra planned out Ramit Sethi's TV wardrobe.
As this was his television debut, (and a global release to over 200 million Netflix subscribers!), first impressions were everything in this context.
Cassandra previously established Ramit's personal brand visually during his book tour. So it was all about building upon that for the show, using items he already owned, and intentionally integrating items that would pop on screen.
Here are a few custom pants that were made for Ramit—about 4 months before the start of the show.
For How to Get Rich, Cassandra decided to continue that vision from the book tour with small modifications that matched Ramit's brand today (and the vision going forward).
First and foremost, Cassandra wanted the approachability factor.
Money is a very personal topic behind closed doors. But also having a camera crew in front of you filming all the details of your finances is even more intimidating.
Cassandra wanted to ensure that every single person Ramit met felt comfortable opening up to him, within seconds of meeting him.
The next factor Cassandra considered was how to show Ramit's expertise.
Ramit has some serious credentials behind him. He's built a successful business, I Will Teach You To Be Rich, that has helped hundreds of thousands of people live their rich life. He's been on the New York Times Best Seller List for his book, multiple times.
Additionally, he has a successful podcast making him a well-known figure in the personal finance community.
He's accomplished all this because he has a modern, non-traditional view of money.
While others talk about cutting back, Ramit believes in "spending extravagantly on the things you love, and cutting costs mercilessly on the things you don't."
So how did NLW meld these two worlds together?
By softening workwear staples and throwing in modern essentials for a unique, polished, and photogenic style.
Cassandra leaned heavily on the Power Casual Dress Code—a style NLW regularly uses for clients. It Mixes true 'formal' pieces and 'casual' pieces to make it the perfect middle ground for any situation.
Whether Ramit was filming in Los Angeles, New York, or a small town– it was appropriate for any situation.
5 of Ramit Sethi's Best Looks (And How to Make Them Work for You)
Ready to see Ramit's Netflix style in action? Here are five of his best looks. We'll walk you through:
– Why these outfits work
– How to do it yourself
The Well-Chosen Cardigan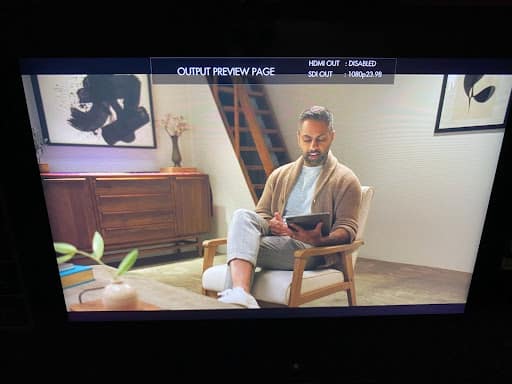 Ramit filming on set in Los Angeles
Every ensemble needs a "hero" piece. Aka, that one article of clothing that pulls the whole look together, and makes it work.
So many shoppers think that a hero piece has to be bright and flashy. Or, they think it has to be a wild splurge.
But the truth is, a hero item can be simple, classic, and something you love to wear.
Take Ramit's ensemble below, for one.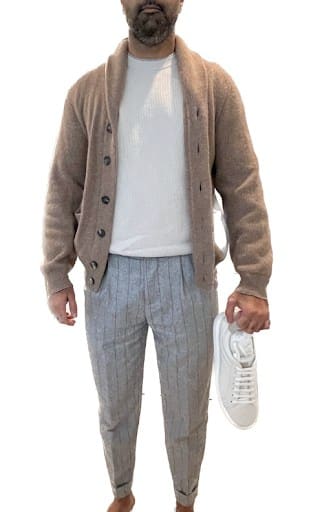 You see he's partnered a cream knit sweater with tapered striped grey trousers and minimalistic sneakers. This is a paired-back, simple look that looks polished yet comfortable for Ramit.
But the thing that pulls it all together and elevates it, is the tan cashmere button-down cardigan. (Check out this similar cardigan for style inspiration.
Here's why it works:
– The color choice. The tan color stands out from the overall grey/white color family of the outfit while maintaining the cohesiveness of the color palette.
– The fit. Imagine this look without the cardigan. All the pieces go together, but it's a little casual, right? On the other hand, if you add a blazer or structured jacket, it feels pretentious or out of place. A cardigan frames Ramit's outfit and gives his look strong vertical lines without being too stiff.
If you struggle with creating outfits for a business casual dress code, add a knit layering piece to your rotation. When in doubt, lean into core colors like black, navy, grey, or white for maximum versatility.
Pro Tip: Have a fear or sweat marks? You're not alone. Ramit actually runs hot, so when he has an extra active (or warm) day, he uses undershirts. These soak up sweat without clashing with outfits.
An All-Weather Wardrobe
Photo Credit: Netflix
As we said earlier, How to Get Rich shot all over the country in many different climates. As much as Cassandra loved layered looks for Ramit, she knew it wouldn't work for every location.
One of the most common questions we hear from clients is, "How do I dress professionally when it's hot?"
This outfit does exactly that. On the surface, it seems basic: a cotton henley with slim-cut pants and sneakers.
But it works because Ramit and Cassandra got the fit, color palette, and fabric right. Let's break it down piece by piece.
1. The Henley. As a general rule, cotton is always a win because it's breathable, natural, and versatile. But, there's a difference between the shirt Ramit's wearing and one you'd get from a four-pack. For one, the fit. It's not too boxy or too long. It fits his shoulders and arms without being too loose/snug around his middle ( a common fit challenge for men).
2. The Pants. You don't have to feel boxed into only wearing full-length trousers and suit pants. Refresh your wardrobe with a pair of joggers in elevated fabrics. Cuff the hems just enough to show your ankles for a summer-approved touch.
3. The Sneakers. One of the best pieces for a power casual wardrobe is a pair of white sneakers. Go for a low-profile lace-up or slip-on style for maximum versatility.
Updated Classics
One of our favorite outfits from How to Get Rich was Ramit's polo and pleated-front pant ensemble.
For one, it's a fantastic example of the right way to wear a polo for business casual settings.
Polos have a bad rap as being a frumpy office go-to or one that you only see on the golf course.
The key to avoiding those stereotypes is to stay away from tech fabrics and pastels. Instead, reach for polos in more mature colors and high-quality materials. Like this dark grey option Cassandra picked out for Ramit.
Ramit on set with guests from the show
Photo Credit: Netflix
Also, notice Ramit's pants.
Men often think they don't have a lot of options when it comes to bottoms and typically only default to jeans. But there are so many great options for trousers that aren't stiff denim.
Ramit is a fan of pleated pants outside of the show, but also the pleats serve a functional purpose. When it's hot outside, you want your garments to be slightly looser to allow movement and breathability. The pleats do just that, in a modern way.
The pleats on his pants are just enough to show how Ramit stays updated and modern without falling into the easy pitfalls of trends. (Which matches his brand and finance philosophy as well.)
Pro Tip: Lint (and life) happens. Cassandra Sethi is a big believer in bringing a touch-up kit for trips, presentations, photoshoots, etc., to keep outfits looking tidy and polished. A few must-have items include a lint roller, clothes pins, and garment bags.
It's All About the Soft Sweaters
Whether you met Ramit through How to Get Rich or you've followed him online, you've probably noticed his sweater game.
In his daily life and the Netflix series, soft sweaters make regular appearances. Sometimes worn solo, other times layered under a trench coat as seen here, they show off his relaxed, relatable attitude.
Cassandra especially selected some hoodies for Ramit to wear. No, these aren't your typical free tech zip hoodies that you get on your first day of work. These hoodies are the grown-up version. Think soft knits in cashmere blends that breathe and look great alone or with layers.
BTS of Ramit filming in Dumbo. Here's how the hoodie looked on camera.
So how do you wear a hoodie in professional settings?
First, you have to pick the right style. This isn't the time to grab the same sweatshirt you'd wear for a morning jog. Avoid clearly athletic styles and anything with logos or text.
Instead, go for a no-frills zip-up option like the one worn above. Or for something more luxe, try a cashmere hoodie in neutral colors.
Second, be intentional about what you wear with your hoodie. Here, Ramit spruces up his with a black crewneck, great pants, and a crisp cashmere blend coat. With this combination, there's no way he looks too casual or too dressed up.
Monochrome not Monotonous
Let's talk about monochrome outfits. When you hear that buzzy fashion term, you probably think about perfectly coordinated ensembles. You might envision a matching suit or outfit with the exact same color from head to toe.
You're not wrong, but that's not the only way to do it.
In fact, one of Cassandra's favorite ways to embrace a one-color look is by switching up tones and textures. Ramit's outfit here is a prime example of this.
Ramit getting his microphone put on for his day of filming.
Check out his crewneck tee layered under a cardigan and partnered with trousers. Everything's blue, but there's nothing monotonous about this look.
Take a closer peek at the pants and sweater. At first glance, you might see two similarly navy blue pieces. But look again and you'll see a subtle plaid print on the pants to add visual interest and texture.
Then, instead of going for another dark blue for his shirt, Ramit adds a dash of brightness with a robin's egg-hued tee.
This spices up his ensemble while staying in the same color family.
This hoodie and trouser combination's another great example of mastering the monochrome aesthetic.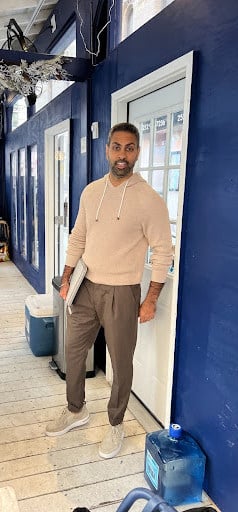 Getting ready for a day of filming
Again, Cassandra coordinated Ramit's look with a camel-colored hoodie, tawny brown pants, and tan/grey shoes.
It's effortless but never boring.
To pull off this kind of outfit in your everyday life, we recommend paying attention to details. Don't overcomplicate your outfits with loads of patterns and layers. Instead, pick one thing that works and find subtle ways to mix it up.
Pro Tip: If you're ever unsure about an outfit or you need to plan out looks in advance, take photos. Don't just rely on your memory of how something looked in the mirror. When picking out outfits for Ramit, Cassandra took photos of every outfit to make sure it looked cohesive on camera.
To see how else Cassandra Sethi styled Ramit, tune into How to Get Rich on Netflix starting April 18th.